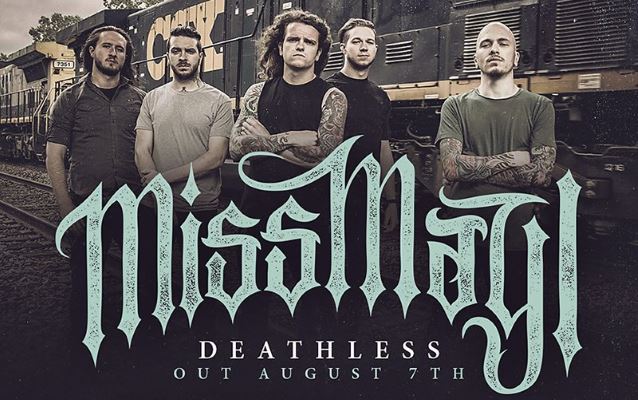 Article by: Jacqueline Arce
Signing onto major record label Rise Records and releasing their debut album Apologies Are for the Weak while still in high school, Ohio metalcore band Miss May I has continuously proven to be a rare breed since day one. Falling amongst a cutthroat genre where everybody is throwing everything they have onto the table in attempt to authenticate their unprecedented style to the masses, Miss May I has escaped the drowning pool and ultimately prevailed with brand new album Deathless.
Although the pressure of the industry remains unrelenting, the five-piece has successfully managed to progressively evolve over the years. Miss May I is fundamentally a metalcore band with influence heard from prominent metal bands of the early 2000's such as As I Lay Dying and Killswitch Engage. However, with their more recent works, they seem to be taking a different direction and branching out over a wider range of genres that simultaneously landed them at both the Rockstar Mayhem Festival and the classic Vans Warped Tour. Deathless does not only prove to be a sound change from their earlier albums, but it also very clearly reveals the musical and instrumental development of a seasoned band.
A staple element in Miss May I's sound is the consistent melding of bassist Ryan Neff's immaculate cleans and frontman Levi Benton's harsh growls, a common theme throughout the band's discography. As heard on the very first track of the album "I.H.E", Benton and Neff delve right into it with their signature plan of attack backed by heavy, breakneck guitars and deep, rolling drums. A second of several strong points on the album is the ninth track entitled "The Artificial" in which the music really reaches back into its metal blood and seamlessly blends their modern sound with that of a more vintage style.
Deathless is a straight up testimony to the growth of the band and a major step forward for Miss May I. The album will only push them further as they blaze through the industry, climb the charts, and land spots on various nationwide tours.
Deathless track listing:
01. I H.E.
02. Trust My Heart (Never Hope To Die)
03. Psychotic Romantic
04. Deathless
05. Bastards Left Behind
06. Arise
07. Turn Back The Time
08. Empty Promises
09. The Artificial
10. Born From Nothing