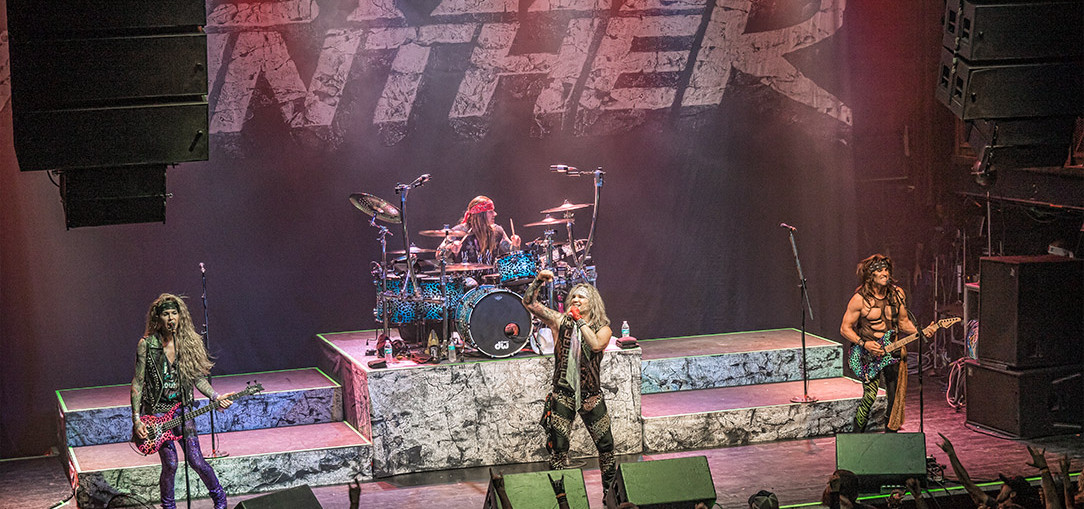 Photos and article by: Wendy Podmenik Darugar and Glenn Woodell
Billed as the Greatest Heavy Metal Band EVER, Steel Panther's sole motivation in life is to get as many chicks and as much blow as possible without ending up in jail…on the wrong side of the lovin'. Epitomizing everything wrong (or right) about Glam 80's Hair Metal, a lot of locks were flying at the NorVa on Thursday night. The show was a bit more tame than most Steel Panther concerts, as there was not as much flashing and girls dancing onstage as in normal Panther gigs. Skits and improvisational comedy were interspersed between songs with such titles as, "Gangbang at the Old Folks Home", "Asian Hooker", and "Eatin' Ain't Cheatin'".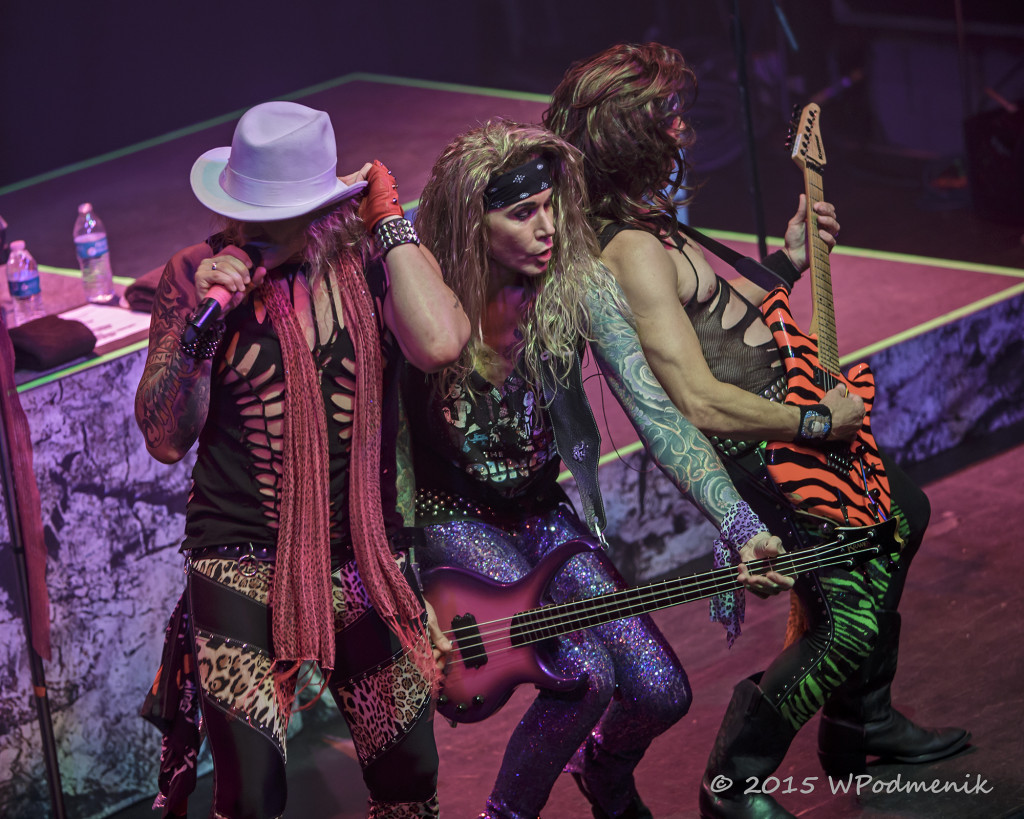 Started in L.A. around 2000, Steel Panther features Michael Starr on vocals (looking a great deal like good ol' Diamond Dave), Satchel on guitar, Lexxi Foxx wearing plenty of lipstick and playing bass, and Stix Zadinia on drums. There was plenty of buzz on local social media about this concert and a healthy sized crowd in attendance, some of whom were dressed in wigs and costume.
Promoting their third studio album, 2014's "All You Can Eat", Steel Panther is not a band for those who are easily offended. Once again, this was another concert with a party atmosphere and Michael Starr, Satchel, and Lexxi are natural comedic entertainers with a gift for involving the audience, in particular Satchel with improvised lyrics, and Michael Starr with taking the time to make individual audience members feel as though they are special through eye contact and conversation. The songs are catchy but most of the lyrics are not radio-friendly. In spite of not having the benefit of radio air play, Steel Panther had a devoted fan base in attendance that sang along with Michael Starr. At one point in the evening, the audience did an impressive sing-along on "Community Property", making a song written about cheating sound almost tender hearted. Their website is http://steelpantherrocks.com/
Opening band Seven Ten Oil, one of my personal favorites, is a Hampton Roads, Virginia original rock band that needs to be seen and heard. Songs I recommend you listen by Seven Ten Oil are "848" and "No Name". Fronted by singer/songwriter Chris Johnson, this was Seven Ten Oil's second time starting an evening for Steel Panther. Check them out on https://www.reverbnation.com/seventenoil
Set list for Steel Panther
Eyes of a Panther
Fat Girl (Thar She Blows)
Gold Digging Whore
Just Like Tiger Woods
It Won't Suck Itself
Asian Hooker
Party Like Tomorrow is the End of the World
Gang Bang at the Old Folks Home
Girl From Oklahoma
Eatin' Ain't Cheatin'
17 Girls in a Row
Gloryhole
Community Property
Party All Day