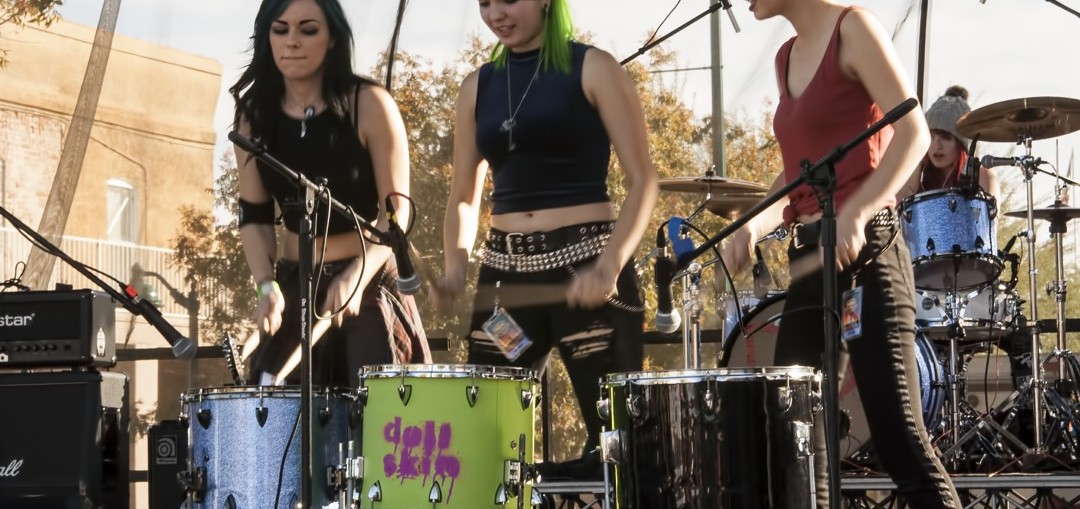 Article and Photos by: Jason Robey
The main stage at the first annual Mesa Music Festival this past weekend was taken by an unexpected storm on Saturday afternoon, by rising local hard rockers, Doll Skin. Most of the attention during the afternoon was on the many pop-up stages, sprawled across a six-block radius of downtown Mesa, including both indoor and outdoor venues hosting an eclectic variety of full bands and solo artists. The handful of people in the vicinity of the main stage had been visiting the various food trucks flanking the closed-off street, and treating the music on the stage as little more than background music, before heading off to see a band playing in a store or bar around the corner.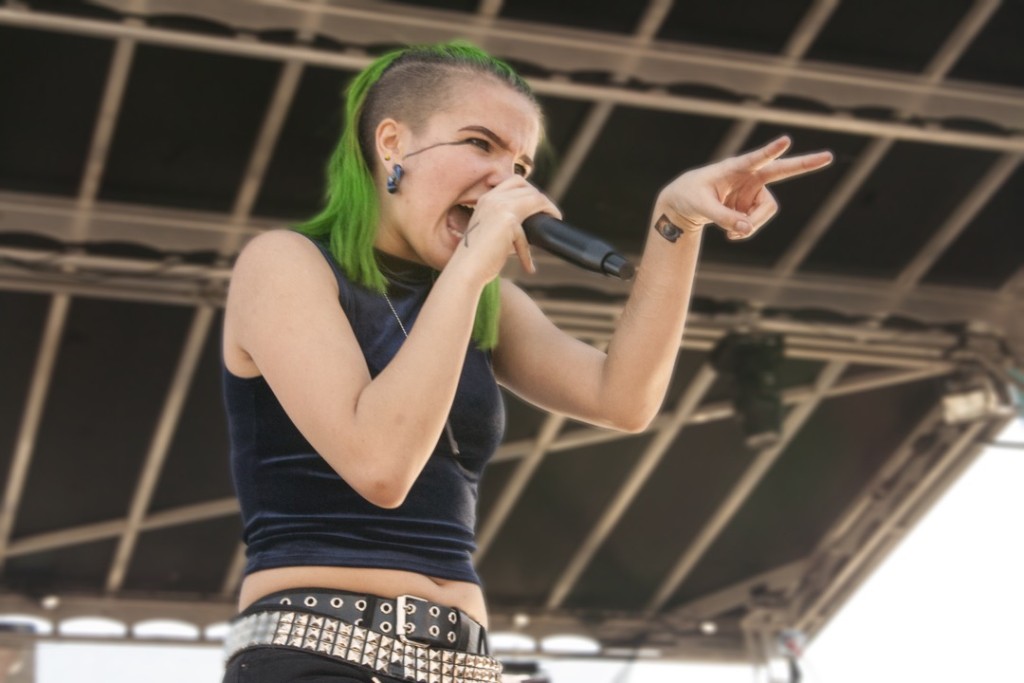 Then, the announcer introduced Doll Skin. Four girls with brightly colored hair energetically ran onto the stage, one to a drum kit, placed in the usual spot, the other three moving towards three floor toms at the front and center of the stage. As they began playing a thunderous tribal piece, listed on their setlist simply as "Drums," people began to gravitate curiously to the stage.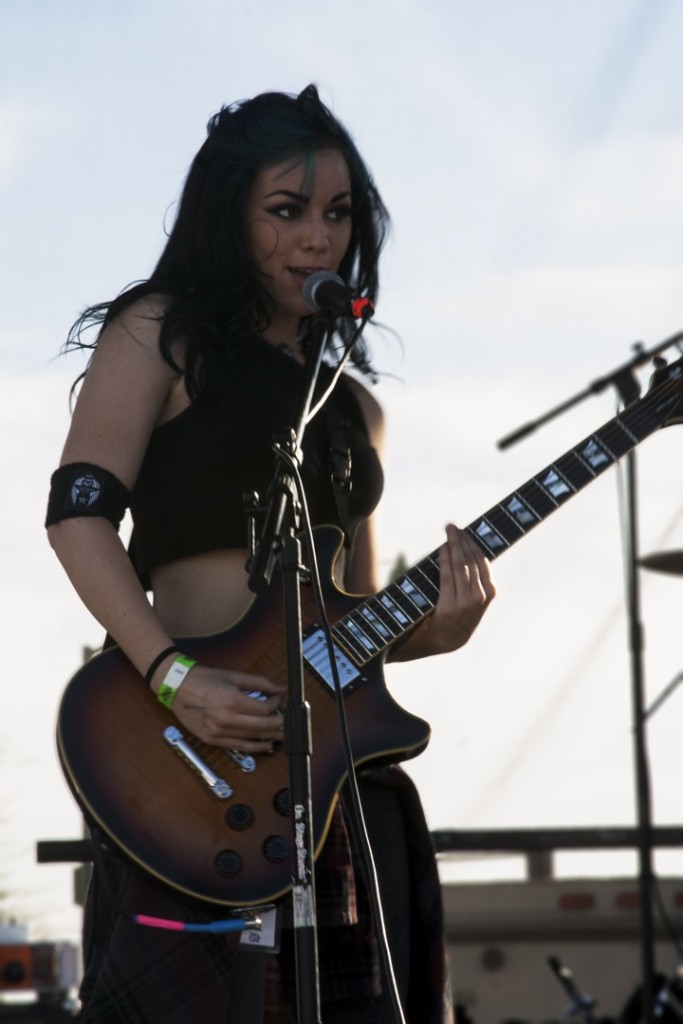 Once they had people's attention (which didn't take too long), the floor toms were taken away and Doll Skin started a brief, but blistering set of hard rock songs, mostly from their recently released debut EP, In Your Face. A fitting title, which just as easily describes the show. Vocalist Sydney Dolezal took command of the stage that could put some veteran performers to shame, jumping around the stage with her bright green hair pulled back as she rocked through tracks like "Weatherman," "Wring Me Out" and a scorching cover of Wolfmother's "Woman."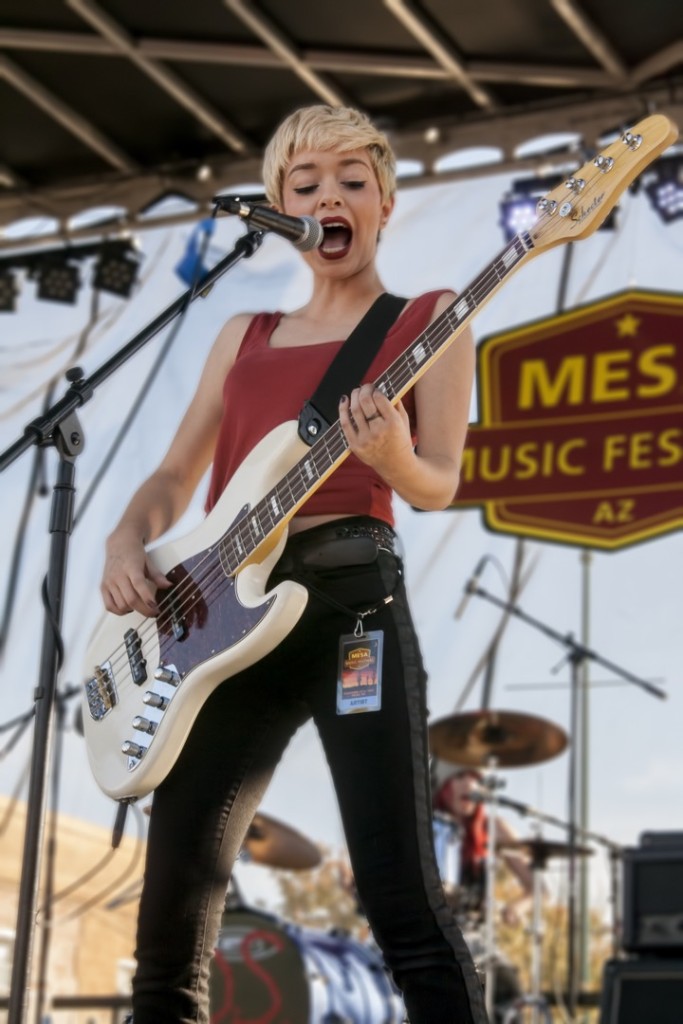 Guitarist Alex Snowden strutted around the stage like she wrote the book on moves for rock n' roll six-stringers, moving between chugging riffs, razor-sharp power chords and gut-wrenching solos like the archetypical rock star. The rhythm section of bassist Nicole Rich and drummer Meghan Shea Herring kept impeccable timing and energy for the quartet, throughout the seven song show.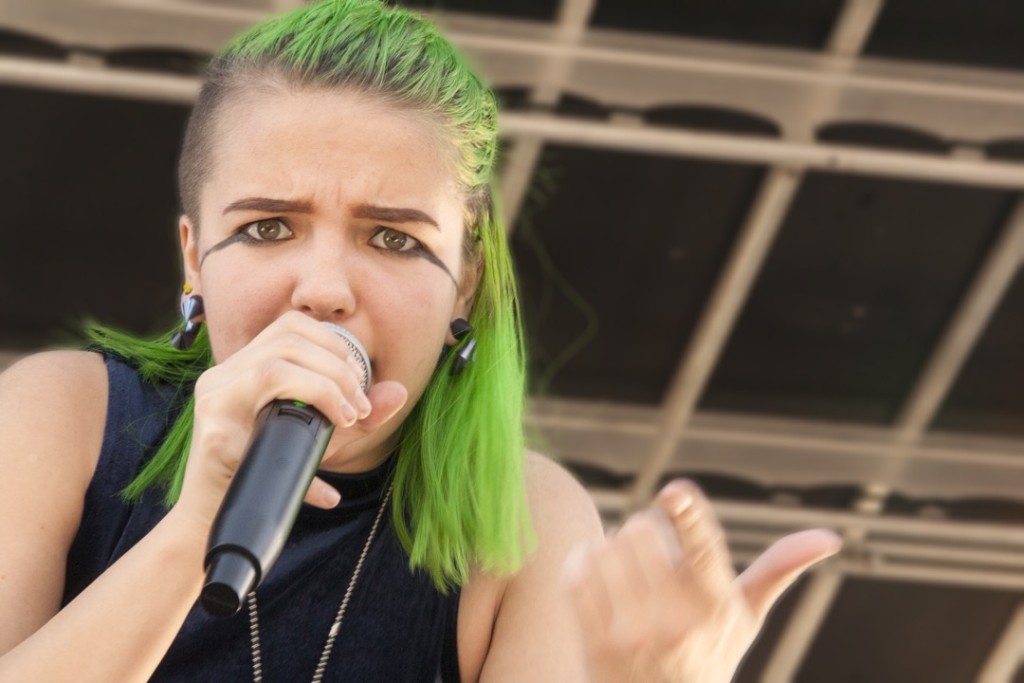 Then, while the guitarists were tuning, Dolezal dropped the bomb on the crowd that she was only 15 years old, listing the ages of the rest of the members, the oldest only 19. The band was impressive enough already, just with their songs and talent for their instruments, but the stage presence these four girls possessed makes it nearly impossible to believe. A quick look at their bio shows that they have already opened for artists such as Alice Cooper and Social Distortion, and were recently signed to EMP records, the label created by Dave Ellefson of Megadeth. By the time their set was finished, the crowd at the merch table was bigger than the total crowd at the stage before they started.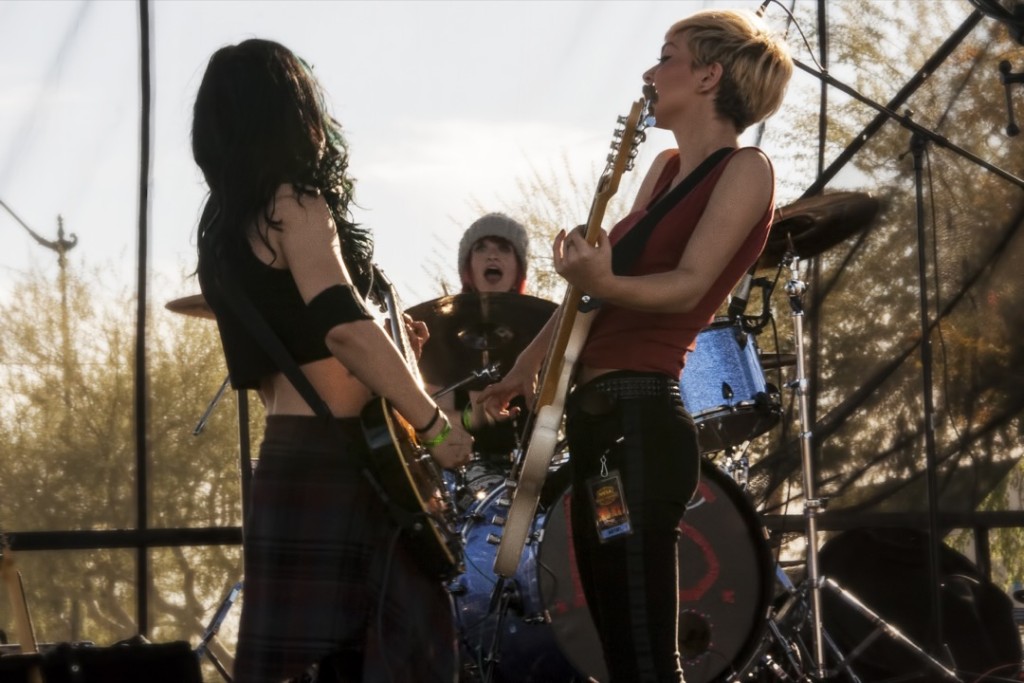 Set List:
Drums
Weatherman
Creepy
Wring Me Out
Woman (Wolfmother cover)
So Much Nothing
Family of Strangers
Furious