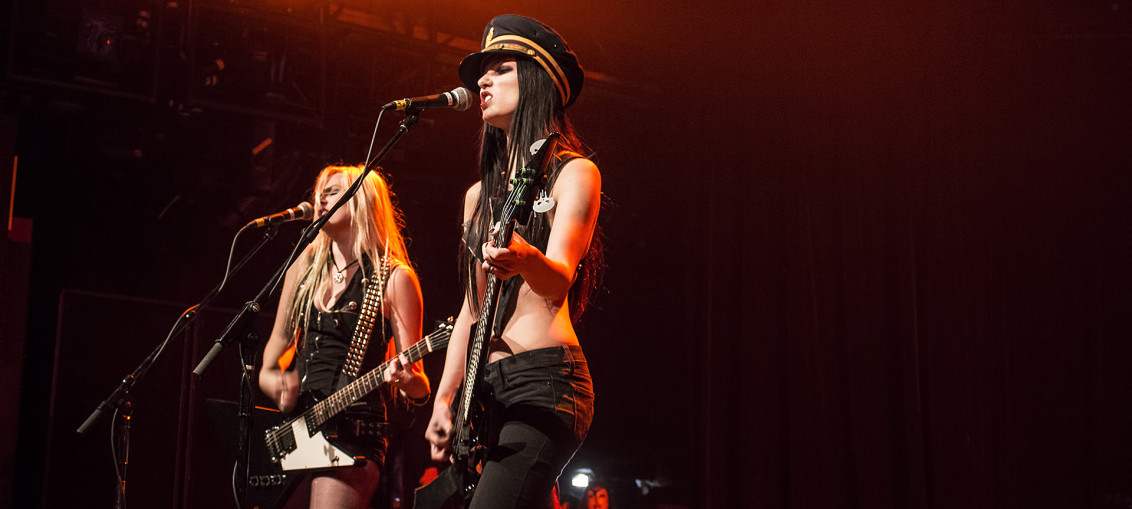 Article and Photos by: Steven Principato
NYC – The PlayStation theater (formerly the Best Buy), nestled among the twinkling Broadway marquees hanging over the tourist jammed streets of midtown Manhattan, is a venue reserved for those who "made it." Far removed from the meager New Jersey beginnings of The Misfits, it was explicitly clear as the awkwardly less menacing Crimson Ghost beckoned upon me from his own lofty sparkling marquee sign. Of their numerous legendary punk-pioneer contemporaries of nearly 40 years past, the Misfits had "made it". With newly formed all-girl horror punk pupils She Demons as their audacious openers, the Misfits had come a long way since their pioneering but brutal inception. Though curiously, like many of their contemporaries who continue to take the stage in their half century age bracket, are they (shall I dare say) merely  just a cover band of their former selves?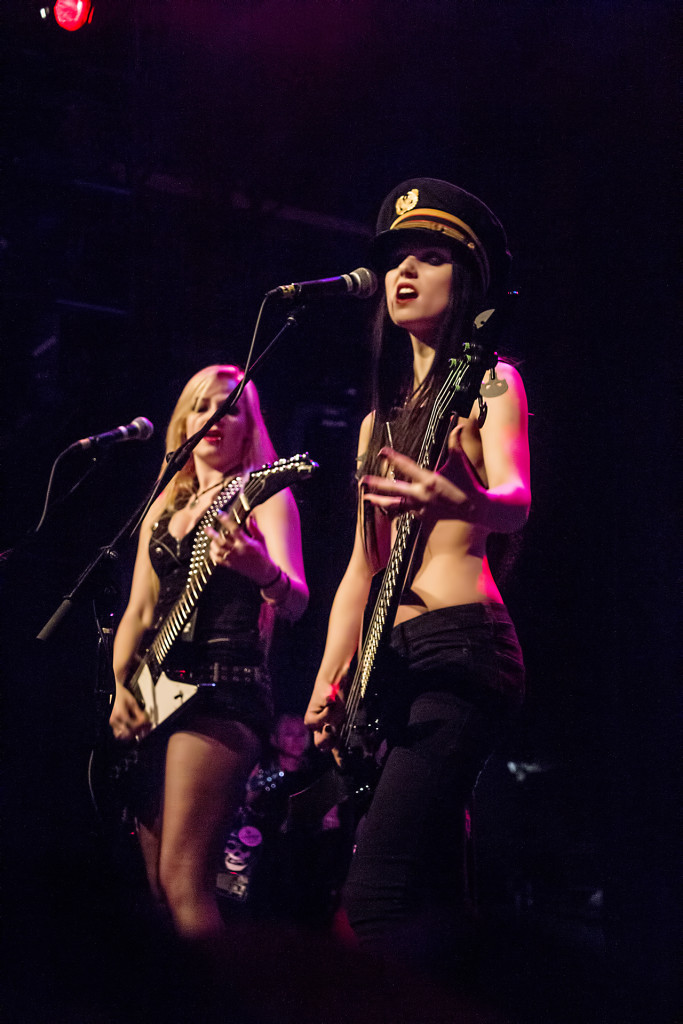 In an industry of retro-regurgitated old-man acts of yesteryear, we were pleasantly introduced to L.A.'s youthful all girl horror-pop-punk quintet, She Demons. Opening the show after an enthusiastic introduction by mentor and apparent She Demons creator, Misfits co-founder Jerry Only, She Demons confidently took to the stage with no fear or regrets. Under the merciless scrutiny of numerous veteran misfits die-hards, liberally diluted by a horde of nostalgia starved tweens out in the big city on a school night, She Demons demanded and achieved the respect and enthusiasm that such a talented group of young and enthusiastic upstarts deserved. Skillfully delivering their fresh catalog of catchy but brief pop-punk numbers, She Demons slashed any notions of some "horror punk barbie" label from the skeptics. There was no question these girls knew how to rock, and dare I say, better than the actual headlining band when it came to musicianship (well, we are dealing with the Misfits here…but still!) Exhausting the better part of their musical catalog inside on an hour, She Demons did not fail to leave their mark upon such a typically unforgiving crowd, proving themselves in authenticity, skill, and the ability of five gorgeous chicks to show you how it's done.  I personally foresee a bright and hopefully frightening career for such an enthusiastic and receptive cutting slashing-edge act.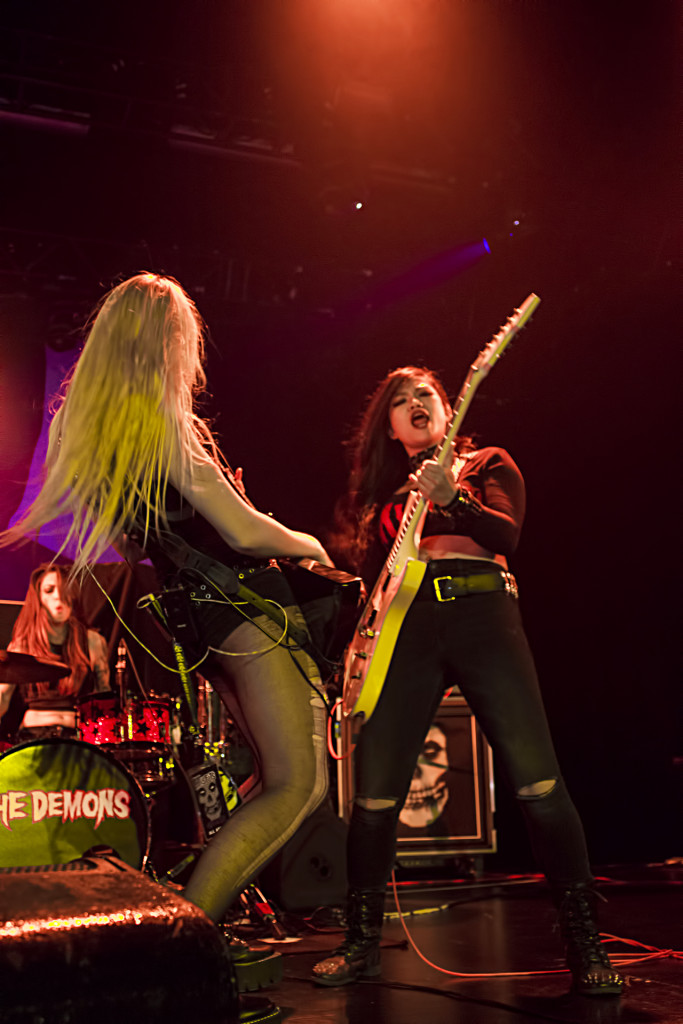 Shortly following a solid performance by their exceedingly more attractive (and skilled) proteges, the aging horror punk icon(s) took to the stage following a brief onstage introduction by their famously Cheshire grinned skeletal mascot, The Crimson Ghost. To the sounds of white noise static, this latest incarnation of the Misfits stormed a stage that would have seemed surreal to the more grass-rooted 1983 versions of themselves. Fist pumping, singing, playing bass, AND chewing gum at the same time, the multitasking Jerry Only (and ONLY original member) aggressively hammered out the contagious classic "Static Age".  Accompanied by his latest attempt at The Misfits,  this time recruiting his very own, (replacing Dez Cadena last year) Jerry Only Jr. (Jerry Caiafa II) on guitar and the familiar razor toothed grin of Eric "Chupacabra" Arce on the drums.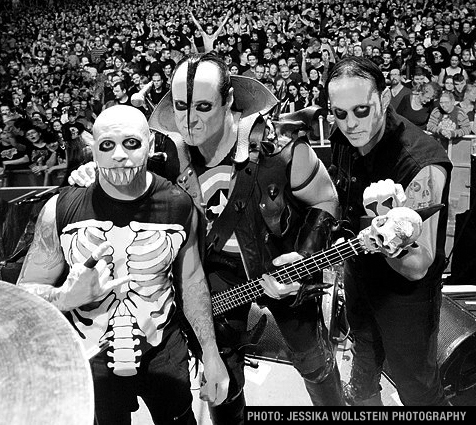 For any readers not familiar with their legendary brutal performances – both in crowd violence and their notorious (lack of) musical ability of the original Misfits lineup, imagine yourself as a die hard fan who was personally knocked into a 30+ coma by Glenn Danzig in 1984. Waking up today and experiencing the very same band may account for a bit of shock. First, after 30+ years, the Misfits actually learned to play their instruments! Additionally, founding bassist Jerry Only, an unlikely candidate for vocals, (stepping in for previous Misfits incarnation singer, Michael Graves) actually admits to being vocally trained by one of the most respected vocal coaches in the Industry. Combined with the superior guitar work of Jerry Jr. and surprisingly complex drum-beats of Eric Arce, The Misfits of today might be a total musical anomaly to the deafened ears of an elder fan. Another example of how the Misfits may be unrecognizable to a fan of three decades past would exist in their current fan base. If you ever speak to a really old punk rocker who is missing most of his/her teeth, ask him/her about the time when they saw the Misfits back in '84 and it may very well be the origin of their toothless but genuine grin. These days, Jerry Only openly admits to the band taking "family friendly" approach, and possibly with good reason when you're an aging punk rock icon approaching 60 years. This fact became curiously clear when It occurred that I may very well have been one of the oldest in attendance, junior to (only) Jerry Only (Sr) of course. Aside from a few die hard fans behaving as if Glenn Danzig himself were inciting them to re-introduce the trademark violence of a bygone era to a sea of docile tweens to they might "pay their dues", I experienced perhaps one of the most gentile punk rock shows of my existence.
As the Misfits wrapped up the show ranging from re-vocalized essential horror classics to more current but unfamiliar pop-punk influenced tracks, the departing horde of millennial music fans, occasionally peppered with Gen-X die hards appeared to show no disappointment in this essentially dismembered but highly evolved version of the legendary horror punk icons. Technically, more of a highly polished cover band than the long extinct real deal, we all must appreciate the fact that this is the ONLY Misfits that we have, that is until that long anticipated but elusive day when Glenn, along with brothers Jerry and Doyle come to an unlikely agreement that would most certainly make musical history. I'm ready to finally lose some teeth of my own shall that day ever come.