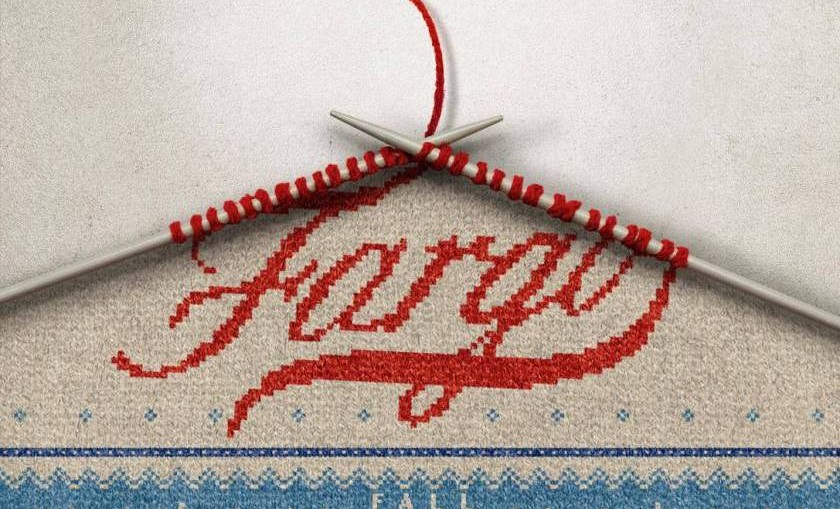 Article by: Frank Memmesheimer
It's always Winter in Fargo
Recapping the movie and the show's first season.
Fargo's eagerly awaited season 2 is here. Before we jump right into it, let us quickly recap what has been going on in the Fargoverse so far.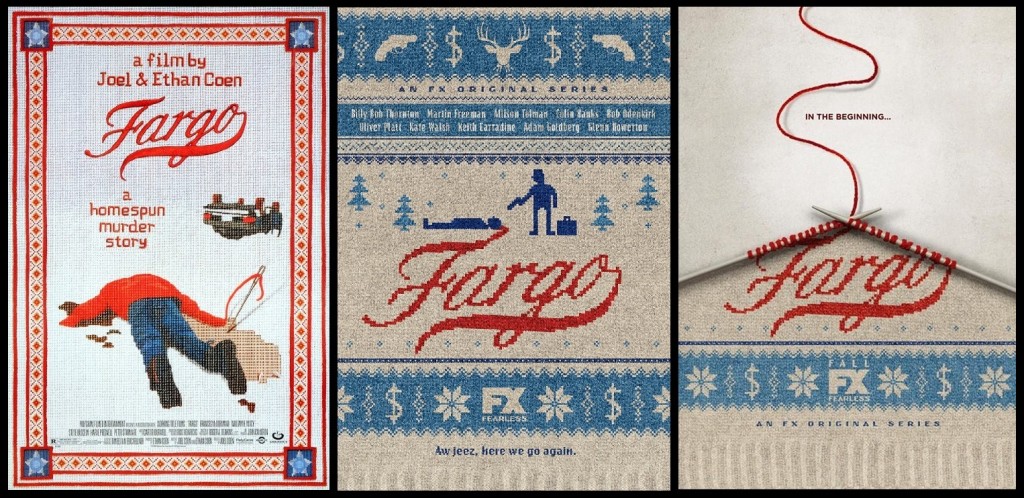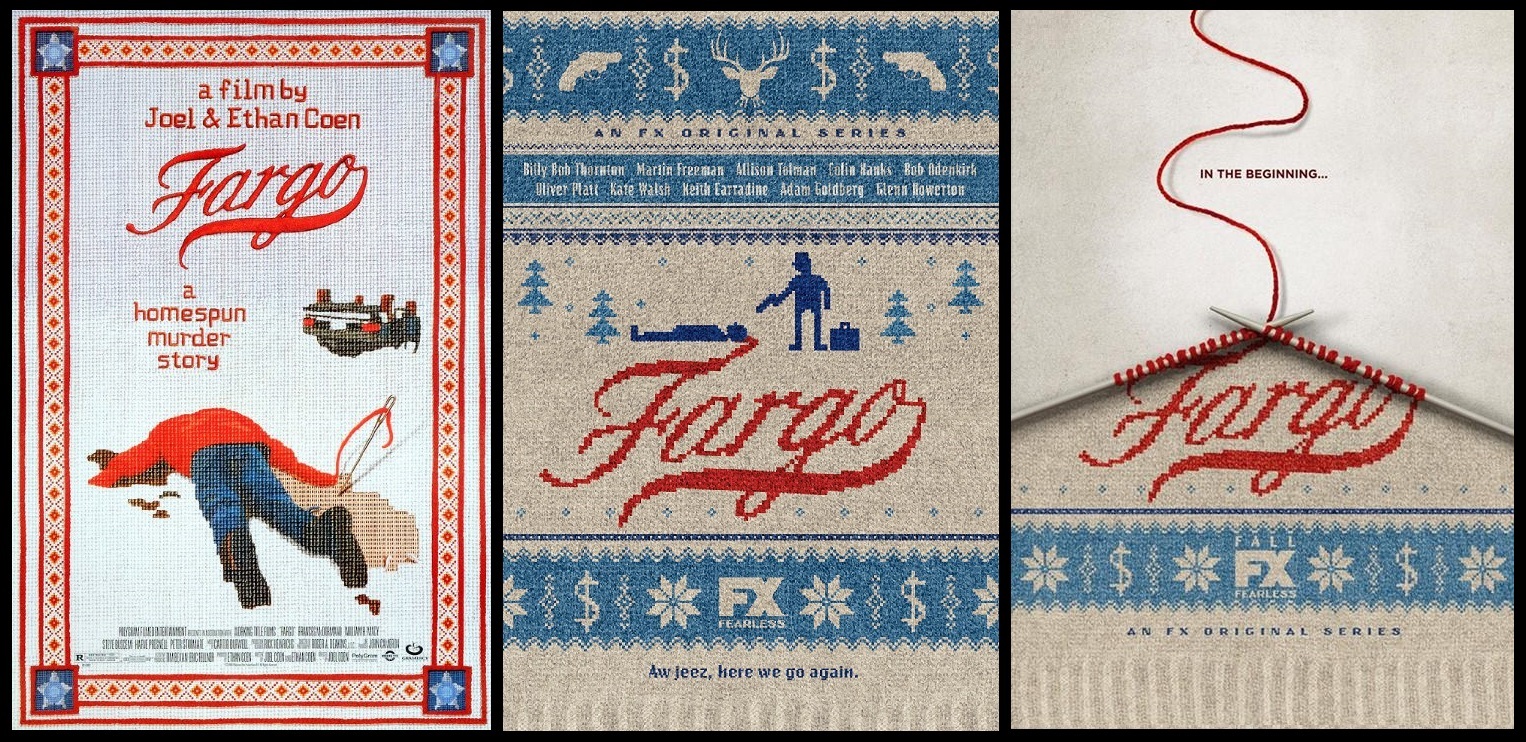 In 1996, the acclaimed dark-humored crime thriller Fargo, single-handedly written, produced, directed, and edited by brothers Joel and Ethan Coen, took audiences to Minnesota in the year 1987 where inept and money-troubled car salesman Jerry Lundegaard arranged for the abduction of his wife. Jerry's plan to gain possession of the million-dollar ransom – to be paid by his wealthy, yet stingy father-in-law – goes terribly wrong when Carl and Gaear, the hired criminal not so heavy-weights, end up with a triple homicide on their hands. Enter Marge Gunderson, the very pregnant Chief of the Brainerd Police Department who sees through deceptive maneuvers, follows the evidence and eventually solves the case.


In 2014, Fargo returned as a television series, adapted and written by Noah Hawley and strongly inspired by the original movie. Set in Minnesota in 2006, the series introduced a different set of characters and told a seemingly unrelated story, until a subplot involving a buried briefcase full of money tied both installments together. On his worst day in a series of persistently bad days, unsuccessful insurance salesman Lester Nygaard makes the acquaintance of Lorne Malvo, a contract killer who wreaks havoc wherever he so chooses to appear. Rash words are exchanged and before he even knows it, Lester is responsible for having ordered the murder of an old high school bully of his. The following day confronts Lester with his deed and culminates in him murdering his nagging, discontent wife. A game of blame, ploy, and evasion ensues and deceives involved police officials. Solely, underestimated Deputy Molly Solverson (Bemidji PD) doubts Lester's inconsistencies and starts to dig deeper with the help of her father Lou, a retired ex-cop now running a café, and Gus Grimly (Duluth PD), a single father who had a frightening encounter with Malvo the night of the murders. Ultimately, evildoers clash, murders are avenged, justice is served, and Molly and Gus end up becoming a family.

Now, season 2 presents us with yet a new cast and a different story. It takes us to 1979 – a number of years before the events of the movie – to tell the story of the Massacre at Sioux Falls, SD. What do we need to be prepared for? Winter. Snowdrifts. Long drives on icy roads. Silent nights, interrupted by outbursts of violence. Bad people. Plenty of those. Memorable murders. Gruesome, yes. The kind that doesn't get buried easily in one's mind. We will meet everyday people: fearful, petty, numbed, wanting. Yearning for live, yet discarding it all. A few good people will stand out: lonesome, struggling, ever tested. Enduring.
Brace yourselves, for once again we are about to stare down into the abyss that is the human soul.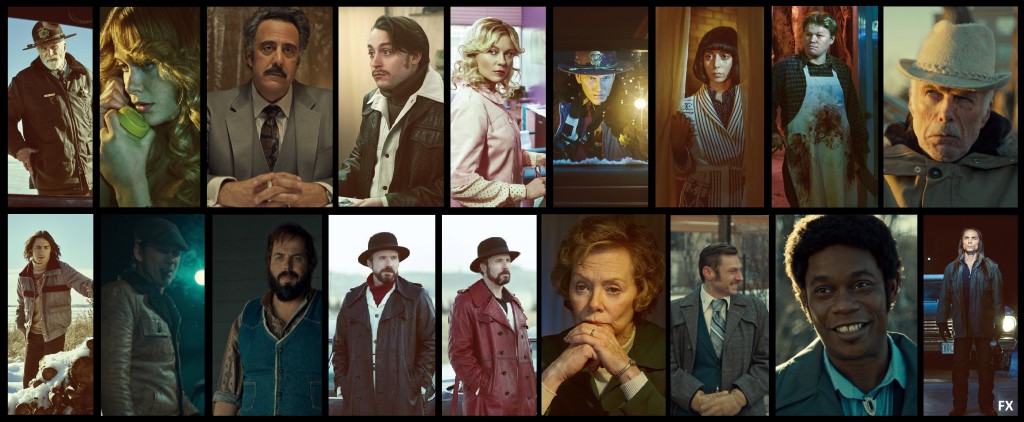 You may want to stop here. What follows is spoiler country after all.
If my warning is indeed not enough to stop you, let's meet here every other week and talk Fargo.
Fargo S2 E1 Waiting for Dutch
You're in for the family, not for yourself.
It's 1979, the year of the energy crisis. President Jimmy Carter is on TV, pleading Americans to not give up hope in this "Crisis of Confidence", whilst his successor-to-be keeps the crew and extras of his fictitious western flick "The Massacre at Sioux Falls" waiting, when the ungainly encounter of a small-time crook with a judge leaves four people dead and the small town community of Luverne, Minnesota puzzled. Welcome to season 2 of Fargo where no one is safe.
What's Happening?
We're introduced to the Gerhardt crime family. Father Otto (Michael Hogan) leads the organization, disguised as a trucking company, that specializes in gambling, drugs, prostitution. Mother Floyd (Jean Smart) is in charge of finances. The three sons Dodd (Jeffrey Donovan), Bear (Angus Sampson), and Rye (Kieran Culkin) are tasked with various responsibilities and undertakings, each in accordance with his capabilities. Just as the family business faces the competition of a rivaling outfit, crime boss Otto suffers a stroke.
The not too bright youngest of the Gerhardt brothers, Rye, is tending to a side business of his. He sets out to scare a judge into unfreezing the accounts of an acquaintance, in order to get in on an alluring electric typewriter deal. The scare goes terribly wrong and Rye ends up with a triple homicide on his hands. Upon fleeing the scene, he ends up being the victim of a hit-and-run.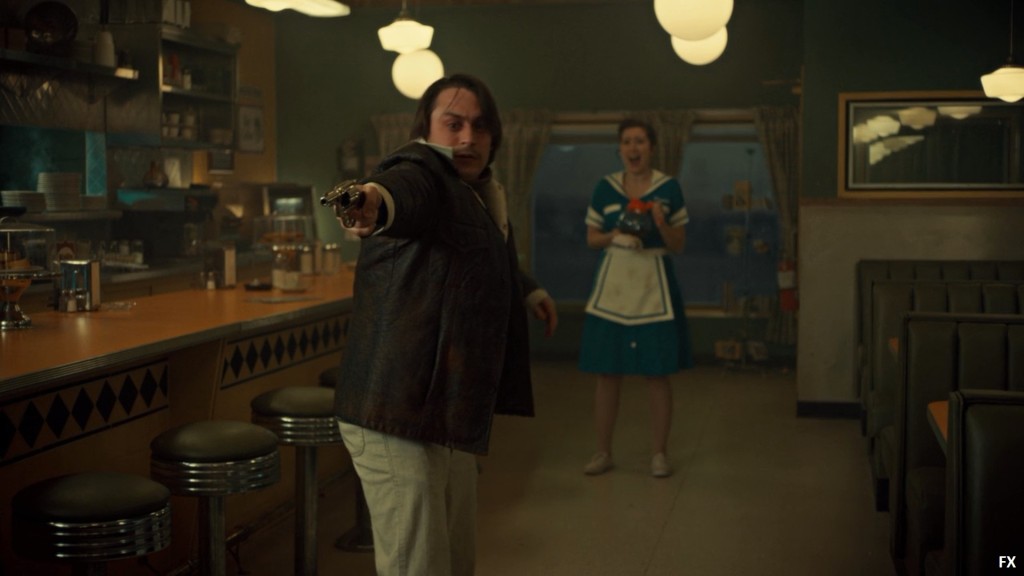 Enter local Minnesota State Trooper Lou Solverson (Patrick Wilson), whom we remember from season 1 as retired ex-cop and relaxed owner of a small diner. With his six year-old daughter Molly tucked in and his wife Betsy (Christin Milioti), currently undergoing treatment for cancer, safely at home, he sets out to investigate the crime scene at the Waffle Hut in Luverne, Minnesota.
Lou's father-in-law Hank (Ted Danson), the county's sheriff, offers to help with the investigation: "Is this a local matter or State Police want it?" Meaning: 'You decide.' How to best describe their current relationship? Navigating uncharted waters.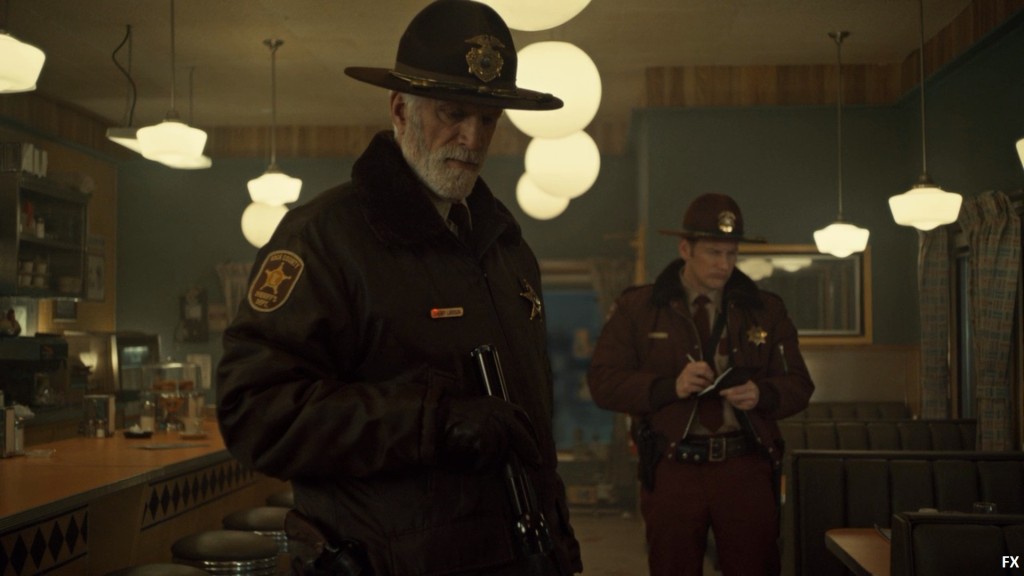 Lou's friends Sonny (Dan Beirne) and Karl (Nick Offerman) discuss the "Military-Industrial-Complex" – I smell conspiracy theorists gone haywire.
In Missouri, the Kansas City crime cartel introduces a northern expansion strategy which is based on the acquisition/absorption of the Gerhardt family syndicate in Fargo, ND. A team of negotiators/enforcers is dispatched.
Butcher Ed Blomquist (Jesse Plemons) has his life planned out: take over the shop he currently works in and have plenty of kids with his wife Peggy (Kirsten Dunst) who – to his chagrin – is on a journey to self-discovery, dreams of living someplace warmer, and is not yet ready to have kids.
When he returns home from work, Ed finds Peggy trying to first deny then cover up a hit-and-run. When the (to them) unknown victim, Rye, is still alive in the garage Peggy parked the car in, Ed investigates and ultimately kills Rye in self-defense. Peggy convinces Ed to not turn both of them in but to cover up both deeds.
This is a TRUE story after all, isn't it?
Did I mention the UFO? Are you as puzzled as I was on first sight? After all, the show's preface states: THIS IS A TRUE STORY. The events depicted took place in Minnesota in 1979. At the request of the survivors, the names have been changed. Out of respect for the dead, the rest has been told exactly as it occurred. Something doesn't add up here. I can easily see Rye, an insignificant small-timer with ambition and distorted self-perception, wielding his gun and shooting up the Waffle Hut in the heat of the moment. But the situation of mysterious lights seemingly appearing out of nowhere? A UFO? In Fargo? Will we soon see little grey extraterrestrials lurking around the Waffle Hut? Or is there a more down-to-earth explanation? Maybe Rye is a little too excited: blood pumping, his mind racing – maybe the lights are a product of his imagination? As I watched this episode unfold, something kept bothering me that hadn't bothered me before, so I went looking for answers. Indeed, there have been alleged UFO sightings in the Midwest in 1979. Plenty of those. So, whatever it was that drove Rye into the middle of the street – imagined or perceived – I am eager to learn more about it.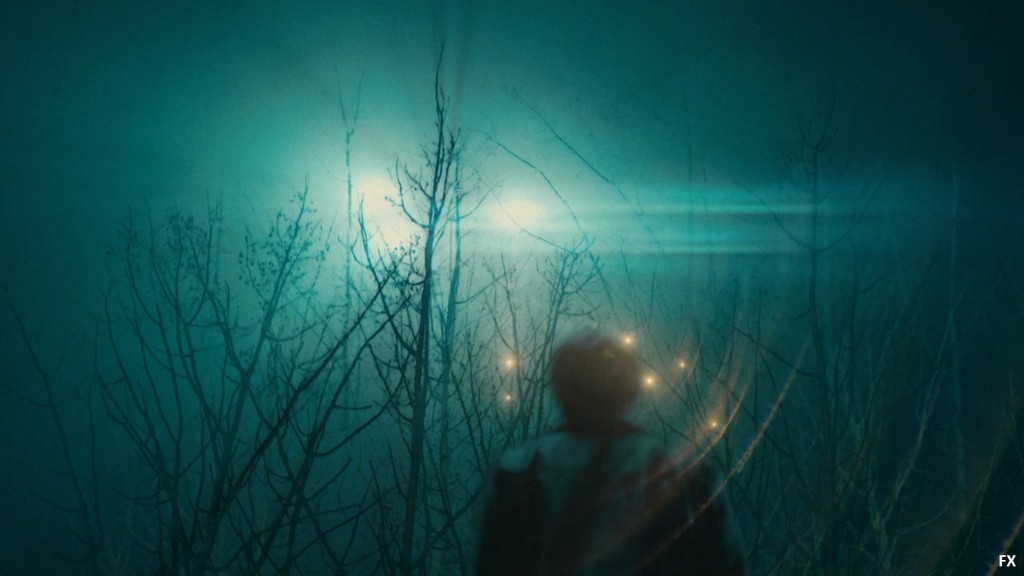 Let me finish this line of thought with a statement Joel Cohen made back in the days of the original Fargo when "Time Out" asked him about the validity of the "true story" claim: "If an audience believes that something is based on a real event, it gives you permission to do things they might otherwise not accept." Apparently, it's up to you to make up your own mind.
What are you looking at?
The new season is visually enticing: split screens (vertical and horizontal), scenes in black-and-white, original 1979 news footage, a 4:3 screen transitioning to 16:9, slow motion, and, important for those enjoying contemporary cinematography: lensflares – pointedly captured. Dana Gonzales, responsible for this episode's visuals, reaches deeply into his bag of tricks, not only capturing Roger Deakins' visual concept for the original 1996 Fargo movie – he even revitalizes it. We recognize wide angle shots from high(er) up that provide a great general view, or shots low to the ground that puts you right in there with the characters and denies you foresight, long static shots of cars driving by, framing shots through windows, and all the new little intricacies mentioned above. Haven't seen any of the Coen brothers' favorite POV shots in this episode, though, but then again, they are "only" involved as executive producers of the show. If you're interested in the later, check out What's in the frame's video essay (youtube.com/watch?v=ebg1drKwFm4).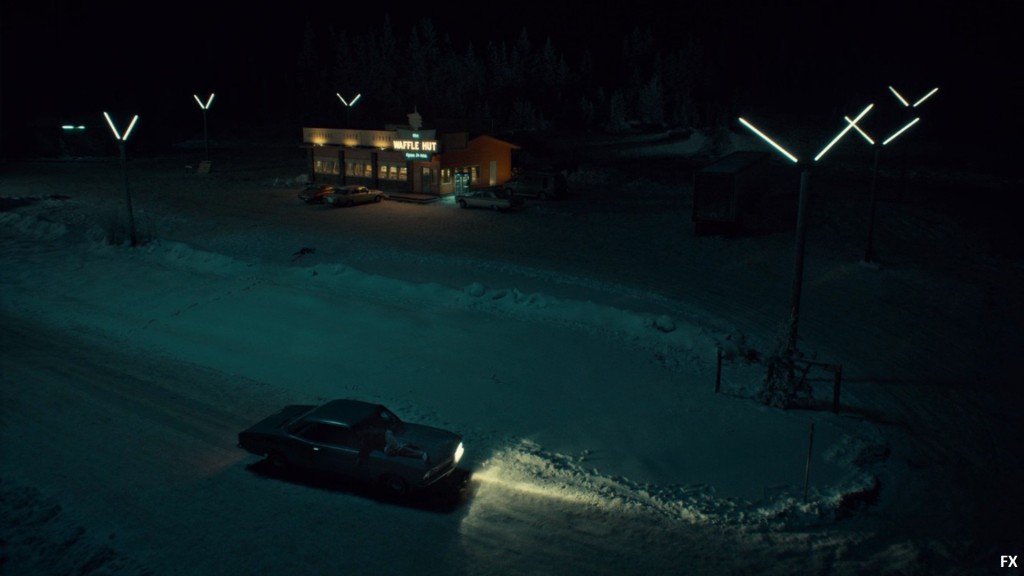 Body Count
Fargo's entanglements raked up 7 people dead. The series' season 1, however, stacked them high as the sky. 42 people and one unlucky dog met their untimely demise; with the exception of four, all by the hand or direct involvement of contract killer Lorne Malvo. Season 2 now takes off in the very same direction. For those taking notes: in this first episode the body count goes up by 4, totaling 4 at this point in time: a judge (too bold), a cook (too slow), a waitress (too screamy), the shooter of the three (too distracted).
Too bad, Rye Gerhardt, portrayed by the very convincing Kieran Culkin (two years younger brother to "Home Alone" Macauly Culkin), had to find such an early and inglorious ending. He had the potential to seriously upset the Gerhardt operation. However, this turns out to be yet another reason I am impressed by this episode. The creators apparently don't shy away from killing off great and promising characters as they let them meet the consequences of their actions. No one is safe in Fargo.
Rating
Fargo's season 1 turned out to be television at its prime. So far, I'm convinced this season can keep up the pace. Yet, I still have to decide whom to initially pity and then fully despise as much as last season's Lester and who will take Malvo's spot of being the one I'm simultaneously fascinated by and afraid of.
4 / 5 Stars