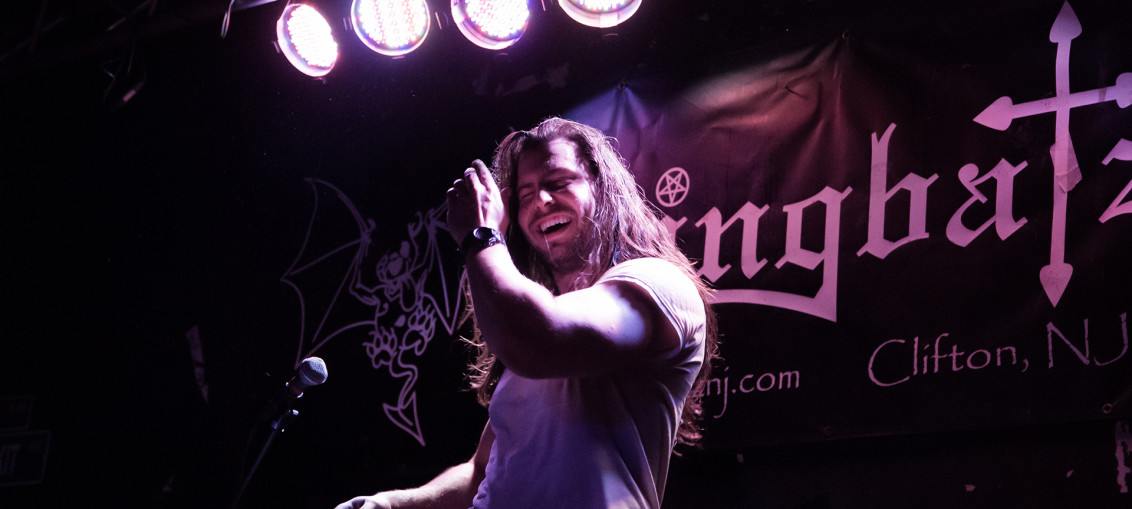 Article by: Steven Principato (Andrew W.K.) and Brian Toglia (Policemen in Pickups)
Photos by: Steven Principato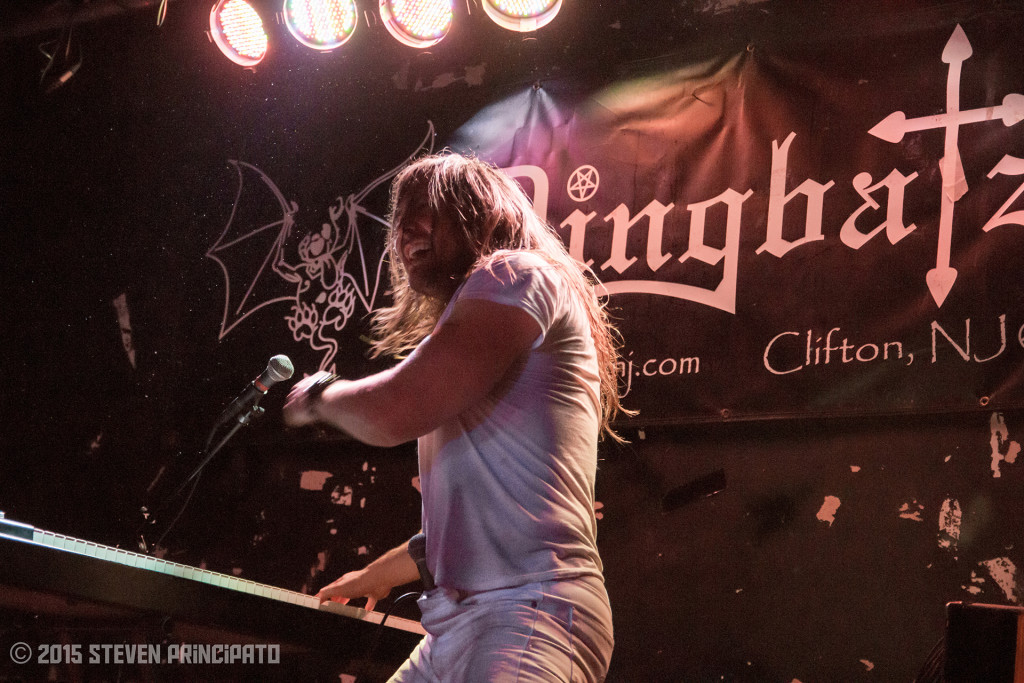 CLIFTON, NJ
SP: In a little known venue, buried among the provincial dive bars frequented by working class, metal headed denizens of local origin, there came a man with  simple mission: Determine our collective ability to party hard, and if lacking, administer the prescribed amount of hard partying in addition to any other cathartic ideological remedies that can be hammered onto a Roland keyboard.
In a perhaps once-in-a-lifetime event, taking to the claustrophobic stage of Dingbatz (one of the few remaining metal friendly venues in North Jersey) is Andrew W.K., a household name in the hard partying industry at large. Most recognized for his trademark  soiled white uniform, eternally bloody nose, crotch mounted microphone holder, (while he shows off his dance moves) and sophomoric, yet genuine pro-party poetry and positive motivational coaching.
BT: As one can imagine, the mood in the room was one of happiness and anticipation with most of the people ready for AWK to ignite the air, and it would understandably be easy to overlook the opening band. But not so fast! What's this? A bright light, not unlike the flash seen before a nuclear explosion, just burned onto the stage!
The local 5 piece, Policemen in Pickups, started off the night with their song, "Lament." Lead singer John Finnerty speaks melodically into the mic as much as he sings and it completely fits their style of the music. With fiery guitar licks from lead guitarist John Mazur, some truly talented offbeat drumming from Tim Hrycyshyn, and full-band backing vocals (including Kate Lewis on keyboard and vocals), Policemen in Pickups showed that they belonged on the stage.
They absolutely killed it with their newest single, "Veronika with a K." This song sounds like a band hitting their creative stride. PIP put a little bit of funk (provided by bass player Rob Guizio), pop punk and 90's alternative (Weezer comes to mind with the chorus) into a blender, but what came out is truly their own sound.
SP: Fittingly taking the stage to the sound of air-raid sirens, and a sensational wordy introduction by his stage-mate/jester/valet by the name of Crenshaw, the seemingly atomic powered Andrew W.K. stormed the body compressed-to-capacity room of die-hard-hard-party people. Never having before witnessed the extravaganza that is the ambassador to the world of partying, I was in astonishment at the level of die-hard fan loyalty to what I previously had written-off as a juvenile one-hit wonder of decade past. Whipping up the bouncing fan mob into a jocular fury, resulting in the unnatural and potentially unsafe vertical undulation of the tightly packed dance floor as the nervous club owner looked on with an uneasy body language that translated into: I've never had a crowd this big, I sure hope the floor holds up…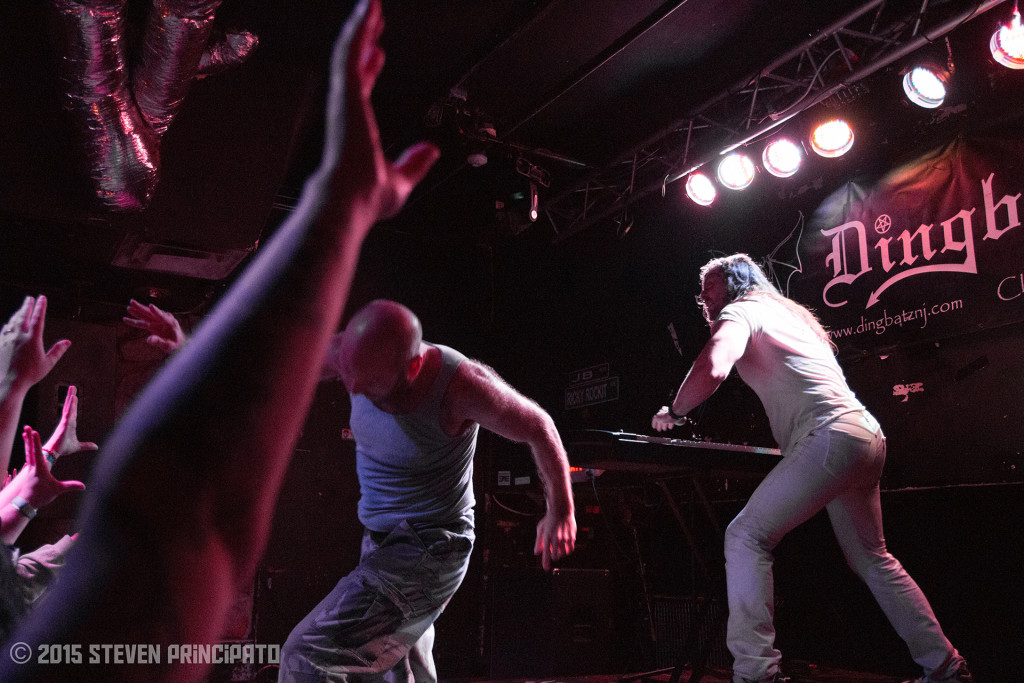 Many songs into the AWK's consistently themed and tempo song set, one might imagine the approaching forty year old aging party lord might show signs of fatigue and bring things down a bit with an obligatory, and somewhat less party worthy power-ballad. Any lesser artist that lacks the required party credentials may succumb to this temptation, AWK however, bursting with full throttle fervor for the duration of the show, posed in a noble power stance, he impressively and skillfully hammered his docile fingers upon the full-length Roland keyboard with the agility and enthusiasm of a concert hall pianist. Frequently manning the lone instrument, providing a jubilant soundtrack to the jester-like antics of his on-stage cohort, Crenshaw as he gleefully pranced about the limited confines of the stage, further energizing an already joyfully raging crowd. AWK, occasionally coming up for air to acknowledge the party-frenzied loyal fans with motivational, pro-party ramblings. With the ever increasing frequency of stage divers, (even though the stage is only about 12 inches from the ground) all to the disappointment and discomfort of the security staff, the party had escalated to near AWK standards of hard partying. Had this local Clifton bar, regularly frequented by local denizens shown mighty Andrew W.K. that New Jersey was the place that parties forgot to die?
Wrapping up the the show, perhaps to the venue staff's sigh of relief, AWK made a speedy exit to the stage door, never looking back. The party was over. Upon giving up hope to the prospect of any encore on this early Sunday night, the sweat covered mob reluctantly retreated to the bar for one last drink. As I followed, I gained a new respect for what I had initially written-off as a one-hit slinging, cheap beer swigging, musical charlatan. In my new enlightenment to his influence, I now hold in high regard his elegantly spoken, pro-party motivational teachings, his dauntingly skillful,  power stance driven piano skills which drive his music, and finally his naturally consistently witty sense of humor, in which AWK effectively incorporated within his many projects.
May he party forever.  
*
Find out more about Policemen in Pickups here:

www.policemeninpickups.com
www.facebook.com/policemeninpickups
And of course, more on Andrew W.K. here:
https://www.facebook.com/andrewwk