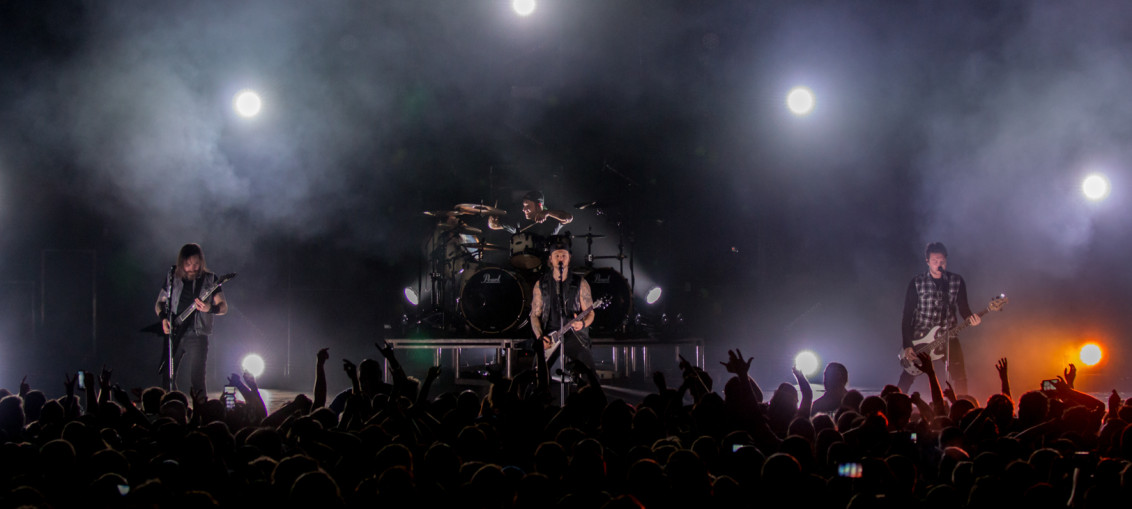 Photos and Article by: Casey Steinmiller
KANSAS CITY – The lower bowl of The Midland was jam packed Tuesday evening. Die-hard fans who've seen Bullet For My Valentine over a dozen times were there among others who were fans of Asking Alexandria and While She Sleeps.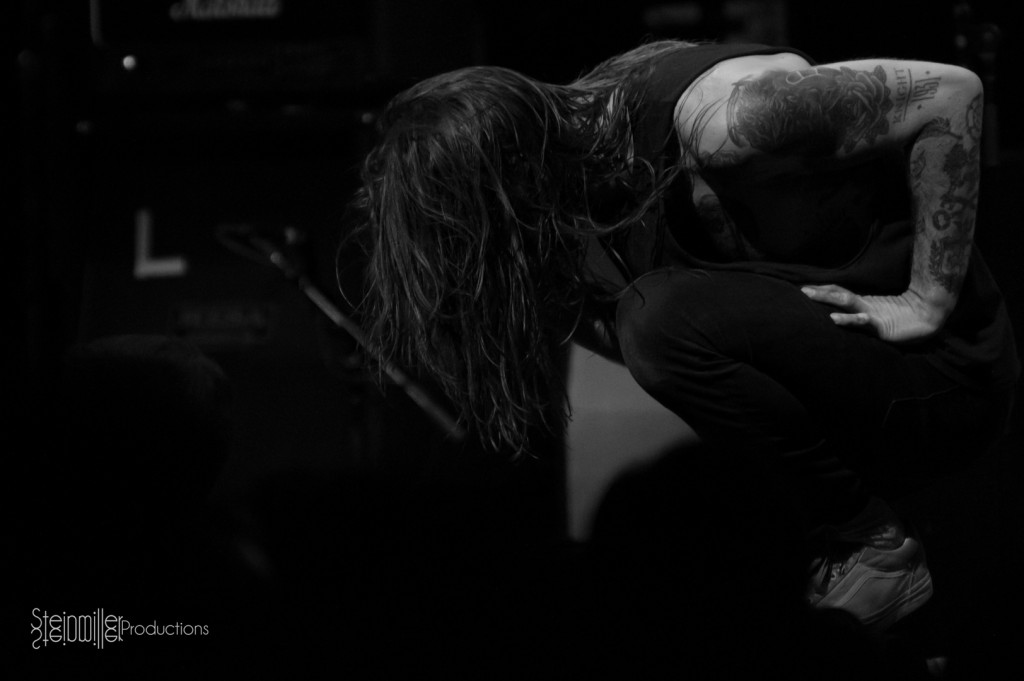 A giant floor to ceiling black and white banner was set up on stage for While She Sleeps. The lights dimmed and the crowd hushed. With a thunderous sound of drums, the band strides onto stage. They open with one of their heavier songs, "Brainwashed." The high-energy music got the crowd excited immediately. Next up, While She Sleeps put in the work with the little time they had. During their last song of their short set, "Four Walls," the lead singer Lawrence Taylor stepped out onto the crowd and started singing while surfing.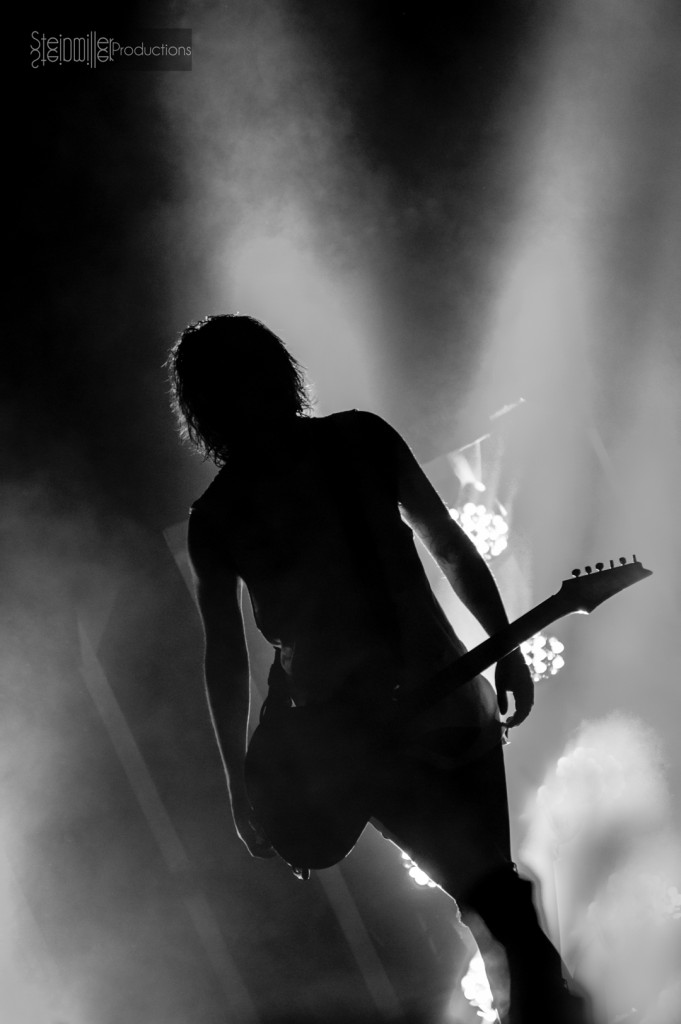 The house lights brightened and the stage lights dimmed for a set change. Asking Alexandria was up next. All of the lights went down. The intro for "I Wont Give In" started. The crowd roared in excitement. Denis Stoff, lead singer for A.A. came onto the stage and asked "Kansas City, are you fucking ready?!" and received a roaring response from the audience. Mosh-pits immediately started in several parts of the crowd. After that, they immediately kept the energy up by going right into "Run Free," and then "The Death of Me." They went on to play other songs such as "To The Stage," "Not The American Average," "A Prophecy" and even (to the delight of the crowd) a new song, "The Black." Asking Alexandria finished with a very fitting song, "The Final Episode."
Another lull and very large set change happened as soon as A.A. left the stage. Lights were set from floor to ceiling at the back of the stage as well as more in the front. The crowd grew impatient and started chanting "Bullet! Bullet!". The chanting was interrupted by a thunderous noise. The lights dimmed and the song "No Way Out" started … and the crowd lost it. Flashing lights created an excellent light show on its own. Bullet For My Valentine lead singer Matthew Tuck walked out onto the stage shredding on the guitar. (BFMV has hard-hitting drums and screaming guitar chords — not a show for an easy listener.)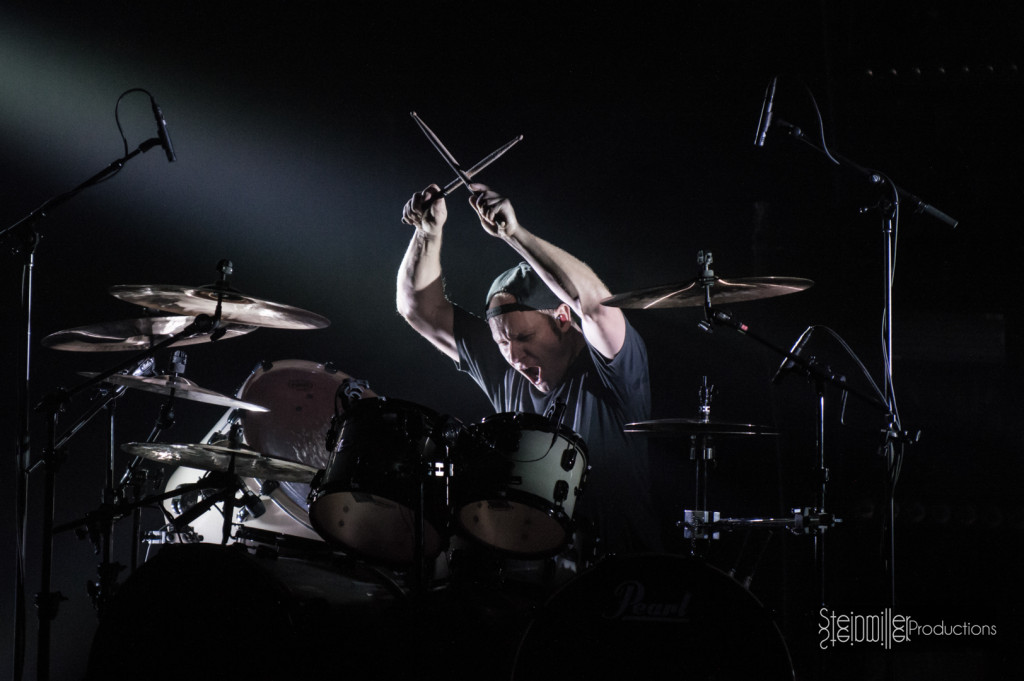 From the start, the band kept their foot on the gas pedal through their whole set with constant energy and excitement. They played some of their well-known songs such as "Your Betrayal," "Venom," "The Poison," and more. At one point, Matthew Tuck introduced their drummer for this tour (Jason Bowld) who then went into an extremely intense drum solo. They ended the night on a high note with fan-favorite, "Walking The Demon" to the delight of the crowd. BFMV puts on a show that shouldn't be missed!