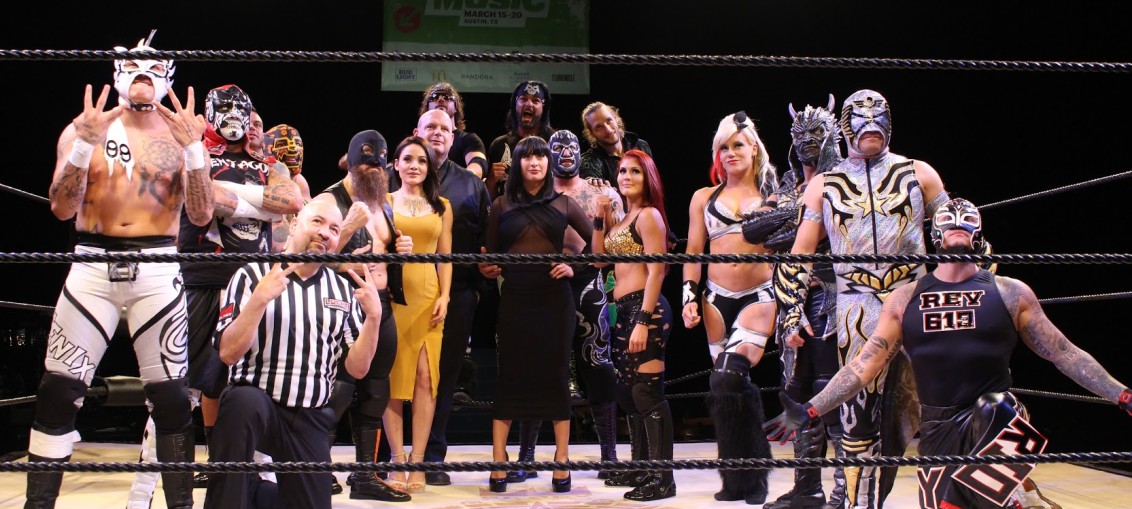 Article by: John Gholson
Img Credits: Ray Zombie
Pro wrestling is the new punk rock. If that analogy holds, then WWE is a major label snatching up tiny acts and homogenizing them into something they perceive as more "radio friendly." Heck, they even have their own punk label, NXT, a showcase for the kind of wrestling that's capturing an audience who's grown tired of Raw and Smackdown's exhausting cycle of no-stakes wrestling feuds. The audience for pro wrestling has more outlets than ever before, from the immediate availability of international acts on streaming services to regional independents who are finding their own ways to stand out in the ring.
The time is perfect then for El Rey Network's Lucha Underground, a weekly TV show now in its second season, to make its mark in the wrestling landscape. Unlike its television "sports entertainment" peers, Lucha Underground creates season-long storylines centered around "The Temple," a Boyle Heights warehouse where the greatest fighters in the world gather to prove their worth. Backstage vignettes and skits are shot like small scale action films, fully embracing wrestling's unreal side to craft plots that skirt the fringes of fantasy and horror. It is a B-movie fan's wrestling wet dream and a product quite unlike any other show on television.
And I can't believe I saw it live.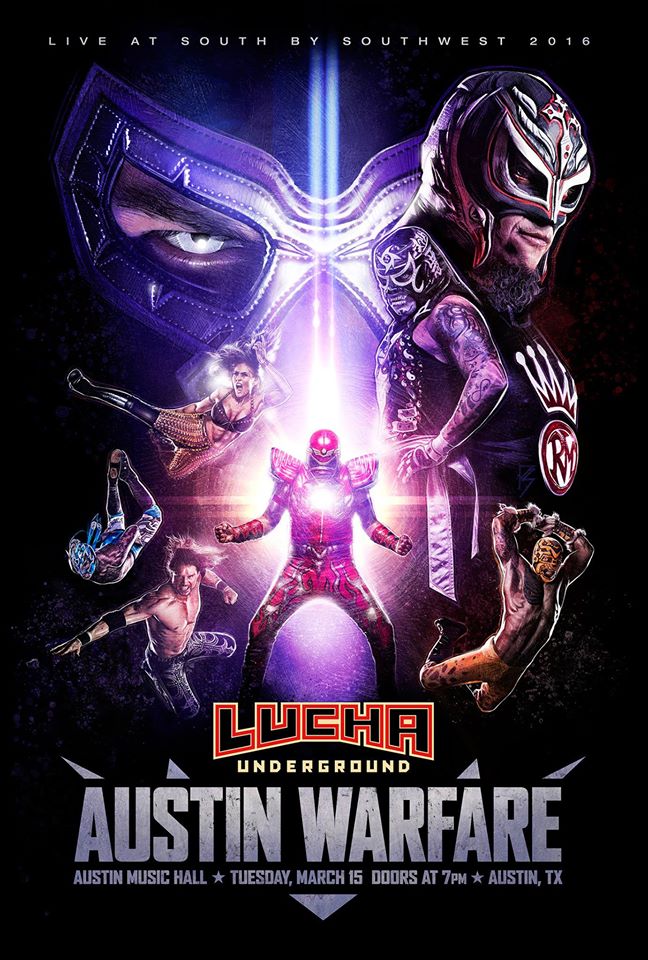 Unlike WWE, Lucha Underground is not a touring show and the only way, so far, to see the action in-person is to get into The Temple in Los Angeles for a TV taping. It was special thing, then, that the show made its way to Austin for SXSW.  "Austin Warfare" brought Mil Muertes, Fénix, Rey Mysterio Jr. and more to blow the roof of the Austin Music Hall at a one night only event.
The show opened with a short set by lucha rockers El Conjunto Nueva Ola, who continued as the house band for the night, playing cover songs between matches and keeping the crowd's energy up. The opener was a four-way fight between half-human/half-man Drago, costumed spaceman Aero Star, bearded brawler Son of Havoc, and crowd favorite (and unrepentant arm-breaker) Pentagon Jr. The skull-faced Pentagon won but not before Aero Star took a flying leap off the Austin Music Hall balcony that left him carried out of the building by paramedics. He's ok now, but, being there live, I found myself thinking, "How the hell do you top that? Where do you go from here?"
Well, they tried to top it pretty quickly, with a match pitting the most feared rudo (villain) on the roster against the most cheered técnico (hero). Champion Mil Muertes is my platonic ideal of a masked luchador – beefy, mysterious, terrifying, and no nonsense. Fénix is smaller, faster, and a perfect underdog against Mil Muertes. Together, with Muertes's valet Catrina circling the ring, they furthered along the television storyline which saw Fénix chasing the Lucha Underground Championship title.
Semi-retired wrestler/Canadian-turned-Mexican-vampire Vampiro, who does color commentary for the promotion, did a lengthy in-ring skit involving his psychiatrist (his storyline psychiatrist, for anyone worried that a lawsuit is pending after Vampiro bodyslammed the medical professional). Then, we got ass-kicker Ivelisse taking on furry-booted newcomer Taya. Austin loves Ivelisse, by the way. I got my first taste of this before I'd seen much of the show, at the Season 2 premiere viewing party at The Mohawk. The packed bar was louder and rowdier for her than any other performer on that episode.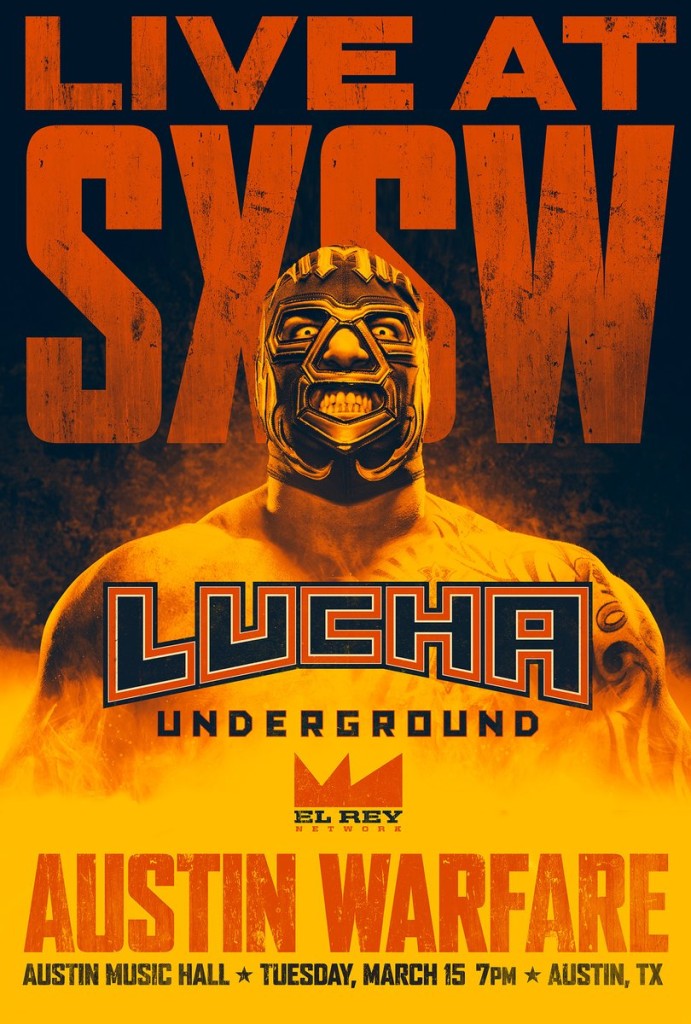 In Lucha Underground, since the fights are often for bragging rights over who's the best in the world, the matches are intergender. The women are positioned as contenders and threats without their own division that relegates them to some kind of cheesecake special attraction status. They come to The Temple to fight, and they do. While we didn't get an intergender match at "Austin Warfare," it was clear that the importance of what LU is doing with their women wrestlers was carried through to the live audience. I've been at WWE events where the crowd dissipates for beer during "Divas" matches. Here, Ivelisse and Taya had them on board from the bell.
Our closing match was a trios, pitting two teams of three against each other. Our rudos came out first, Johnny Mundo, P.J. Black, and Jack Evans, playfully antagonizing the Austin crowd with poetry (?!) and accusations of hipsterdom. Mundo and Black wrestled in WWE as John Morrison and Justin Gabriel, respectively, but now stand as examples of how the wrestling business is changing. An exit from WWE might've spelled doom for a wrestler even ten years ago, but now these two find themselves with all-new fans on a show that gives the both of them an air of hipness that neither had in WWE.
They faced former champ Prince Puma, Brian "The Machine" Cage, and veteran Rey Mysterio Jr. and it was a thing of beauty – a match so exciting, you often had no idea where to look. Yes, we got to see Cage, a man composed entirely of oily flesh-colored bowling balls, take people's heads off while a flying Prince Puma did things I've only seen my action figures do. Mysterio, if slower than his prime still a master of ring geography, teased and eventually hit his crowd-pleasing "619" finisher. Somewhere in there, the rudos had kendo sticks. Jack Evans got a black eye? It was expertly controlled chaos, the kind of match where the spots and near-falls keep building to a satisfying finale that pops the crowd and sends them home happy.
Wrestling should make you happy. It shouldn't piss you off as a fan or make you numb from seeing the same two guys fight two times a week for eight months in a row. It should be exciting, and embrace the weird, and ultimately be about fighting. Lucha Underground is all of those things, and these days, there's really no good reason to settle for the same old pro wrestling shows.