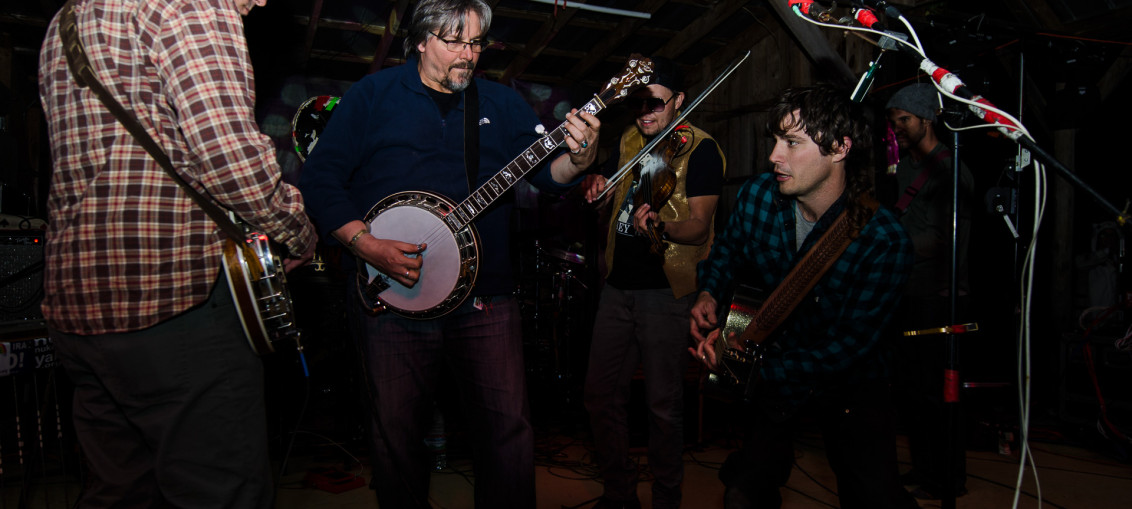 Article and photos by : Jopey Maid 
Lafayette, GA — When is a band a little folk, a little bluegrass, part punk rock, some Americana, with a hint of blues and a pinch of funk; all stitched together, and tied up in a hillbilly hodgepodge of playful and sometimes dark wonderful? When it's Strung Like a Horse.
I found myself 45 minutes from home submerged in a sea of stars in the rolling hills of Cherokee Farms in Lafayette, Georgia. I had the pleasure of checking out T-Dawgs Presents: 19th and Final Hootenanny, waiting to see Strung Like a Horse.
You may be wondering, "What is a Hootenanny?" Well, it is an informal gathering of people who entertain one another with music and have a good time.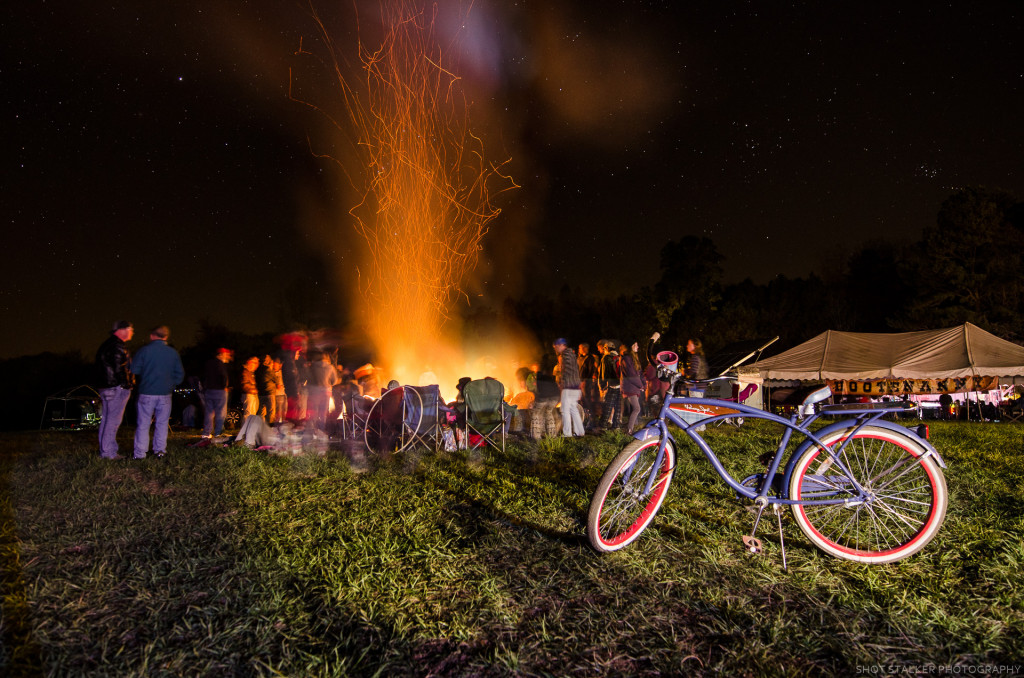 And what a gathering it was! Laughter and music filled the air as people socialized, danced, and sang along to the tunes. The night air was chilly and people gathered around a huge bonfire for warm discussions; while children ran about and climbed on dome structures in the light between the fire and stage.
This Hootenanny has a history rooted too deep to pull up here but it is has been a noteworthy event that has allowed many wonderful bands an outlet to showcase their talents. This was not the first time SLaH has closed the Hoot down. And on this night devoted fans gathered tightly around a pavilion stage to give one final HOOT, and watch SLaH make it hotter than a goats butt in a pepper patch.
If X marks the spot then that spot is down the road from the farm in Chattanooga, Tennessee. This is where SLaH first sailed in to uncharted territory with this curious vision they call "gypsy-punk garage-grass".  I imagine SLaH as band of gypsy pirate misfits that hijacked music's nomenclature, made traditions walk the plank, and unlocked a treasure trove of unique flavor. When you hear them play you know they are no gimmick. They know their instruments inside out, and their storytelling lyrics are clever and interesting.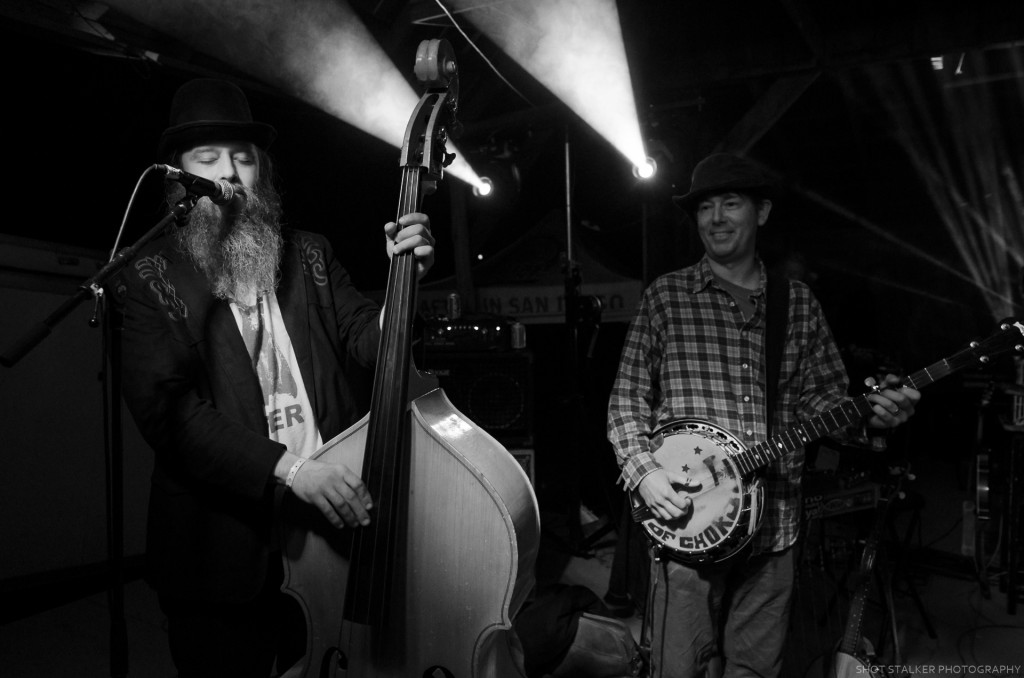 This was my second SLaH concert so I knew to expect a high energy show but tonight's show was a little different. As usual, tribal fusion belly dancer Lacy Jo heated up the crowd with snake like movements, shimmies, and back bends; while simultaneously fluttering and rolling her stomach. But, unlike the last show I saw, we all got a special treat as we watched other music artists performing at the festival get invited on the stage to perform with them. This added extra instruments such as spoons, a wash board, a flutter tongue flute player, an extra banjo, and a pedal steel guitar.  It was a true show of talent that felt intimate and unrehearsed. Everything was spot on as if they had all been playing together all their lives.
The set list included originals such as Gypsy Jane, Free, and Circus Song. Then a fun mishmash of musical culture when they covered songs like The Beatles; Eleanor Rigby, The Vapors; Turning Japanese, and The Ramones; I wanna be sedated.
The show was atomic as Clay Masselle charged the microphone, yelped, yodeled, and kazoo-ed in to the Georgia night. Whether playing the mandolin or acoustic electric guitar he would swoop down eye level with Crawford's twanging strings; playing while staring intently as if trying to coax the vibrations free from their threads. True to the banjo style Crawford picks and grins, claws at his strings with silver nails, and grins again.  Sometimes it was like watching a friendly and welcomed duel of sorts.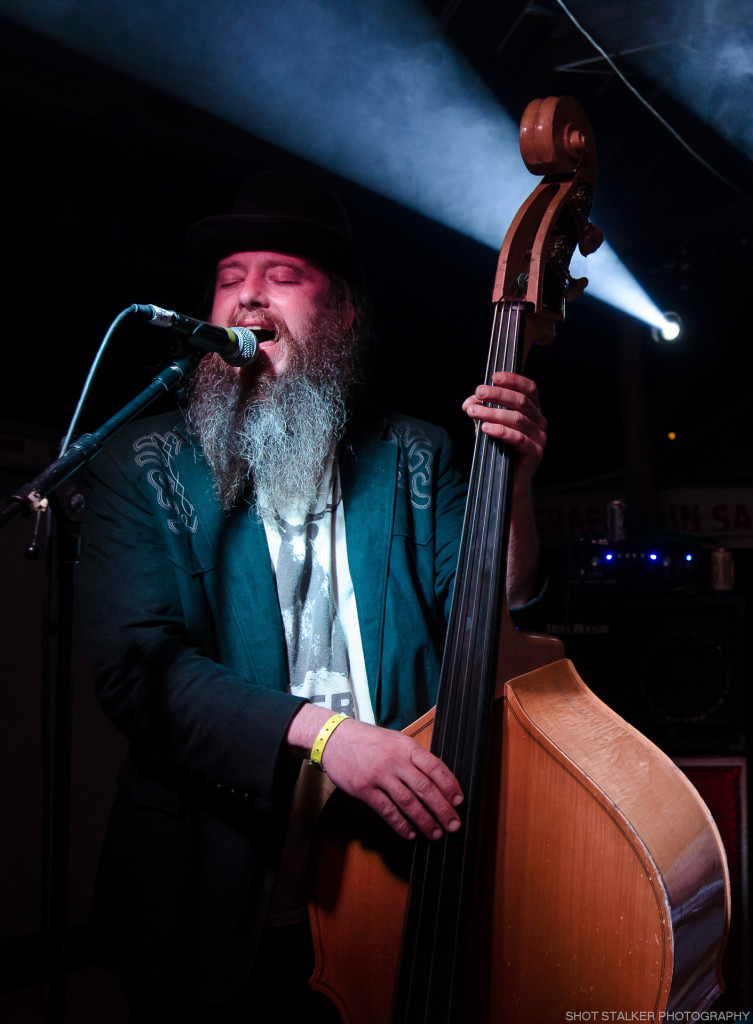 B.J. Hightower's wide-eyed animated expressions as he sang harmonies, plucked, and smacked his bass created a creepy, fun feel that is sure to grab your attention. Jordan laid electric foundations with his guitar. Crispy was intense with solid drumming and rotary bell tings. And then there is Spooky Fiddler. If the devil ever really did come down to Georgia; Spooky would steal his soul and devour his spirit.
And since the devil wasn't willing to take the risk; he sent the police down to cut the show short in the form of a noise complaint. But that did not stop the rebels from closing the show. Clay quietened the upset crowd with a promise. If they were quiet the band would play one more song, acoustic. Everyone sat down and the band unplugged. As their final song they performed Horizontal and everyone listened contently under the stars in the cold night to the bittersweet end of the Hootenanny.
Strung like a Horse comes so far from left field you know it has to be right. I suggest checking their tour schedule and making plans to attend a show if you want to experience a different kind of spectacular.
In the meantime, check out some previous recordings of a few of my favorite songs from the show:
https://www.youtube.com/watch?v=HMyT6iPVvdw&nohtml5=False
https://www.youtube.com/watch?v=MlBHI55OMLg&nohtml5=False
https://www.youtube.com/watch?v=tFBBSR3VSt8&nohtml5=False
Keep up with Strung Like a Horse on their Website & Facebook