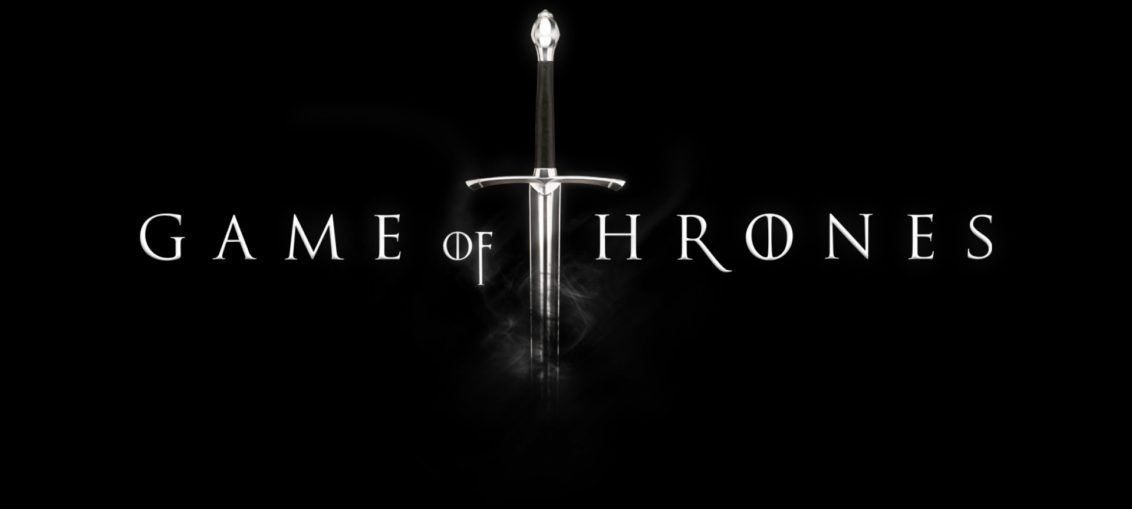 Article by: Anthony Florez
Spoilers ahead. Spoilers ahead. Spoilers ahead.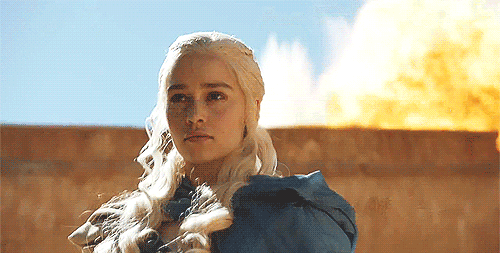 Episode Six: Blood of My Blood
Damn it, Tommen. You knucklehead. Somehow the King's Landing plot has gotten even more irritating, right when it had all the potential to start going somewhere. My favorite description of the High Sparrow, as he revealed some of his origins to Margaery last week, is that he's the guy who used to have a good time and party a lot but then decided he was unfulfilled and is now out to make sure no one else has a good time ever again. And screw that guy. The big question right now is whether or not Margaery is playing the Priest by converting and helping to manipulate Tommen or if she has actually gone ahead and drank the Kool-Aid which I find unlikely. Her cousin Loras would not have survived the direct attack by the Tyrell army so it's more likely she's playing the long game with the Faith Militant and that's even more bold when you realize she's doing it all alone. Jaime has been stripped of his position, Mammy Tyrell is clearly baffled, and Cersei has somehow found a way to be even less relevant. Plus there's no way she would let Tommen in on any kind of master plan and if she has she's far less clever than she's given credit for. I wish I didn't have to say "time will tell" with regard to how this part of the show will pan out because it's been going on since the end of last season and this is the sixth episode already. I must object, however, to the portrayal of the common people who seem to just yell support when prompted without any underlying understanding of what's really going on. Basically, they were all there to see Queen Margaery stripped and paraded through the city and then when that got cancelled they were still ready to Huzzah! Why? I'm not trying to be a lecherous hump here but, come on. What about the King converting to religiousity is so thrilling. This would have been a more accurate series of reactions rather than the orgiastic cheering.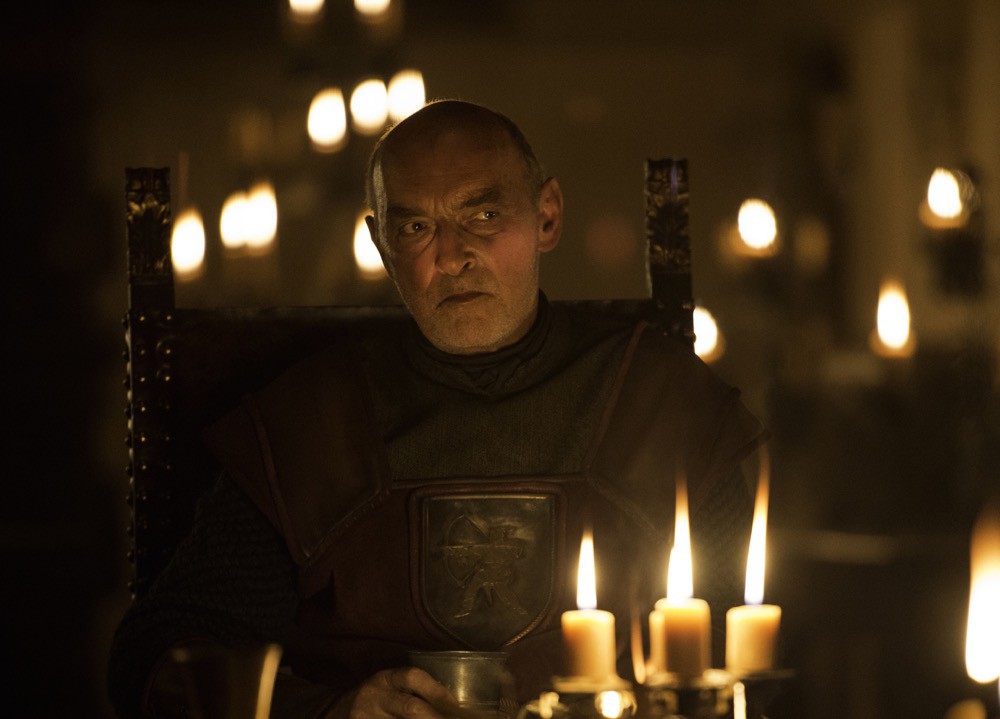 Golly, Sam's dad is an asshole. I know this was kind of implied considering he threatened to murder him if he didn't renounce his inheritance and take the black, but geez, what's the point of continuing to fat-shame the guy after he's already done what's been asked of him? Pappy Tarly has what he wants in his more masculine heir, the unfortunately named Dickon (seriously) and yet he still has nothing but contempt for poor Sam and his new blushing bride, Gilly, who cleaned up very nicely by the way. I don't see stealing Heartsbane (which is made from Valyrian steel, don't know if that was pointed out clearly enough) and running away in the middle of the night as much of a victory as other reviews seem to find it. It feels more like a Ferris Bueller's Day Off moment only without Ferris Bueller and something tells me a two hour long adventure with just Cameron and the girlfriend would have sucked pretty hard. No offense to Sam and Gilly but they are just not compelling enough to carry an entire plot line on their own, not with so many other loose threads and a ten episode season.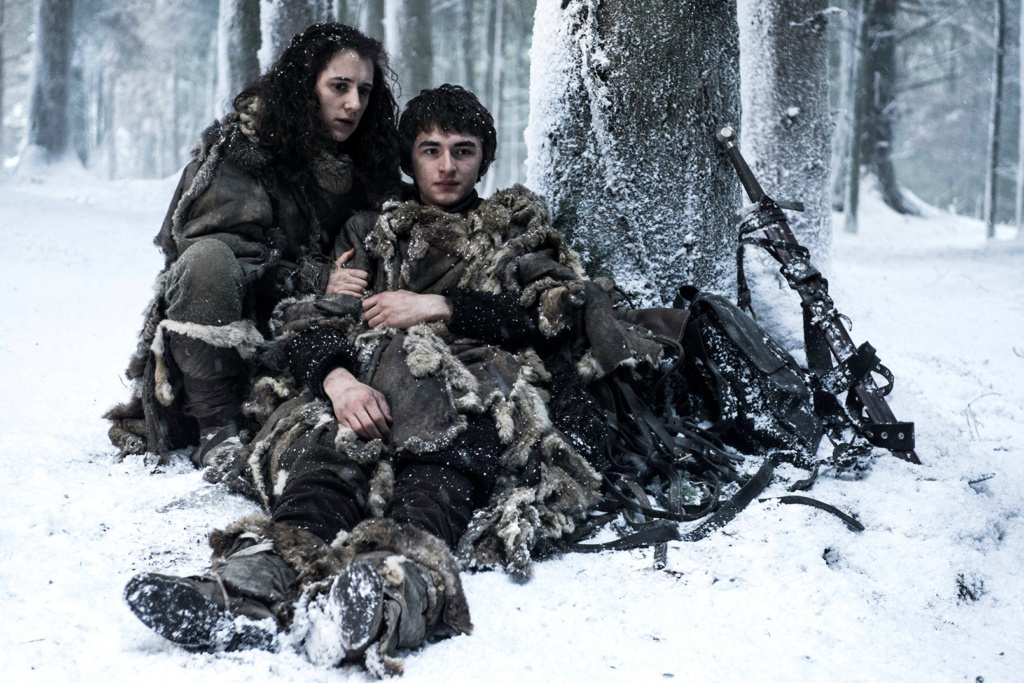 I'm a little worried about the last second heroics going on this season. Bear with me, not to be a masochist or anything, but one of the things that made Game of Thrones so compelling in the first place was the absence of those moments. As the sword fell on Ned Stark we all thought, something is going to come in and save him, of course, he can't just die, and then nothing did and his head came clean off and then we all reacted accordingly. Same with the Red Wedding and the fight between the Mountain and the Viper. Not so, lately. Brienne and Pod riding into the rescue at the last second got a free pass but doing it again with Uncle Benjen Stark/Coldhands is starting to feel suspect. There has been a brutal sort of logic to the story so far and of course Bran needs to survive a little longer, for the sake of exposition at least, but having an action beat followed by a last minute timely arrival of a hero seems to be at odds with the overall appeal of the show (what with its non-Hollywood formula for suspense and horror). We did get a split second glance of the Mad King during Bran's wifi download or whatever and that was enough to keep me interested in his arc. There is a fan theory floating around out there that somehow Bran will end up being responsible for Aerys Targaryen's insanity by using his time travel mind-melding ability… and I don't know how or why that would happen, but if that is the case….nice. One more thing to blame on Bran.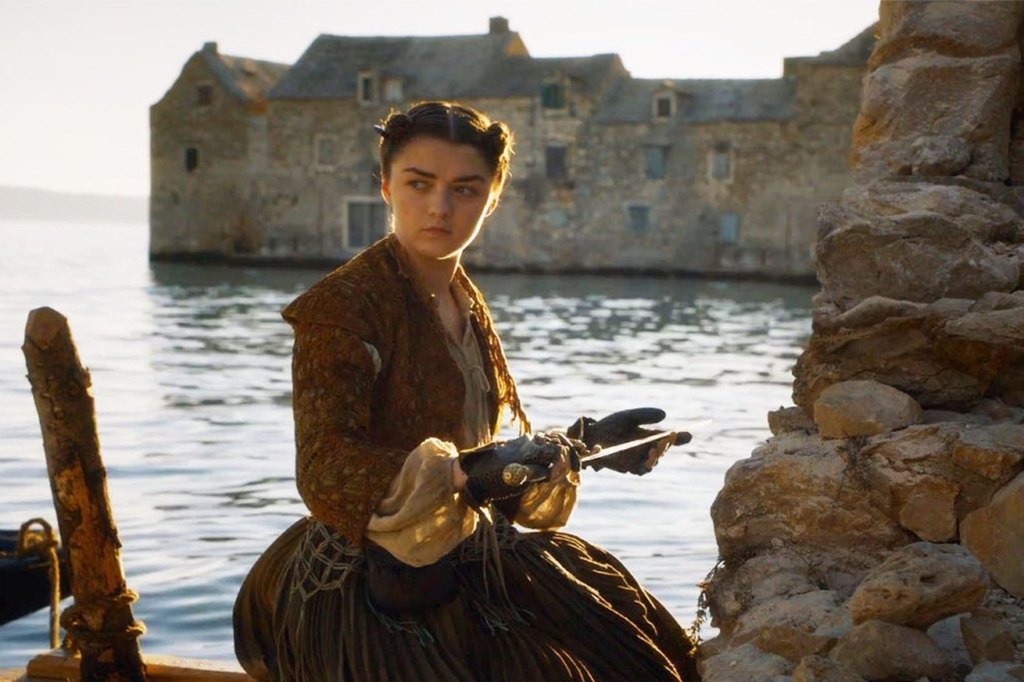 This episode finally confirmed what the Waif and the rest of us have known for quite some time: Arya's heart isn't really in this whole Faceless Man situation. It's been awesome getting some Jedi training and all, but damn if she isn't needed elsewhere. It was strangely satisfying that she found her moment of clarity while bonding with the actress portraying Cersei, I found this to be the most affecting part of the whole episode. Saving her life, however, might have been ill-advised. Call me cold-blooded, I don't see what sparing her and outing the other actress accomplished other than pissing off the assassins guild she's been training with. And the Waif hasn't exactly been subtle about how badly she wants to wallpaper the place with Arya's face. There have been some rumblings about how underwritten the Waif is and where her unmasked contempt for Arya comes from but it's clear Jaqen has been cutting the Stark girl a lot of slack. Even as he finally condones her murder he still extends a piece of mercy. Don't let her suffer. False. This had better be an epic showdown.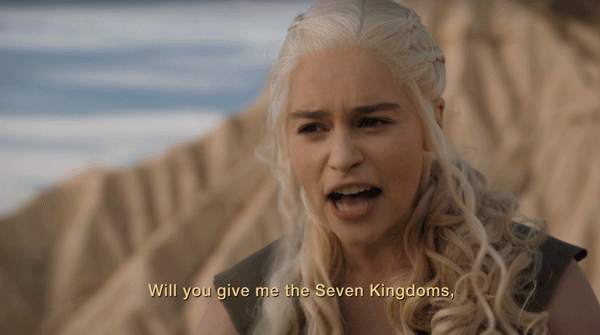 Daenerys found Drogo, her dragon. It turns out he was behind this one hill. Again, I'm getting the feeling that this season is turning into a touch of fan-service without the substance or stakes that made the show so suspenseful. To be brutally honest this episode's brief visit to Vaes Dothrak, and the arc itself was just lazy writing. Dany gets lost and loses dragon, Dany gets captured, Dany takes over the Dothraki, Dany finds lost dragon. All at no cost to her or anyone else (sorry Jorah). What was the point except to march in place while the rest of the story lines caught up? If it's not clear by now, I'm giving this episode two obsidian blades down. Six episodes in and I'm still not sure what we're building towards and most of our major players are standing around idle. Call this a betrayal of humanity but at this point I'm cheering on the White Walkers. Just go south, there aren't enough Night's Watch on The Wall to organize a barbecue and it's all JV, the Varsity squad blew town.
Bonus: This is my fourth article on this season of Game of Thrones and I still can't remember how to spell Daenerys' name without looking it up. Here's the cast of Game of Thrones being adorable as all get out.
---
Episode Seven: The Broken Man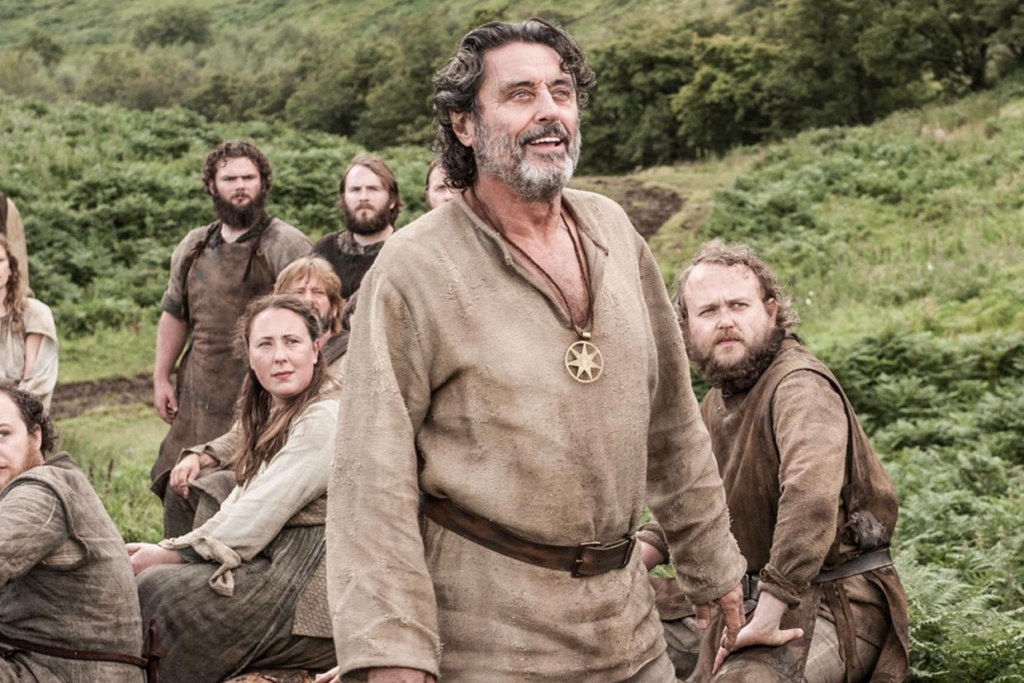 Ian McShane has had an interesting career trajectory since his brilliant tour-de-force performance as Al Swearengen in HBO's original series Deadwood. And by interesting I mean that it has barreled downwards with a near tragic persistence that I have only been able to avert my eyes from in horror as the man's incredible talents go to waste, year after year. The actor himself does not seem to mind, however, and when he was cast last year in Game of Thrones he fired off a few nonchalant spoilers that had the nerd community foaming at the mouth. To paraphrase, he mentioned that his character would be involved in bringing back another character that had been assumed dead, and with Jon Snow's fate still unknown the interwebs collectively pitched a fit, to which McShane replied, "Calm down….it's only tits and dragons." And I loved the man all the more. Alas, his performance in Sunday's episode, The Broken Man, was all too brief, but his spoiler was confirmed — it was The Hound (!) that had been resurrected after being mercilessly (mercifully?) left to die by Arya Stark back in season 4.
It seems like a bold move to include an additional character to an already crowded list of story lines, most of which have not made enormous amounts of progress this season. It's clear from the way The Hound picked up that axe at the end of his segment that he's no longer interested in carpentry, but where is he headed? He has no allegiances left and no real desire to live after Brienne female empowered him all upside the head. His character has been all over the map as far as loyalties go but there has always been some thin semblance of a conscience somewhere below the surface. It's possible his time with the septon has finally convinced him to get back into the fight and to do the right thing. Whatever the 'right thing' is in a place like Westeros.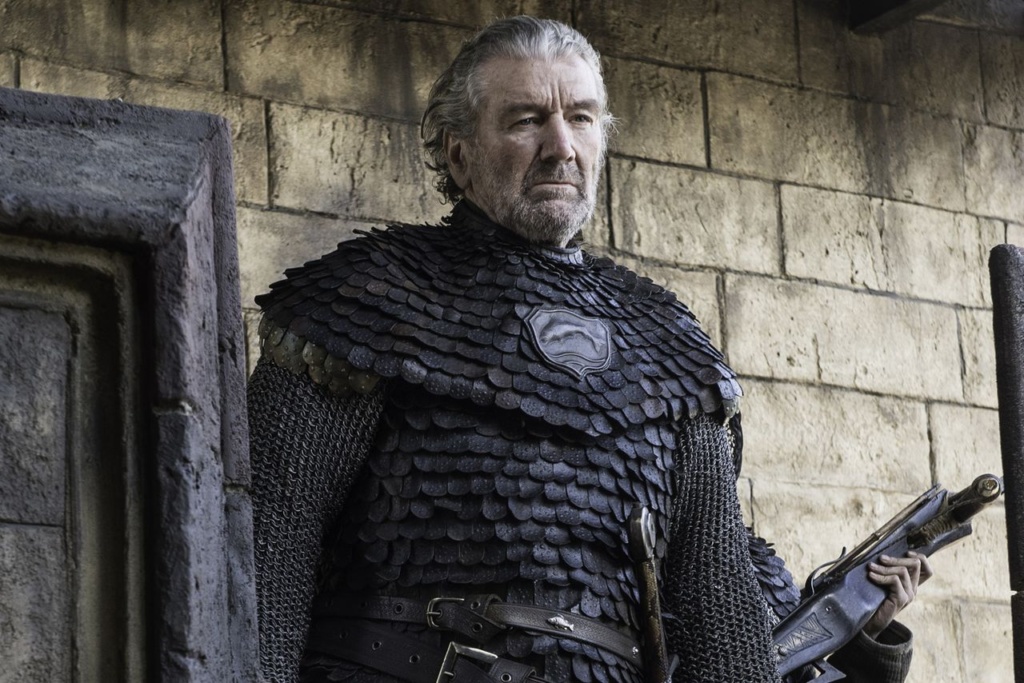 Down at Riverrun it's a little bit convoluted as to what's going on, but I'll try and break it down a bit because it's hard to know who to cheer on here. The Blackfish is a Tully who was allied to the Starks and is Sansa's great uncle. He's the guy in the castle throwing shade through the parapets like it's his job. The castle itself is under siege by the Frey's, aka the jerk-offs who hosted the Red Wedding who are allied with the Lannisters. Edmure Tully is the guy the Frey's kept threatening to kill unless the Blackfish surrenders. He's also the guy who got married at the Red Wedding in place of Robb Stark, which is ultimately what pissed off Walder Frey and set off his betrayal. Jaime and Bronn are on the side of the Frey's and start whipping them into shape upon their arrival. We like Bronn because he's funny and also kind of a dick. We also like Jaime because he kind of bonded with Brienne that one time, though he also pushed a small child out a tower window for stumbling upon him schtupping his own sister. Game of Thrones! (hums theme song)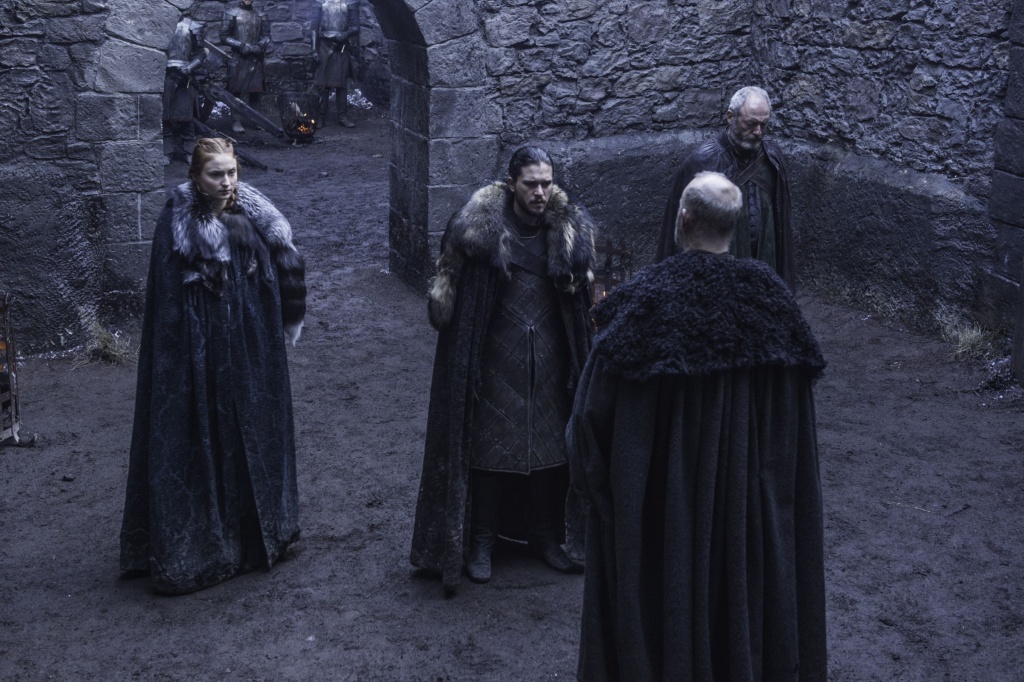 Jon and Sansa aren't doing so hot on their recruiting tour and it's no wonder why. They are trying to rally folks to war and are far too even tempered and reasonable. What they need is some demagoguery, some fanaticism. Some kind of snake-oil salesman to really pitch everyone on the idea of uniting behind the Starks for the ultimate end-game, the coming White Walker invasion (the Wights aren't coming over the Wall with their best and brightest, they are murderers, they're rapists, and some…. I assume, are good zombies). But they are doing their best and Daavos is an oddly perfect addition. You get the sense that he's glad he's playing for the right team finally after spending so many years in the employ of the man who rewarded him for saving his castle by chopping off his fingers. And granting him knighthood, of course, but his fingers, man.
Oooohhh, boy, Olenna Tyrell just became my favorite person on GoT for about five minutes. "I wonder if you're the worst person I've ever met. At a certain age it's hard to recall." DAAAAAMN, Mama Tyrell! I mean, how do you really feel. Granted, Cersei has gotten more than her share of comeuppance but this felt so much more satisfying than the Walk of Shame, which was egregious and mostly just sad. Good ol' Margaery has finally sent the signal that I was sure was coming: she's still playing the game. Olenna is going to peace out for her own safety and if the preview for next week has anything to say about it, Cersei is about to bring the Mountain down on everyone's heads. This functions as a symbolic and a literal sentence. Wordplay! Will she finally make the ultimate sacrifice to save little Tommen? If the Faith Militant takes her life, things may finally hit the fan in King's Landing and I personally can't wait for the whole place to burn to the ever-loving ground.
Damn it, Arya. You knucklehead. You're seriously going to go strutting around Braavos dropping coin purses like a 14 year old boy playing Halo after pissing off that guild of face-changing super assassins? And you're not going to have your guard up when a crazy face-pinching old lady closes in for the kill? In an earlier season this would have been a truly shocking or scary moment but we've been following Arya for sooo long at this point we know she's going to pull out of this somehow. In fact, I appreciate they didn't pull a Walking Dead and confuse a cliffhanger for a plot point because it wouldn't have had any real teeth. Suffice to say, after seasons long training montages and psuedo-profound lessons in identity they have made one of the most likable, fun characters into an absolute chore at this point so this better lead somewhere interesting like an unexpected rendezvous with Dany or Tyrion. Or you know. The plot.
Bonus: Since we didn't get any Brienne/Tormund action this week I decided to look for memes, MTV is apparently still good for something.