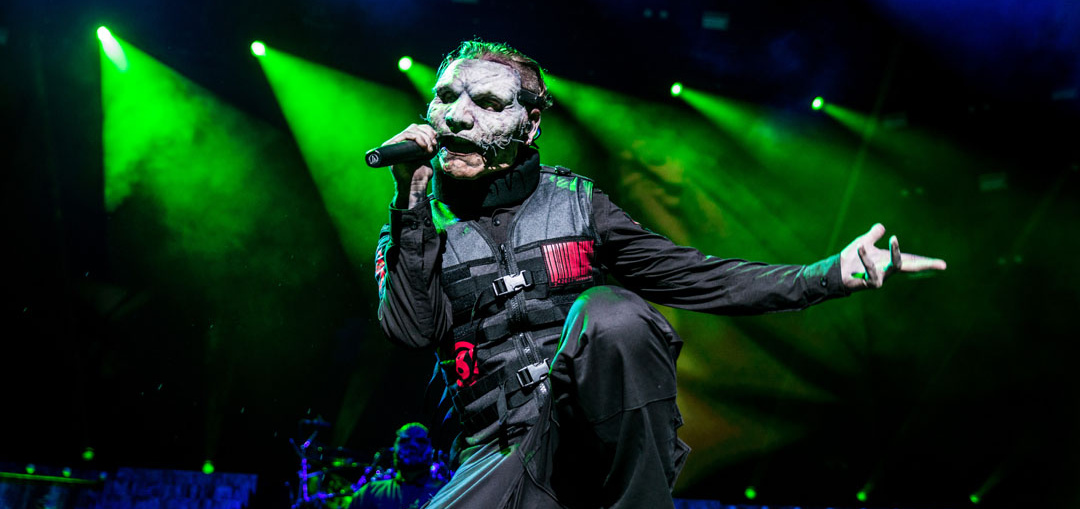 Article and Photos by: Richard Knowles
Mansfield, MA — This past Tuesday night the Xfinity Center was flooded with maggots. No, not the grotesque garbage dwelling creatures, but rather sweaty, dirty humans who proudly refer to themselves as such. Slipknot fans, excuse me — maggots — piled into the venue anxiously awaiting to see what the band had in store for them, and on this night Slipknot did not disappoint. That wasn't the only reason that the seats were packed though, as Marilyn Manson and Of Mice And Men were also on the bill to give the audience a reason to scream.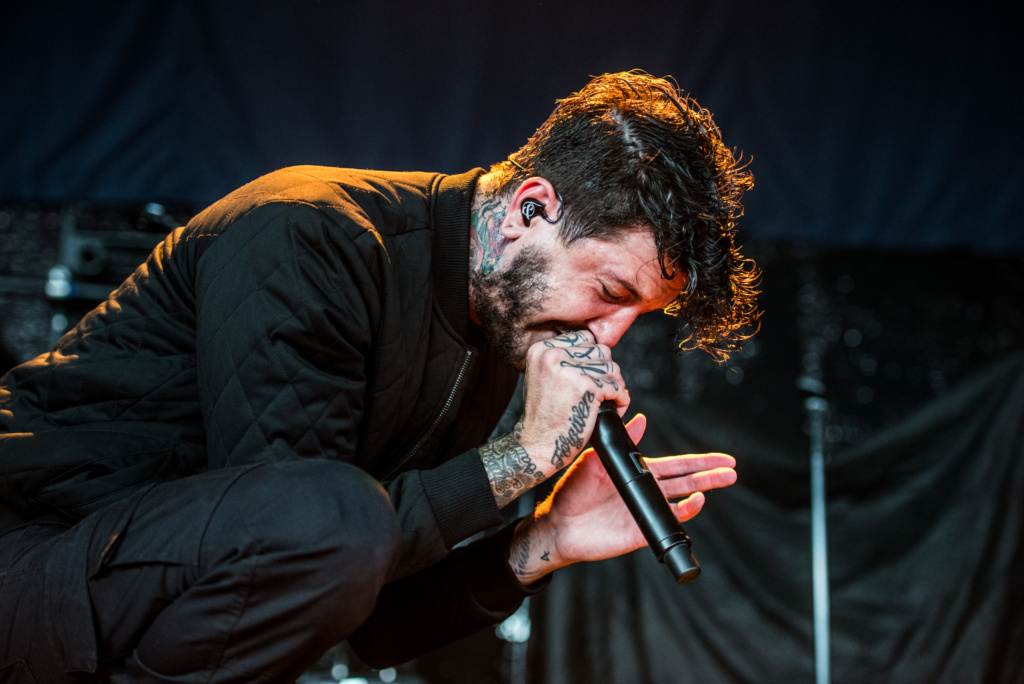 Of Mice And Men opened the night up and put the crowd into a frenzy. It's been awhile since I've seen these guys live and their set was just as good as I remember. I was a bit hesitant to make direct eye contact with frontman Austin Carlisle because of his sorted past with photographers, but he was dialed in and thankfully didn't seem very bothered by us. He unleashed an earth shattering, signature Of Mice And Men performance worthy of top honors on any given night.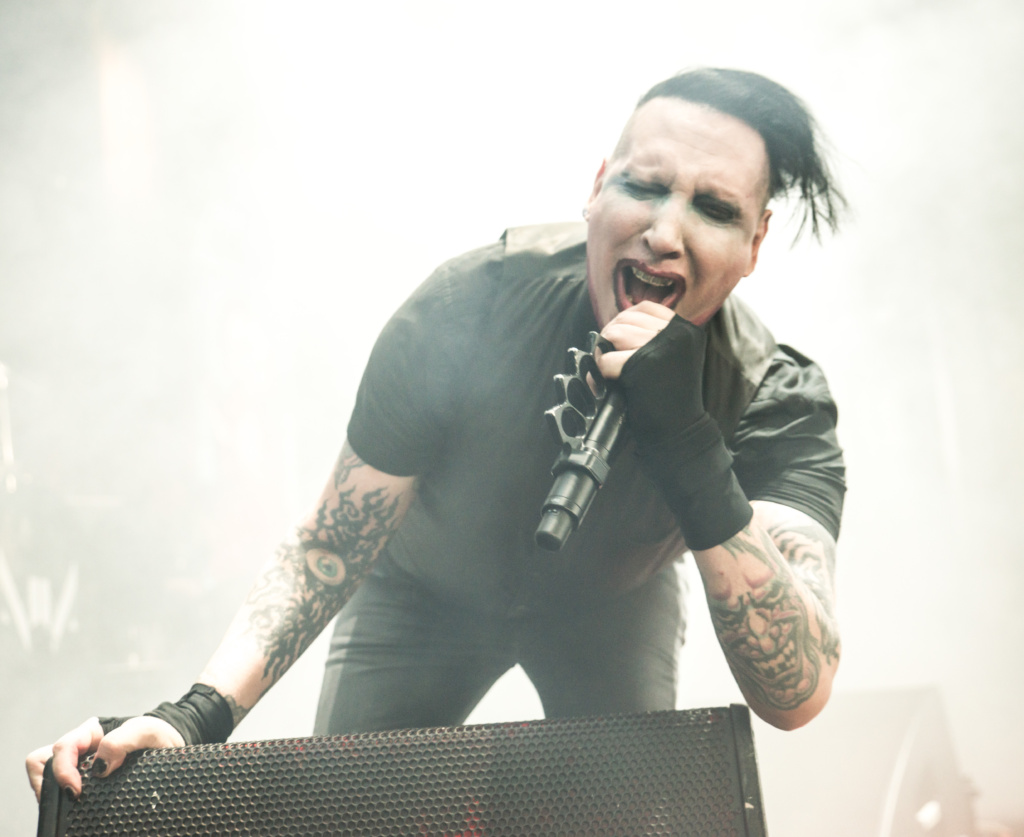 Next up was Marilyn Manson. I have followed his music for a long time and have always appreciated his style and unwillingness to conform to the "normal" way of life. He has constantly pushed the boundaries whether it be during his extreme performances or through his music. And he hasn't changed; he's stayed true to himself and I think that's why over a 20 year span he has continued to connect with his fan base. I was extremely honored to be present in the photo pit to witness up close and personal a performance that, although shaky at times, really pulled through and delivered by the end of the set, leaving everyone wanting more. Manson rifled out hit after hit including, " Beautiful People," "Dope Show," and "Sweet Dreams," and with the crowd cheering and singing right along this really set the tone for Slipknot.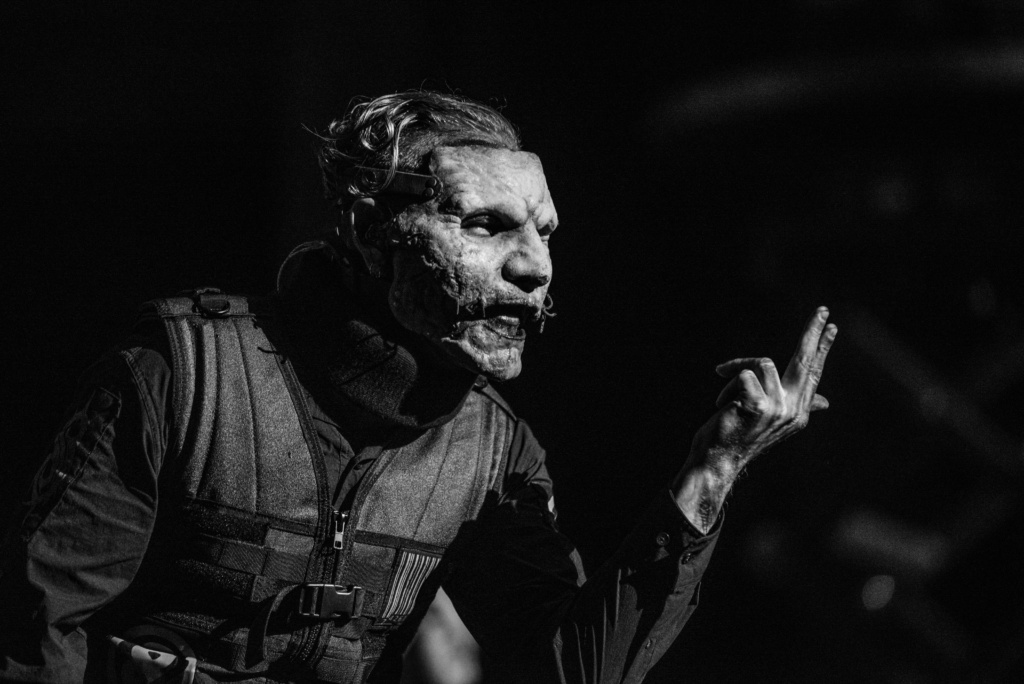 As a photographer Slipknot is the stage equivalent to ADHD. Between frontman Corey Taylor delivering his signature high energy performances or the never ending band behind him flying high from their drum kits and spinning through the air, it is extremely hard to concentrate. Your eyes and mind are forced into constant different directions — not to the point where you find yourself lost — but to the point of pure excitement mixed with a bit of delirium. Recently, frontman Corey Taylor had to have emergency spinal surgery which forced the band to postpone the first couple of weeks of the tour. With that being said, you would never know by watching Corey perform. Outside of the visible neck brace, his most prominent feature besides the mask was his ability to grab a hold of the crowd and never let go. There are certain performers who have this vice grip like affect and Corey Taylor is one of them. With an amazing band behind him and their maggot faithful in attendance, they poured through heart pounding song after song.
Now, I could sit here and rattle off what songs the band performed, but a Slipknot show is more than the setlist, at least it is to me. It's a spectacle of lights, a carnival for the eyes, and for most, which is the best part of music — an escape, even if only for an hour or two. Slipknot has an innate ability to pull you from your comfort zone and unleash a brutal attack of artistry and musical skill that sets them apart from the rest and makes you feel right at home. A psychotic home, sure, but home.