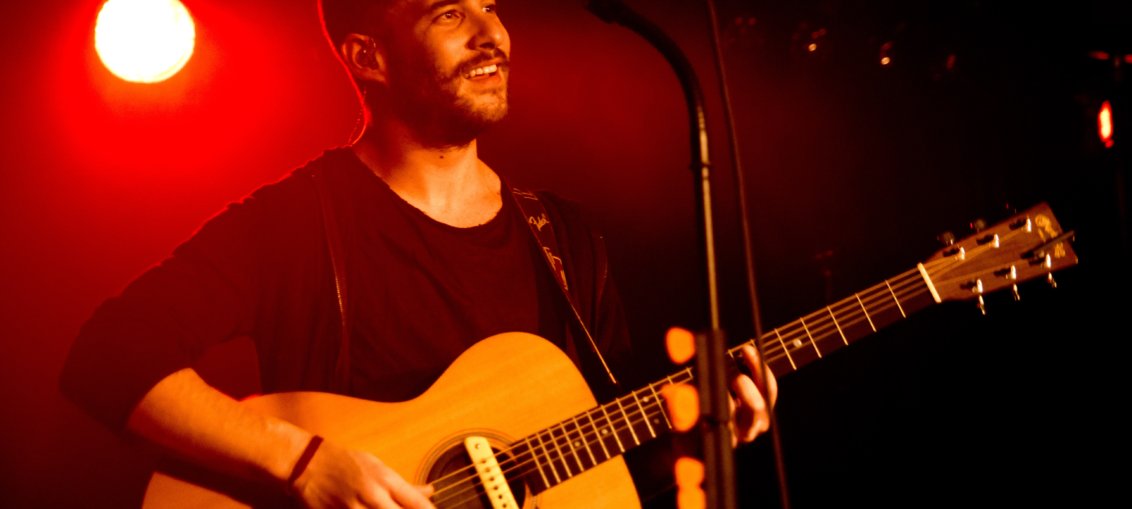 Article by: Frank Memmesheimer
Photos by: Jens Memmesheimer
FRANKFURT, GERMANY – Nachtleben (night life) is packed. Red light floods the basement club, wrapping the fading guitar sounds of vibrant support act Tim Kamrad in anticipation. The crowd is cheerful, drinks not too expensive. Where a mirror ball spun lazy circles just a few hours earlier, now lights pulsate and hearts beat faster as Lions Head take to the stage.
LIONS HEAD are singer/songwriter Ignacio "Iggy" Uriarte and Doni Kalbarczyk, the tour-de-force one-man band of the duo. Iggy sings and plays his guitar and flirtatiously engages with the audience while Doni delivers a beat and the groove: background vocals, electric guitar, keyboard, synthesizer, midi controller, and Ableton Push at the ready whenever they're needed. Their songs range, in their own words, from "dancy campfire atmosphere" to "bonfire disco".
In November, Lions Head went on a club tour to promote their newly released first album, "LNZHD". Prior to their concert in Frankfurt, MonkeyGoose met with Iggy, the voice and face of Lions Head, to talk about his artistic journey. We stayed for the music and took awesome photos.

Every writer is a reader first, every musician an audience of one to begin with. The songs of Lions Head do not exist in an artistic vacuum, they are, as is their author, informed and inspired by those who came before him: Mozart, Serge Gainsbourg, The Beatles, Paul Simon, Oasis, Amy Winehouse. Every now and then, musical snippets of a not too distant past echo in the contemporary sound of the duo.
"Hall and Oats", the opening song of the night, is such a piece of music. Not only is it a respectfully titled nod of appreciation, the intro is a homage to Kelis' "Trick Me" (2003).
The song is pacey, yet a challenging opener, as its exclamations demand a proper portion of energy from the singer to sound honest and heartfelt. Iggy nails it; yet, the audience needs more time to arrive in the here and now of the gig. The following title, "See you", is Lions Head's current single (with 2.7 million streams on YouTube and Spotify) and better suited to draw the crowd in. "I don't want to see you go", they sing along, joining to tell the story of an unsolved on/off relationship that is hurtful for both.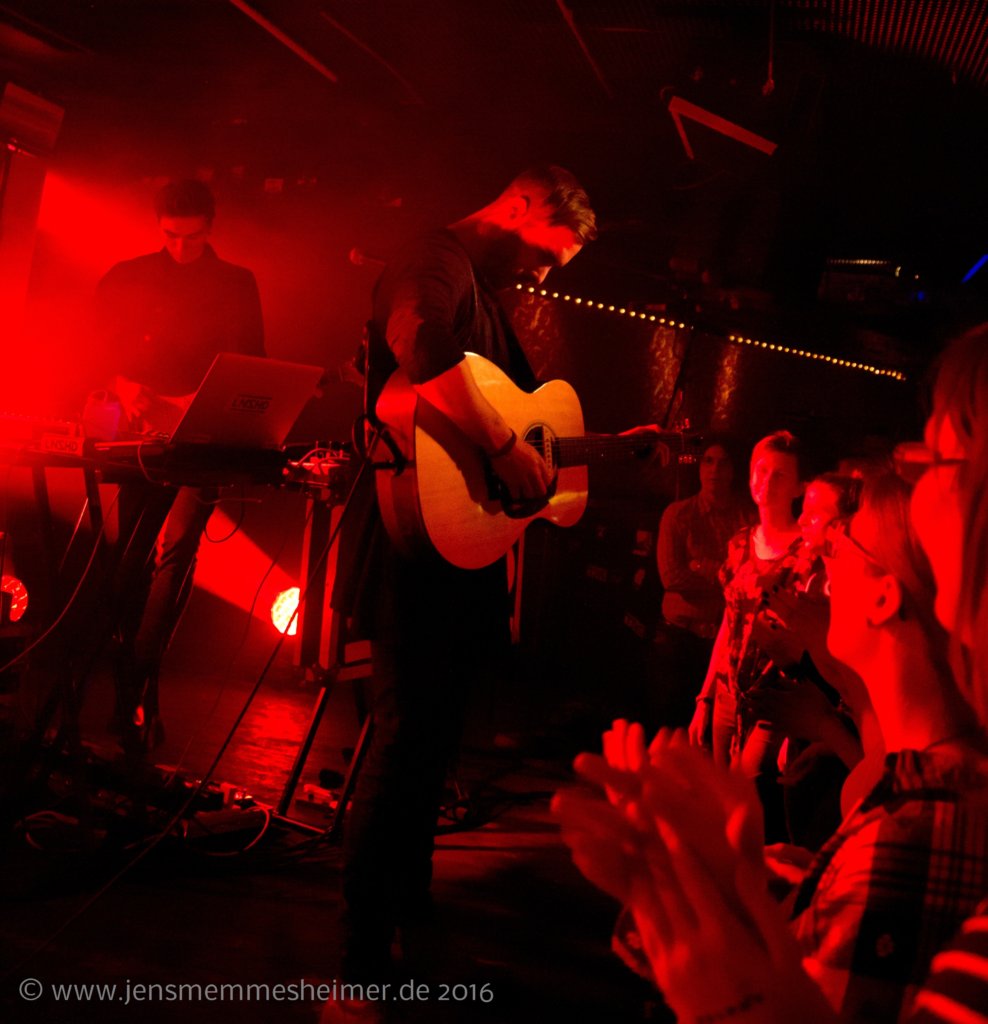 The following segment includes "Bender", "Senorita", "Rio Grande", and "Castaway". These are all songs that demonstrate the musical range of the duo. Songs that get the crowd going. Songs that set the tone and thematic direction for the night: love, loss, sex, break-ups, and all-out partying.
Write about what you know, they say. It stands true for singing, too.
As the evening progresses and we get further down the setlist, songs are heard that didn't find their way onto the album. "For the Night" is such a song. Derived from real-life experience, it downright celebrates the notion of unfaithfulness. Well into a day of going through his motions of wooing a new acquaintance, the singer is surprised by his adored companion's late revealing a previously unmentioned boyfriend, waiting faithfully for her at home. Determined not to gain a promiscuous reputation, she withstands the direction the night is taking: "I'm not a b—-." – "I know", Iggy replies, "Just be my b—- for the night." The unambiguous line is cheered upon from all over the crowded room, although it does not blend too well with the charming interactions, the fawn brown eyes, and the boyish smile that holds the first few rows, all dressed up for the occasion, captive. Romance is not on the agenda. Further behind in the room stand a majority of couples in their thirties and forties, and some beyond. They cheer the loudest while standing right next to their very partner, whose potential unfaithfulness the song advocates. Oh, to be young and carefree again and leave a trail of broken hearts. The ominously titled "Eels", played later during the concert, takes it even further. The song about escalating physical attraction is quick to drop the f-bomb. The audience doesn't mind, though; they handle (non-German) expletives enthusiastically. "Hold on tight, we're gonna —- all night." Well, there goes subtlety.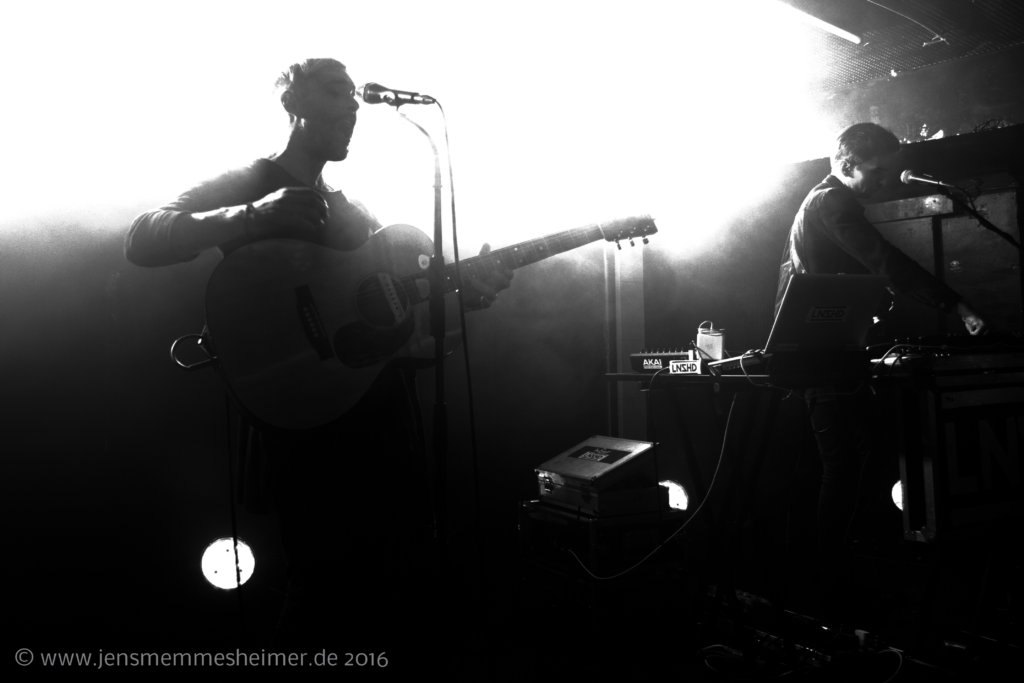 "Free" is the most vulnerable and calm song of the evening. It is about the possibilities and uncertainties that come with the freedom of choosing one's path in life and the people with whom the journey is best travelled. It's a perfect mixture of Iggy's calm and then vibrant voice and versatile guitar play.
"The next song is about dealing with bullsh-t", Iggy shouts and the crowd cheers. It is Tuesday in Germany's busy financial center and everyone has had two daily doses of it. "Bleed as You Go" is a smooth invitation to never give in to failure, disappointments, seemingly insurmountable obstacles, nagging voices, one's own past, and the "monster I've forgotten [that] keeps coming back for more." Instantaneously danceable. Then follows "Begging", the first song Lions Head recorded. With over 3 million streams, it is the song that started it all last year. "Firecracker" could be referred to as the duo's Facebook-song. "Have you ever liked someone and looked through all their photos on their social media until you realized you're in too deep?" This is where the sobering, yet strangely relieving chorus sets in: "Let's be modest, she's not a goddess."
"Inbetween" is the flagship song of the album; it condenses all the things Lions Head is musically and thematically. Accompanied by a soft guitar, a pulsating beat, and a playful melody, Iggy and Doni take the audience on a trip to the inbetween moments that define Lions Head's journey.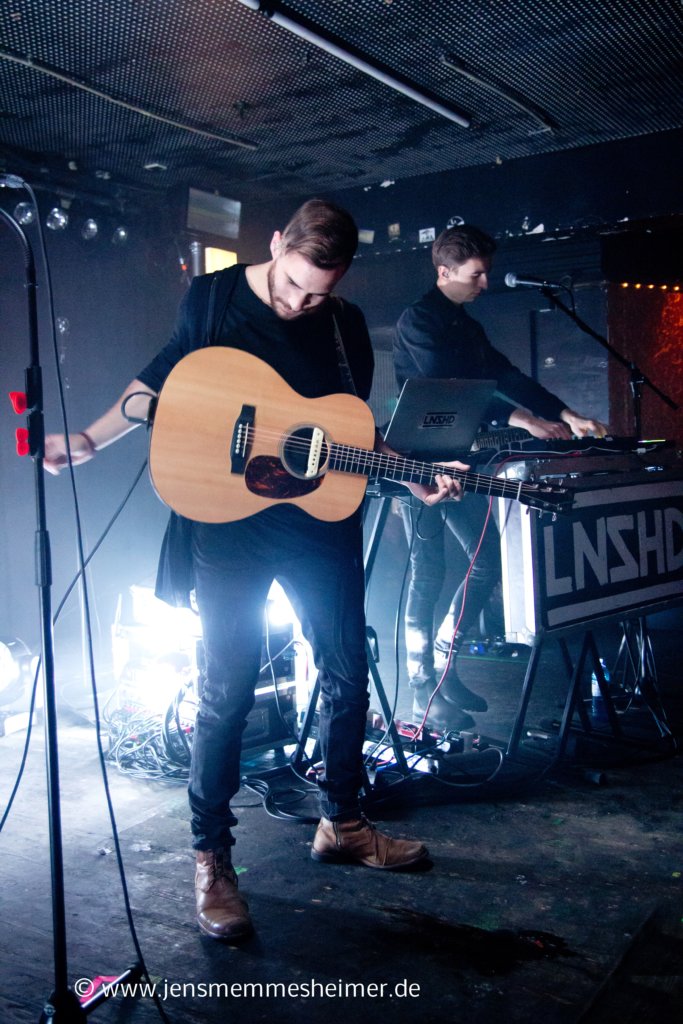 "The Bullet" is a song about the joy of suffering, about not wanting to let go of that painful thorn in one's flesh. It is impressive in terms of bass pressure. Iggy's voice soars over the cloud of sounds while the audio engineer squeezes every last deep bit out of the speakers without the faintest hint of acoustic override. Prepare to have your hearing reset.
"The Morning After" sings of shortsighted decisions and what happens when reality sets back in: "Nothing matters 'til the morning after." It is paired with a song that anxiously utters the faint hope for things to turn out differently than expected: "Will you be there when I wake up?" "When I Wake Up" is Lions Head's biggest hit to date. With soon to be 7 million streams and residing high up in German airplay charts for weeks on end, it gave this summer of '16 a song to sing along.
The final number, "Lost and Confused", is danceable, yet as fleeting as life and memory sometimes are. "I don't mind if you don't want to stay here, all I want to do is hang on[to] you. […] Pretty soon you'll forget you ever knew me."
What a boldly self-ironic choice of closing song for a band that came to stay.
///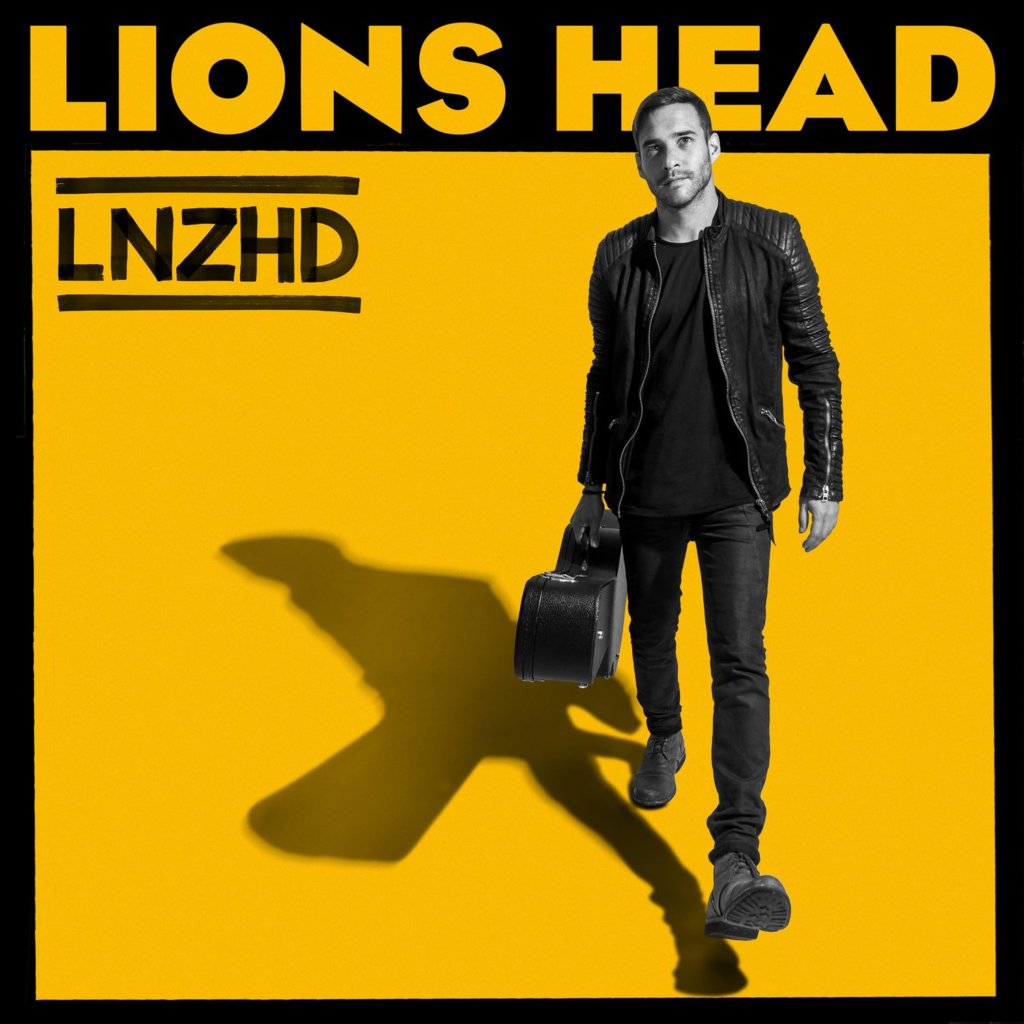 "LNZHD" by Lions Head (2016)
When I wake up                               (2:54)
See You                                              (3:30)
Begging                                              (3:01)
Inbetween                                         (3:16)
Don't Talk About Me With Him   (2:02)
Firecracker                                        (3:01)
Hall & Oats                                       (3:12)
Senorita                                             (3:28)
Morning After                                  (3:33)
Bleed as U Go                                   (3:49)
The Bullet                                         (3:47)
Lost & Confused                              (4:20)
Lions Head love being on tour and will return in early 2017 for their See You Tour (Part III).
March 22 Saarbrücken, Garage Kleiner Club
March 23 Augsburg, Kantine
March 24 Dresden, Puschkin
March 25 Hannover, NDR "Phil & Chill 2017"
March 26 Münster, Sputnik Cafe
March 28 Dortmund, FZW
March 29 Köln, Luxor