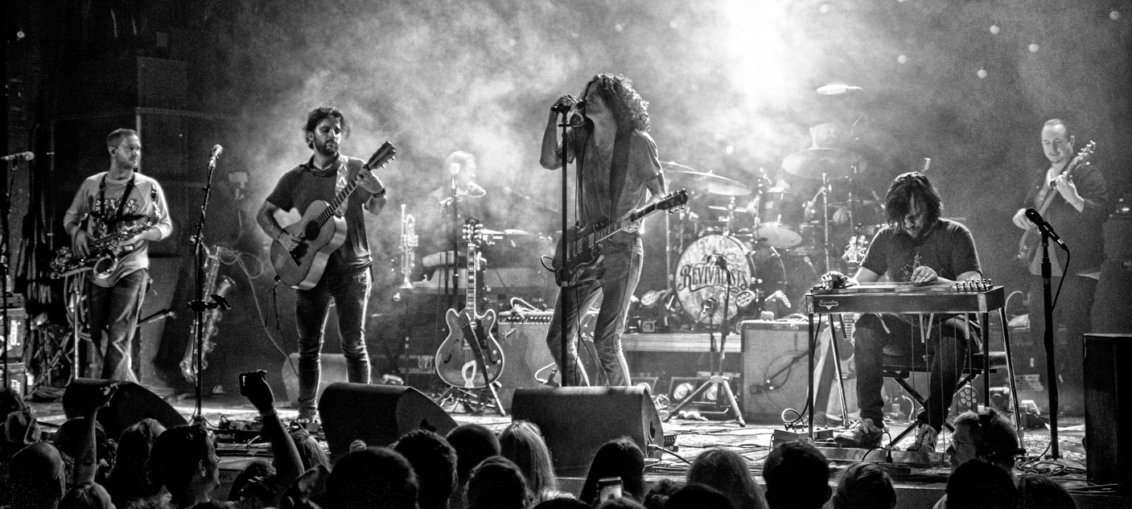 Article and Photos by: Linda Carlson
The Revivalists played for a hometown crowd at the Madison Theater in Covington KY on March 21, 2017.  Although the band hails from New Orleans, lead singer David Shaw was born and raised in Hamilton OH, a mere 30-mile jaunt up Interstate 75.  The crowd was filled with hometown fans, and the welcoming was warm and enthusiastic.
The sold out show was also a testament to the enormous and growing popularity of this collection of seven eclectic and talented musicians that Rolling Stone listed in their "10 Artists You Need to Know" in March 2016 (link).  The band's loyal fans are affectionately referred to as "Rev Heads," and they brought their excitement and passion to the show.
Atlas Road Crew opened the night with its own brand of rock 'n roll.  From South Carolina, these five young performers took to the stage with confidence and shared their soulful southern-inspired music with a receptive audience.  Lead vocalist Taylor Nicholson lyrically bared his soul with smooth elegance, losing himself in sultry tones that surpassed his age.  For 45 minutes, the band not only entertained the crowd, but also set the mood for the main act…
The Revivalists entered the stage to Prince's opening monologue to "Let's Go Crazy," — "Dearly beloved, we are gathered here today to get through this thing called "life"…" As Prince's iconic words echoed throughout the venue, the band members took their places to cheers and applause.  Everyone was ready.  It was time…
The Revivalists know how to satisfy.  How many bands incorporate not only superb vocals, guitars and drums, but also the complex sounds of saxophone, trumpet, pedal steel guitar and keyboards, with such orchestral precision?  These seven musicians have played together since 2007 – no small feat in the music industry for any four- or five-member start-up.  But here, there are seven souls, seven personalities, seven gifted individuals whose respect for each other, and love for the music they create, allow them to stay united and passionate after 10 years.
David Shaw showed a profound appreciation for the fans who came to support the band.  He is not an isolated performer on a stage, separated from the fans by an invisible wall.   He stepped into the crowd routinely throughout the show, connecting to those assembled physically, emotionally and musically.
As embodied by their name, The Revivalists bring to the stage the same sense of connection and shared experience as the old spiritual Revivals of the 19th century.  A common purpose, a common passion, shared communally under one roof. Their music itself cannot be characterized by a single genre.  Is it rock?  Is it blues?  Is it jazz? Is it southern soul?  Yes, yes, yes and yes.  But so much more.  It has to be felt to be understood.
From the opening "Stand Up" through the encore's closing "Wish I Knew You," this band of minstrels delivered soulful performances to a crowd that sang along to every word.  And the band's rendition of Chuck Berry's "Johnny B. Good" had the packed crowds dancing in place.
As with any "revival" experience, people walked away smiling. And, on to the next town, to the next revival.