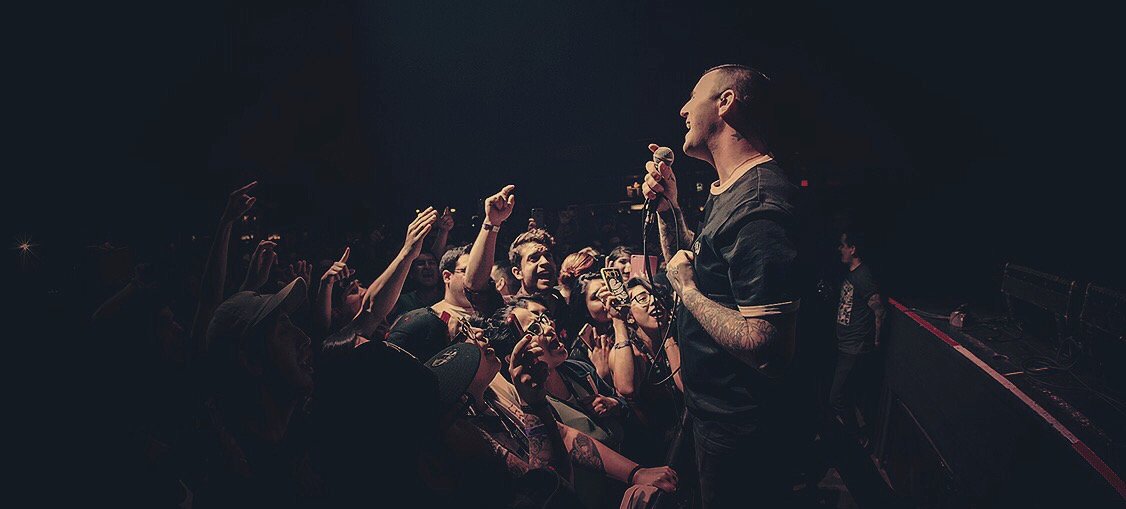 Article and Photos by: Megan Choi
Austin, TX — Earlier in January of this year, Bayside announced that they would be touring together with Say Anything. Support would be from Reggie and The Full Effect, and each band would get to play more than just a handful amount of songs for their fans. This was an exciting lineup that many would look forward to, as these bands have definitely made a name for themselves in the music industry.
Up first was Reggie and The Full Effect, a quirky rock band from Kansas City. Before starting their set, lead singer James Dewees jokingly apologized and told the audience that he was partying with a 20-something year old the night before. He also stated that "When a twenty-something year old asks you to party, you say yes!" The crowd burst into laughter and the lively mood of the show was already set. Dewees interacted with the crowd a lot, and knew how to make the audience laugh. Later on in the set, he told a story about how a so-called fan said "I love you Reggie!" and Dewees had to explain that his name wasn't actually Reggie. At the very end of the set, Dewees took off the first layer of his clothes and revealed a spandex outfit underneath. Musically, Reggie and The Full Effect is just as unique as the conversations they have with the crowd.
Next was Say Anything, a band that is known for its captivating and catchy songs. The band has been in existence since 2000, and are able to continue to provide refreshing music that keeps fans hanging on. They opened up with "Do Better," and later on would dive into their breakout album, …Is a Real Boy. Lead singer Max Bemis took some time between sets to compliment his band members and stated that they are amazing, unlike him (the crowd made sure he knew that they disagreed with that last part). Guitarist Parker Case made silly faces for the photographers and got up close for some pretty sweet shots. Later on, Bemis went into the crowd as well, where the crowd sang in unison, as well as welcoming the first crowd surfers of the night. For their final song, Say Anything played "Alive with the Glory of Love," and the crowd went wild, reminiscing back to over 10 years ago when the song first came out.
Bayside was up to close the night. For the beginning of their set, the stage went dark, and lead singer Anthony Raneri popped up right in the crowd. They then began playing "They Looked Like Strong Hands" and Raneri welcomed the crowd to sing along with him. Bayside played songs from their oldest self-titled album, all the way through their latest release, Vacancy. Some favorites that were played included "Blame It on Bad Luck" and "Mary." The band also mentioned that they would be selling Vacancy for $5 because they want people to enjoy their music, and it's not all about the money. Bassist Nick Ghanbarian mentioned that they were in Dallas the night before, which resulted in the opposite of cheers from the crowd. He then stated that no one from Dallas has ever given him a jersey that has wanted. He said "even though Austin doesn't have a hockey team, I feel like you would bring me one from your town." As the band told the audience to give a round of applause to the other bands, he also mentioned that they had to ask Dallas twice because they weren't loud enough. It seemed like the Austin crowd really brought their A-game to the show.  The band delivered a stellar performance, and closed the night with "Devotion and Desire." During the last song, mosh pits forming at the same time the crowd surfers started picking up, and everything was in sync.
I think most would agree that this was a solid show from bands that are no strangers to touring and the music scene. It's a nice sight to see these bands still deliver time after time. This tour was great for nostalgia and hearing songs that people started loving over 10 years ago. The tour has only just begun and there are quite a few dates left. You don't want to skip out on this show!
April 25  Los Angeles, CA  The Belasco Theater
April 26  San Francisco, CA  The Fillmore
April 28  Portland, OR  Revolution Hall
April 29  Seattle, WA  Showbox
May 1  Salt Lake City, UT  The Complex
May 2  Denver, CO  Summit Music Hall
May 4  Omaha, NE  Slowdown
May 5  Chicago, IL  Concord Music Hall
May 6  Cincinnati, OH  Bogart's
May 7  Pontiac, MI  The Crofoot
May 9  Cleveland, OH  House of Blues
May 10  Buffalo, NY  Town Ballroom
May 12  Worcester, MA  Palladium
May 13  Sayreville, NJ  Starland Ballroom
May 14  Philadelphia, PA  Electric Factory
May 16  New York, NY  Playstation
May 17  Baltimore, MD  Soundstage
May 19  Richmond, VA  The National
May 20  Carrboro, NC  Cat's Cradle
May 21  Charleston, SC  Music Farm
May 23  Jacksonville, FL  Mavericks
May 24  Ft. Lauderdale, FL  Revolution
May 25  Orlando, FL  House of Blues
May 26  Atlanta, GA  Masquerade
May 27  Nashville, TN  Cannery Ballroom