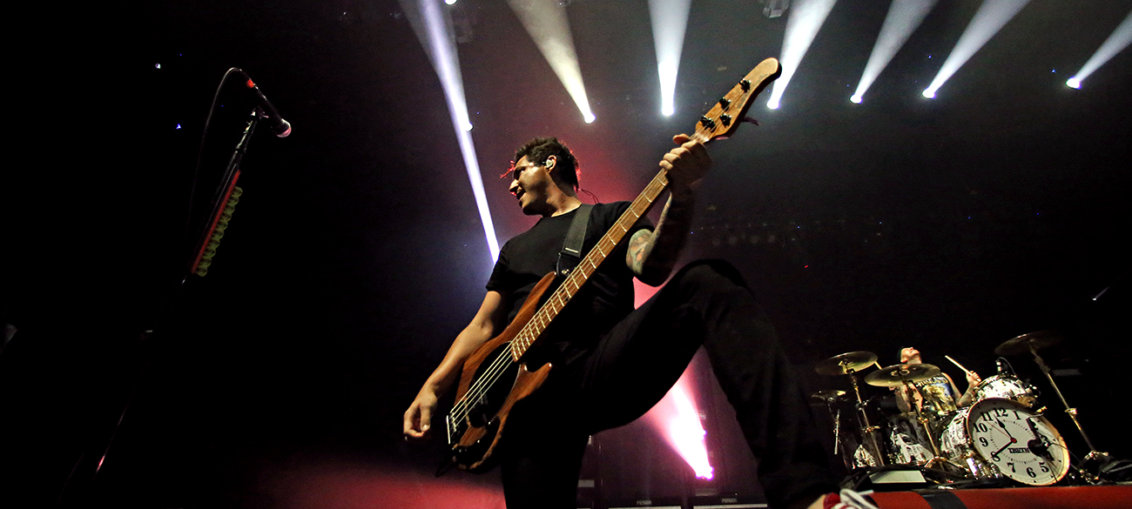 Article and Photos By: Joshua Guerra
Pierce The Veil has embarked on their "We Will Detonate!" Tour with Sum 41 and supported by Emarosa and Chapel, and made the fourth stop on tour in Austin, Texas.
The crowd at ACL Live Moody Theater seemed to be split young and old(er) between Pierce The Veil and Sum 41 fans. Sum 41 began their set with "The Hell Song," from their album Does This Look Infected?, with the backdrop behind them displaying their band logo and later a blown up skull. They played a cover of Queen's "We Will Rock You," as well as some fan favorites "Still Waiting," "In Too Deep," and then ended their set with "Fat Lip."
As fans patiently waited for Pierce The Veil to take the stage, a big white curtain hung in front of the stage with their name projected onto the curtain. A devil like creature appeared on stage with a TNT bomb remote trigger to set off fireworks as Pierce The Veil took the stage. Since being in the heart of Texas, it was only right for the band to begin their set with "Texas is Forever," from their latest album Misadventures. Also played were favorites "King For a Day," Hold on Till May," "Bulls in The Bronx," and "A Match Into Water," from their 2012 album Collide with the Sky. They ended the night with " Today I saw the Whole World," and a cover of Julia Michaels song "Issues."
Pierce The Veil will continue their tour to the East Coast, ending the U.S. leg at Rocklahoma in Pryor, Oklahoma, then travel overseas throughout June and July.