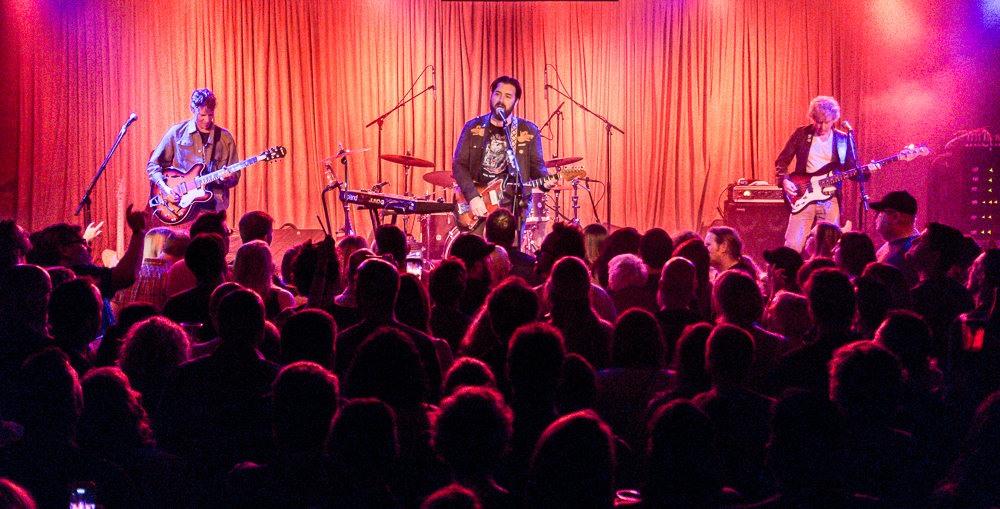 Photos and review by: Jason Robey
PHOENIX, AZ — Austin singer/songwriter Bob Schneider visits Phoenix a couple times a year, always packing the venue with a loyal fanbase and a handful of new converts. Sometimes solo, sometimes with a full band, he always leaves the crowd wanting more, and Friday's show at the Crescent Ballroom was no different. The show started with a half-hour set by Phoenix locals, Vinyl Station, who recently toured the country as an opening act for Rob Thomas. The band warmed the crowd up with songs from their upcoming album, getting the audience dancing early on, keeping a light and fun vibe throughout their time on stage.
After a short break, Bob Schneider walked on stage, to the sound of the sold-out room cheering for him and his bandmates. On this outing, he brought a three-piece band, and a 90-minute set list consisting of some of his most upbeat rockers, taking few chances to breathe for a slower songs. Schneider has an extensive list of songs he pulls from for each show, and is constantly adding to his repertoire. Tonight's 24-song set was a mix of long-time fan favorites, such as "Ready, Let's Roll" and "Black Mountain," along with newer, unreleased tunes like "People I've Met" and "Murderer."
As Schneider likes to vary his setlist night-to-night, he has recorded, and made available to purchase, every show he has played for more than a decade, both on his website and on Bob Schneider-shaped USB drives, which fans can pick up minutes after the show ends.
The evening's energy hit a crescendo with the show staple, "Tarantula," from the 2009 album, Lovely Creatures, complete with audience sing-along. He then took a short break, returning for a two-song encore, consisting of "The Californian," from the album of the same name, and "40 Dogs," also from Lovely Creatures. Bob Schneider will be on tour throughout the summer, and also broadcasts his residency show at the Saxon Pub in Austin every Monday evening.