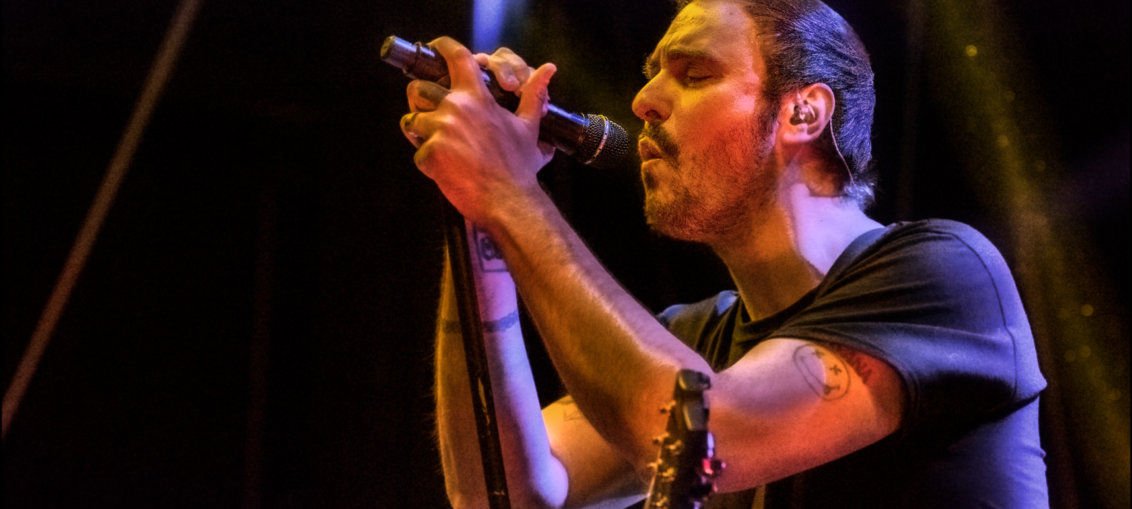 Article and Photos by: Linda Carlson
Indianapolis, IN – On May 12, the Old National Centre rocked out to headliner Breaking Benjamin and openers Mangrenade and Red.  The bands performed on the spacious 55-ft wide stage in the venue's elaborate Egyptian Room to a sold-out crowd.
Mangrenade started the evening.  After a nearly three-year hiatus, this Cincinnati-area band is back in full force, promoting its recent EP, Severed Part 2.  Friends with Breaking Benjamin's drummer Shawn Foist, the band has opened for several of their shows.
Red is a Nashville Christian rock band that formed in 2002 and has released five studio albums.  Their latest album, Of Beauty And Rage, peaked at number 14 on Billboard's Top 200.  The relentless high energy performance came off-stage several times, as Barnes jumped down to the photo pit to greet the audience.
The crowd was primed for headliner Breaking Benjamin, who knew how to get their fans riled up by performing fan favorite after fan favorite, including "Breath," "Sooner or Later," "Blow Me Away," "I Will Not Bow" and "Polyamorous."  Although founder Benjamin Burnley sang lead for most of the performance, guitarist Keith Wallen and bassist Aaron Bruch also provided lead vocals for several songs.
As a personal touch, for their encore, Burnley individually invited fans, from very young children to very-much adults, to join the band on stage to rock out to "Diary of Jane," sharing personal anecdotes as each fan came onstage.
Breaking Benjamin closed this leg of their tour on May 13 and will be heading to Europe in August 2017.  Europe… get ready!!!