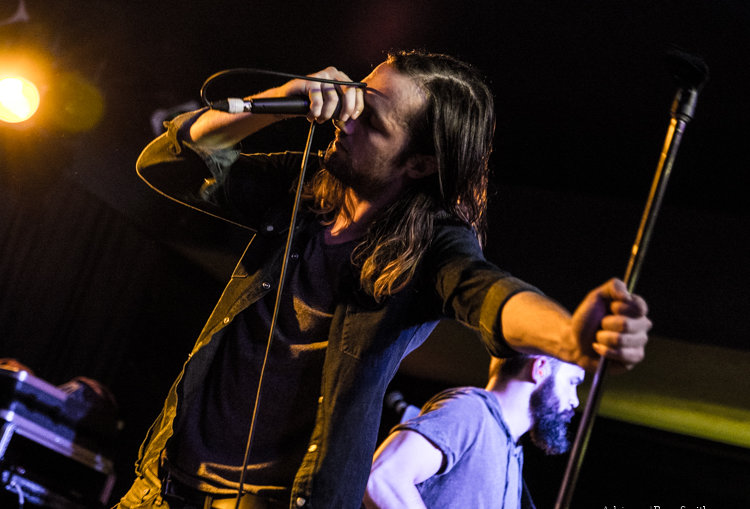 Photos and Article by: Adrienne Row Smith
Ottawa – Ontario, on a rainy Friday night Ottawa natives The Kindred made a pit stop during their Canadian tour to pay homage to their hometown. The band had Pantomime, The Dead Centuries and Halfsleeper help make a memorable evening.
Openers Pantomime of Petawawa, who took the stage with loud whistling from the crowd acting as their intro track. Playing songs from their ep, Desire Paths, it was clear that they had a following as quite a number in the crowd sang every line and danced along. Seemingly influenced by bands like Alter Bridge and Black Tide, the band spent a lot of time focused on each other, with guitarist/vocalist Brody Post and Chris Cadieux playing a game of back and forth with each and interacting with drummer Levi Post.
Following Pantomime were instrumental prog rockers The Dead Centuries, who had a new a for this show. Regardless of this, the band delivered a great transitional set between the power rockers Pantomime and the more melodic stylings of Halfsleeper. Playing some new heavier songs, guitarists Adam Tremblett and Jacob McSheffrey traded off rhythms and leads which emphasized their time spent engaging with one another before turning to interact with the crowd. Drummer Bryant McNamara delivered a lead-footed performance behind the kit, at times overpowering his guitarist counterparts.
Experimental band Halfsleeper took to the stage, atmosphere change took place from powerful and in your face to be more insightful. Vocalist Waylon Fearn commandeered the stage, taking his microphone wherever he could, by using the stand to help him lean further into the crowd off the edge of the stage. The band was a refreshing sight, as they included stage antics that did not take away from their set but amplified it, having Fearn or bassist Nick Turenne play a floor tom for a brief period, as well as showcasing the technical prowess of guitarist Dave Kastner when he transitioned from guitar to play his viola.
Finally, when The Kindred took the stage they played what appeared to be a quite short set, but made the most of the time that they were on stage. Playing several songs off of their 2014 release Life in Lucidity, it was clear that vocalist Jonny McArthur (who joined the band in 2015) had made the songs his own. The band also played their first new single in 3 years called "Stray Away," which had some remnants of their older material, but gave insight into the new direction that they are exploring. The band's newfound writings into more introspective overtones encapsulated by a soulful performance by guitarist Steve Rennie while another guitarist Ben John Davis was a whirlwind of energy, so much so that he ended up bleeding all over his guitar. The vast dynamics showed the push and pull within the bands sound as they tried to harness energy found in their previous releases while also showcasing a more mellow experience. During their encore (which they did not even bother to wait for the crowd to chant before diving into),  featured Fearn of Halfsleeper coming up and helping out on vocals.
Overall the show reflected the weather, it was stormy aggressive at times but also soft and unexpected. This made for a unique experience, and hopefully, the bands continue to deliver and explore their offerings.