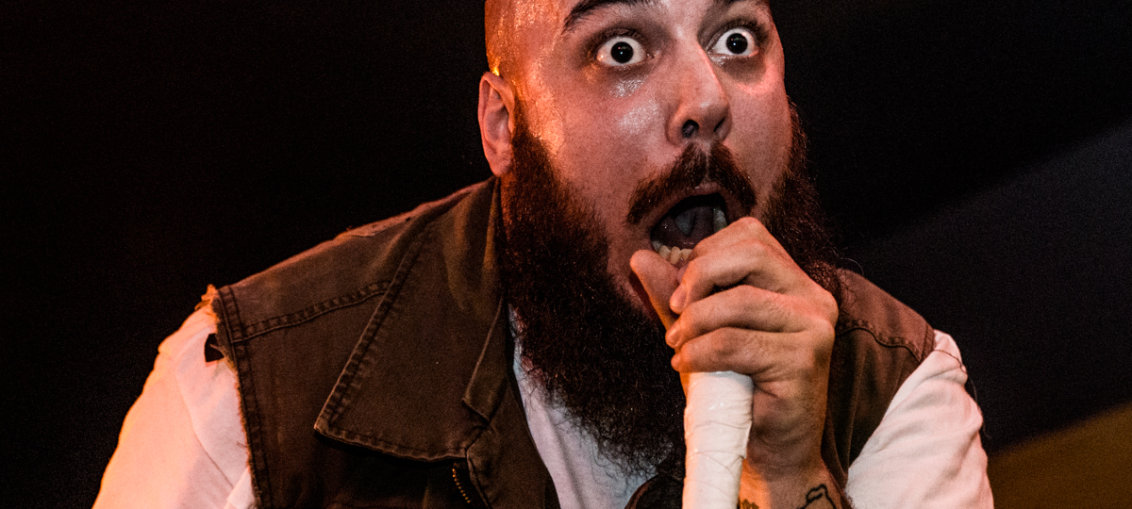 Photos and Article by: Adrienne Row – Smith

Ottawa, Ontario –The Last Ten Seconds of Life made their return to Canada's national capital with their new vocalist John Robert Centorrino, during their tour with Aversions Crown. They were supported by Ottawa locals, Ringwraith and A Scar For the Wicked, with Gatineau's  Beyond Deviation.
Ringwraith started the evening off on a slow foot, with their set picking up as they went along. The band did what they could with the limited stage space, with guitarists Joel Dodd and Bails Soares alongside drummer Noah David Cook providing the most captivating performances. Even though Cook was trapped between his and another drum set, he still made himself known by standing while playing or making a serious ruckus behind his kit. The band really got the crowd going when they played a cover of Gorgoroth, which saw the crowd slowly headbang their way closer to the stage.
Following Ringwraith was Beyond Deviation, who had quite a large group cheering even before they took the stage. Even though they too had limited stage space, they worked every inch of it. The band also added to the atmosphere of their music, with their heavy use of a bass drum trigger that sent a shockwave through the body. The band played a slew of songs, including their new track "Hell In Your Eyes," which really got the crowd moshing.
Building on the furor that Beyond Deviation created, A Scar for the Wicked took note and played a set heavy on new material, with only one old song ("Within the Rot") being played. The band knew exactly how to work the stage, and now sole vocalist Eric Forget made it his mission to get the crowd going as a collective. Their songs were delivered with brutal and eviscerating force, with every member of the band being highly entertaining. The band was so captivating that it was a shock to the audience when their set finally ended, as it seemed it had only been five minutes instead of the half hour that they played.
Finally, it was time for The Last Ten Seconds of Life to take the stage.  Singer Centorrino talked briefly prior to the beginning of their set, encouraging those who were going to mosh to do it behind the first few rows so that those who wanted to see the show could do so without any chance of being hit accidentally. The band's setlist focused on newer material from their album The Violent Sound, but also treated fans to songs from older releases like "Pain is Pleasure" off of 2015's Soulless Hymns. As their set progressed on, many fans in the crowd reached for Centorrino's microphone, in an attempt to show their lyrical prowess. He did not seem to mind, but rather encouraged it and handed it out to show his appreciation. Their attention-grabbing and work with the crowd was amazing, and they showed that time truly does fly when you're having fun.