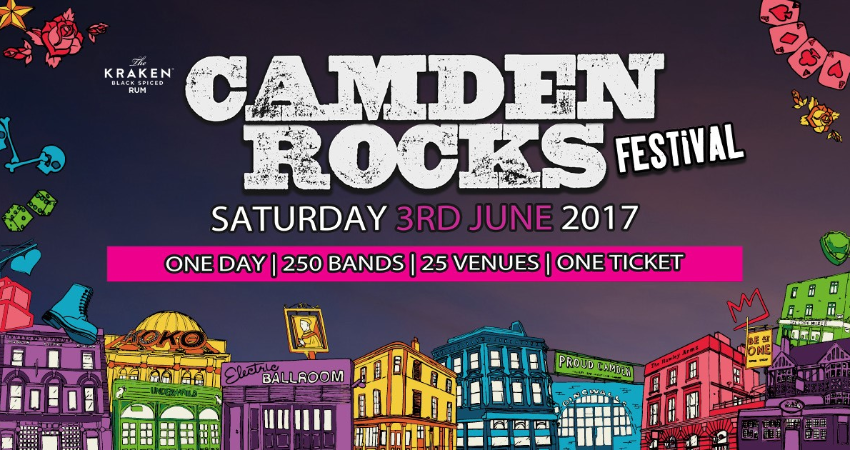 With the British weather inching us into Summer, we kick-start festival season with the highly-acclaimed Camden Rocks Festival, headlined by big names such as Feeder, Pulled Apart By Horses and Royal Republic (to name just a few). They'll be roaring through the ever-changing, eclectic and vibrant streets of Camden on Saturday 3rd June, alongside
247 other great acts, spread across 25 venues throughout the town.
There are a handful of bands that I'm particularly looking forward to photographing on the day, so here's a quick lowdown on them and what to expect:
First up, it's Max Raptor. I've had the privilege of photographing the band a number of times, and I'm going to start this off by saying that I can guarantee, you will not be disappointed when you see them live. The past 12 months have been huge for the band, with the release of their self-titled album (it's really bloody good) and multiple European tours, so this festival plays nicely into their hands and will refresh our memories as to just how good they are. Lead Wil Ray consistently works up crowds with powerful vocals on hits like 'The King Is Dead', 'Patron Saint', and 'Damage Appreciation', amongst other fist-pumping, politically-driven songs. If you're not already a fan, you definitely will be by the end of their set. Find them at The Crowndale, 7:30pm.
Next on my recommendation list is South Londoner's Massmatiks – a band that I'm yet to see live, but one that I am incredibly looking forward to. Their record collection may not be extensive, but it sure as hell is mighty. Both '4AM' and 'MEAT' are sure to be huge crowd-pleasers; their catchy, aggressive and chanty lyrics will undeniably be pumping the room with adrenalin, sweat and beer. I'm hoping the band make big waves in the industry during the remainder of 2017 – these guys are one to watch. Find them at The Crowndale, 3:30pm.
Fizzy Blood are another band that I've had the pleasure of shooting a few times. I first came across them as supports for Max Raptor at The Star Inn, Guildford in 2016, and I've been hooked ever since. The boys are a force to be reckoned with, producing delicious numbers such as 'January Sun' (a personal favourite), 'Animals', and their fiery, newly-released song 'Pawn'. Prepare yourselves for Bassist Ciaran Scanlon (affectionately known as 'Scan') putting on his own performance during sets; whipping his ginger locks back and forth and pulling the most incredible faces (just wait and see what I mean – you won't be disappointed). Go and watch them before they blow up after their stint here and at Download! Find them at The Monarch, 4:30pm.
The final band that I'm going to hype up are Brawlers; the 5-piece band from Leeds bring out energetic and relatable songs that make you want to jump around and have a damn good time. I'm a big fan of their 2016 release 'The Black EP', in particular 'Day Job', which resonates with musicians and non-musicians alike. Brawlers have been working their way across the UK for a while, most recently gracing venues in London, Leeds and Brum with their presence, warming up for their Camden Rocks show. You can catch the boys making some noise (sorry, not sorry) by finding them at Lyttelton Arms, 6pm.
If you haven't already got yourself a ticket (a very reasonable £39 for you to squeeze in as many bands as possible in one day!), head to http://camdenrocksfestival.com/tickets/. Creatively, you couldn't ask for a better location to host the festival, especially with some top-notch bars and restaurants surrounding and, of course, the afterparty at the glorious KOKO from 11pm – 3am, with live music from Sex Pissed Dolls and a DJ set by one of finest – Mr Jon Mahon.
The festival is a great set-up for the rest of Summer and not one to be missed, so I guess I'll see you in the pit!