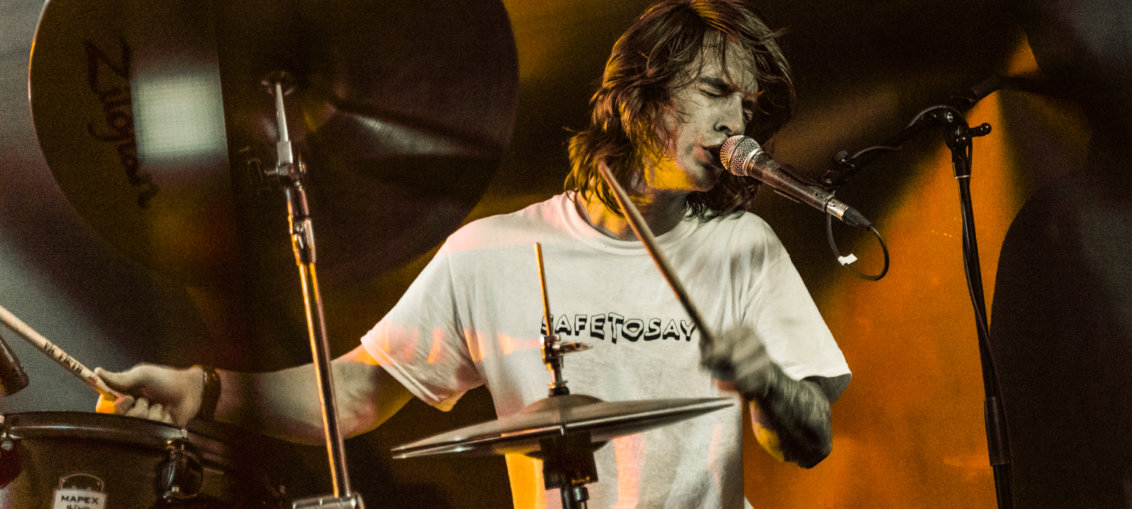 Photos and Article by: Adrienne Row – Smith
Ottawa, Ontario – Pine, one of Ottawa's top notch indie bands, played to a packed crowd for their debut label release titled Pillow Talk at House of Targ. The band evening was supported by Canadian acts, Kamen, Heavy Hearts, and Safe to Say.
Up first for the evening was Kamen whose music was reminiscent of some of the early punk rock, adding a modern twist with pedal effects. The band was determined to make an impression, but transitioned quickly between songs, rarely interacting with the crowd. Drummer James Reid had a bit of a misstep (twice) while starting a song, but the band was able to work their issues to their advantage as it came off as being part of the DIY vibes that they gave off.
Following Kamen were alt-rockers Heavy Hearts, who were eager to play House of Targ, saying they viewed the venue as their second home. The band delivered a hard-hitting set, bringing up the energy in the venue. Many in the crowd were pushing forward to get a better view of them. The aggressive emotive tone found on their album Bliss was proudly reflected in their set and stage presence and made for an exciting performance.
Jumping on the high energy set train, Safe to Say played a passionate set, putting everything they had into their performance as their fans might not get to see them again for awhile. (They recently announced they would be taking a break.) The band pulled from their Summer Sickness and Down in The Dark works, which saw the band transition from relaxed but insightful songs, to energetic pump up music seamlessly. Vocalist Brad Garcia mentioned they were selling pamphlets he had put together detailing his personal struggles (A portion of the proceeds going to Toronto's Centre for Addiction & Mental Health). This honesty heightened the relationship the band shared with the crowd, and made their performance that much more intimate. This was especially evident during "Tangerine," which saw most of the crowd singing along and often times overpowering the band.
When it was finally time for Pine to hit the stage, they opted to open with a short but sweet acoustic set; drummer Joey Demers and lead vocalist Darlene Deschamps drew the crowd in and kept them captivated throughout the rest of the night. The band played a very ethereal set, created by the dreamy, yet still rock-strong instrumentals over telling lyrics. It was clear that their hard work had paid off and that their release symbolized a new powerful chapter for the band. Surrounded by the crowd which included many family and friends, the band delivered an exceptional set in celebration of their EP release, Pillow Talk.
If you're ever in the neighborhood, make sure to check out some of these great up and coming bands that Ottawa has to offer.