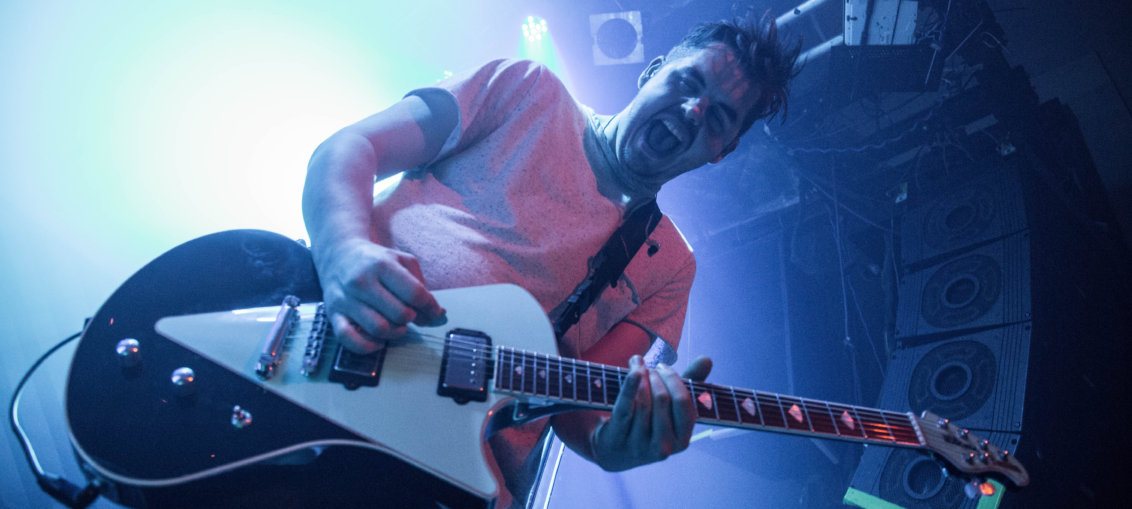 Article and Photos by: Tash Greene
London, England — As I walked into the photo pit at O2 Academy Islington, the venue was already bubbling with energy and excitement for Aussies With Confidence. Backing vocalist and guitarist Inigo could be seen in the stage entrance gap at the back having a team talk and prepping to come on with guitar in hand, and shortly after, the band opened with the bouncy 'Voldemort' that got the fans fully riled up. Singer Jayden took centre stage, embracing the lively atmosphere with open arms (literally), and when guitarist Luke wasn't bouncing around, he was singing into what I can only call a 'Mic-Dildo'. That's right, you read that correctly. He (or a very willing stage-hand) had attached a dildo to the microphone, and he bravely fully embraced singing into it throughout the performance. As is standard, the band paused during songs to talk, with Luke humorously praising everyone for practising safe sex as 'condom balloons' filled the air. Jayden poured his heart out and pulled in the audience one more time with 'Keeper' as they ended their performance, accompanied by drummer Josh letting rip on his kit, setting the bar high for Set It Off up next.
Nearing the end of the interval between WC and SIO, hordes of fans could be heard screaming and chanting "SET IT OFF! SET IT OFF!" as the lights went down and the music stopped, with intermittent booing every time the music came back on – the unspoken sign that things aren't quite ready for the band to take their places on stage. Like With Confidence, the band (namely, guitarist Dan Clermont) were seen getting pumped backstage during the long build-up, but finally, the SIO lads made their way onto the stage and, boy, did the crowd go wild! Lead Cody Carson swaggered up to the mic with the confidence and attitude of someone who knew exactly what he needed to deliver his and the band's adoring fans; the set kicked off with 'Why Worry', triggering a party atmosphere and fast-paced singing and clapping, which only intensified as the set carried on. After the typical, loud reciting of an encore at the end, SIO came back once more, with Cody placing the venue in a trance, spitting bars in 'Hypnotized', before exiting the stage and leaving fans to scramble around for any setlists, plectrums and drumsticks that they could get their hands on.
It's fair to say that With Confidence and Set It Off fans were more than satisfied after being served up a deliciously meaty pop-punk extravaganza of a night.