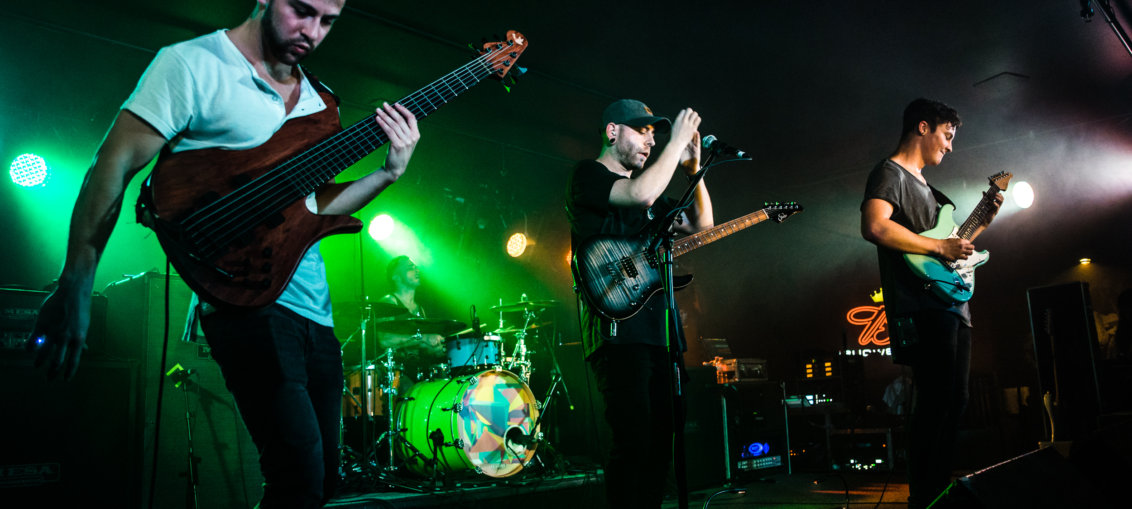 Photos and Article By: Adrienne Row – Smith
Ottawa, Ontario – Australian band Northlane made a triumphant return to Ottawa on Friday in support of their surprise album release Mesmer. The band was accompanied by Invent, Animate, as well as Intervals, and The Thirteenth Floor.
Ottawa natives The Thirteenth Floor played an aggressive set, preparing the crowd for an evening full of energy. Although only a three piece band, they dominated the stage getting the whole crowd energized for the evening. The band closed out their set with the song "The Departed," which will be featured on their new album coming out this October.
Not letting the energy dissipate, Invent, Animate was a crowd favorite, with every one of their songs almost being out sung by passionate fans. The band worked every inch of the stage and made sure to acknowledge the their fanaticism, with vocalist Ben English jumping up onto the barricade to sing along with them. They also played "Dead Roots," and "Celestial Floods," (both taken from Still World) with English remarking that the band was prepared for "Ottawa to show [them] some shit."
When Intervals took the stage, the atmosphere in the venue transitioned from one promoting heavy moshing, to one that encouraged the crowd to put on their dancing shoes. The band was happy to be back in Ottawa and played a set full of songs off their new record (out later this year), in addition to songs from the album The Shape of Colour. The passion of the crowd was evident; every time a member was given an opportunity to showcase their technical prowess there would be a hush, followed by loud cheers and whistles when they had finished. Band member Aaron Marshall took the time to show his genuine appreciation for his fans throughout their set.
As Northlane took the stage, the crowd was ready to really let loose. The venue saw a surge of bodies rush the stage as they started their set. Playing many tracks off of 2017's Mesmer, the band also treated fans to old favorites. When they  tore into "Rot," the crowd broke free of whatever self-restraints that they had left, unleashing all of their energy onto each other, shouting the lyrics as loudly as they could. The band later slowed things down with "Solar," which calmed the crowd a bit, if only temporarily. While this show was more intimate, the band made sure to make the evening a memorable one for everyone in attendance.