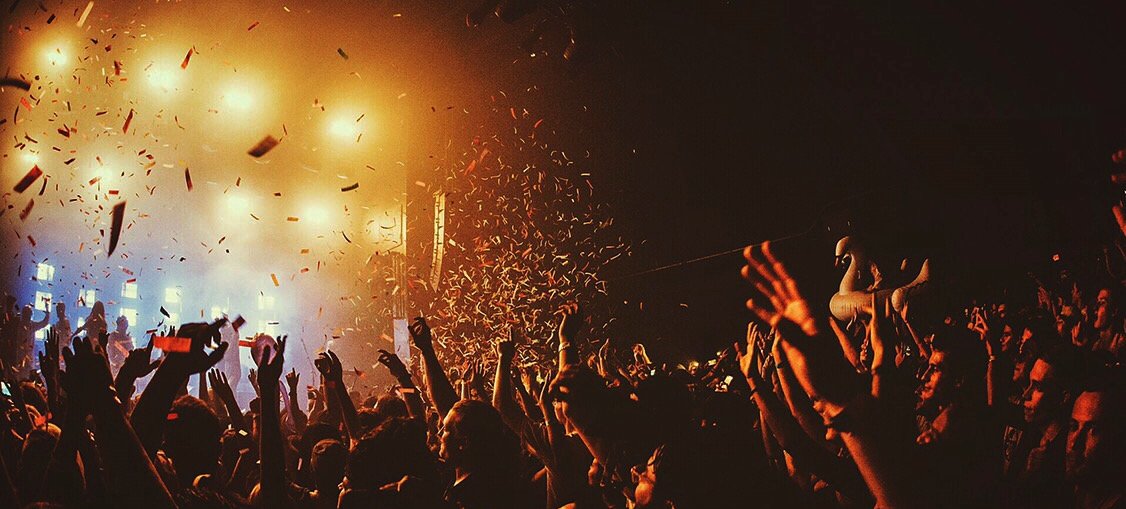 Article and Photos by: Megan Choi
Austin, TX-  It was July 3rd and many appeared to be celebrating their Independence day early with Reptaliens and STRFKR. With a sold out show, the venue began to get increasingly packed, and spirits were high. Because there were only two bands on the bill, the show was going to be more intimate and listeners would be getting a fuller concert experience from both bands.
From Portland, Reptaliens took the stage, or at least what one may interpret to be a reptalien. Before their actual set began, a silver-caped figure with a T-Rex mask took the stage to hype up the crowd. Concert-goers were definitely intrigued, as all eyes were on the figure. Eventually, the band came out, and vocalist Bambi Browning mesmerized the audience with her easy going sound. Later on in their set, another figure took the stage. This time, it was a double masked person wearing a sharp suit and reading a paper that said "Reptaliens Rule Earth." Overall, the set/sound could be described as psychedelic, dream pop. The band would chat back and forth with the audience between songs, and provided a smooth opening for STRFKR.
After much anticipation, STRFKR was up and the venue was alive with energy. The band's set up had a lot of fog and LCD screens that moved along to the beat of their music. Complete with two astronauts dancing around stage, their set would clearly be enjoyable both visually and audibly. After a couple of songs, one of the astronauts decided to crowd surf and really get the crowd moving. The band made sure to play favorites, which included "Rawnald Gregory Erickson the Second," "Tape Machine," and "While I'm Alive."
Later on in their set, the band announced they would be doing a couple of covers, which included 80's hits: "Don't You Want Me" and "Girls Just Wanna Have Fun." Browning from Reptaliens was invited to do guest vocals and join the craziness on stage. During this time, inflatable aliens were being thrown into the crowd, and the whole venue was jumping and singing along to the throwback hits. Soon, confetti was shot out from cannons and an astronaut found himself crowd surfing again, only this time on a giant inflatable swan.
The show was an unforgettable 4th of July celebration, and fireworks would have to compete with the blasts experienced at this show. The tour is selling out, so don't miss your chance to catch these great bands!