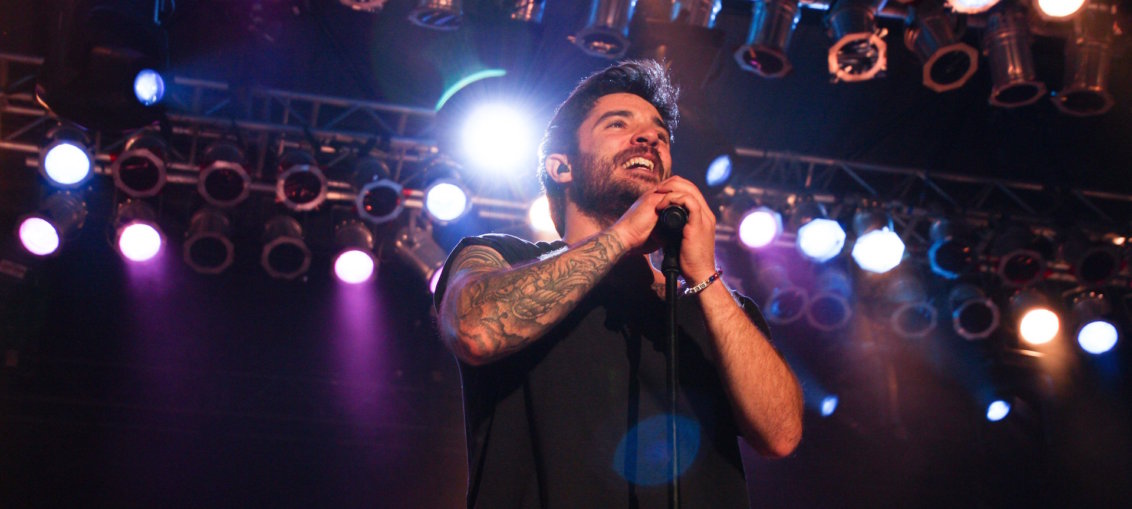 Article and photos by:  Kayla Mitchell
Eleven days of endless live music, the smell of tasty food wherever you go, and a beautiful view of Lake Michigan from the edge of the festival grounds.  Avid Summerfest goers would tell you that without Summerfest, it really wouldn't feel like summer.  Every year during late June into early July thousands and thousands of people flood through the Henry Maier festival gates in Milwaukee, Wisconsin.
Summerfest, also known as "The World's Largest Music Festival," is a place for everyone to have fun.  From kids to the old folks, country music fans to rap fans, and people who walk every square inch of the grounds to the dedicated fans who sit on the bleachers all day long.  Being the World's Largest Music Festival you might think that it's just another outrageously priced music festival.  Well, that is not the case.  General Admission and Weekday tickets run from $13-20 per day.  Now that doesn't even compare to some other well known music festivals such as Coachella and Lollapalooza, which charge over $100 just for one day.
There is a certain feeling when you walk into the festival, and it is a great feeling because you know that everyone around you is there for the same reason you are.  The Music.  This year in particular was very special.  Summerfest kicked off the Summer of 2017 with a celebration of 50 years!
On Wednesday June 28, the Summerfest gates were opened to start off the two week festival.  Unfortunately the weather wasn't very welcoming.  It downpoured in Milwaukee for what seemed like all day.  A sea of multicolor rain ponchos filled the grounds.  Dedicated fans stood in the pouring rain for hours to see DJ, and headliner, Flume.  His colorful set lit up the new Miller Lite Oasis stage.  Despite the poor weather, fans withstood a couple more hours in the rain.
The weather turned around for day two.  Headlining the Miller Lite stage was DJ, Steve Aoki.  Anyone who was near the stage for his show would most likely agree that some hearing was damaged that night.  The bass roared from the speakers making your whole body vibrate.  Aoki's huge rectangular set with crazy graphics, lit up the crowd of jumping fans.  During the show, Aoki ran down the center isle and climbed up onto the barricade of swarming fans.  It was an intense show to close out day two.
Day three rolled around with some beautiful weather.  Hundreds of fans had been waiting on the bleachers for that night's headliner, Jon Bellion.  Many fans were wearing the maroon "Beautiful Mind" cap.  It was obvious that opener, Barns Courntey, brought all that he had for the last show of his tour.  The amount of energy that he had took him a little over the edge…literally.  During his top hit "Fire," Barns leapt off of the stage and fell right to the ground, breaking his foot.  You could say he ended his tour with a bang.  Up next was the talented, Jon Bellion.  The stage lights went out, and the high pitch beep from "He is the Same" sounded, and Jon, Travis Mendes, and the band walked out on stage.  Once the chorus hit, the bass dropped, and the lights flashed on.  Extreme passion was shown by Jon on stage especially by the way he always ran around and pulled off his unique dance moves.  Once the band had left the stage, and the stage crew started packing up the equipment, the crowd still would not stop cheering for Jon.  He came back out and told the crowd that they were supposed to be done, but because of the passionate fans they came back out.  They sang an acapella version of "Simple and Sweet" which closed out day three.
Another beautiful day showed up for day four.  The lineup for the Miller Lite stage was full of entertainment while fans waited all day for headlining band, Bleachers.  The Naked and Famous performed their popular hit "Young Blood."  Opening band, MUNA, who has been on tour with Bleachers, took on the stage.  After many hours of waiting, Bleachers came on stage.  This was their second appearance at Summerfest since 2014.  With the release of their new album Gone Now fans were going crazy to hear the new songs live.  Lead singer, Jack Antonoff, with his guitar in hand, jumping around on stage, was very excited to be back in Milwaukee.  Jack explained to the crowd that he recorded all his music from his bedroom.  The keyboard player played the first few notes of "Rollercoaster" and everyone went crazy.  This New Jersey based band sure knows how to make a crowd feel nothing but happiness throughout a whole show.
Fast forward a few days to July seventh.  The day started out hot and sunny, but took a sharp turn.  Early in the evening storms rolled in, and it down poured.  Luckily it slowed down just in time for Walk the Moon.  Some fans were waiting for over thirteen hours to see this band.  I talked to a fan and he said that he had been waiting since 8:30 AM.  Once 10:15 finally came, Walk the Moon was greeted by devoted, screaming fans with their faces painted.  The many "Different Colors" of lights lit up the crowd who was singing along to every song.  When the band played their number one hit "Shut up and Dance," they sure didn't shut up.  Instead, the whole crowd was dancing.
What makes Summerfest special to me is that it brings all different kinds of people together to enjoy great music and food, meet new people, and create lasting memories.  Make sure to add Summerfest to your bucket list so you don't miss out on an unforgettable experience!