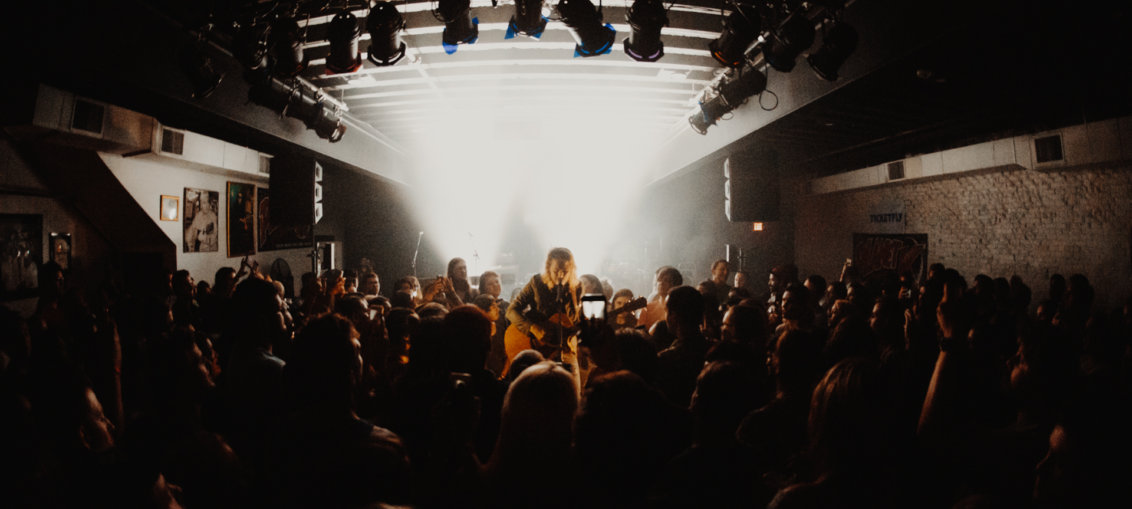 Article and Photos by: Megan Choi
Austin, TX- Bryce Avary (the mastermind behind The Rocket Summer) debuted his hit album, Do You Feel, 10 years ago in July of 2007. Many would say that this was the album that really hooked listeners and helped him emerge as a front-runner in the alternative rock scene. Four EPs and three studio albums later, Avary decided to revisit his project's roots and treat his fans to a 10 year anniversary tour. The first stop of tour was in Austin, Texas. Just like the album, this night was sure to be unforgettable.
Opening up for The Rocket Summer was 888, a alt-pop trio from Denver, Colorado. In person, the band may look familiar because they all used to be in the metalcore band Drop Dead, Gorgeous. Their sound may have changed from the past, but the band delivered nothing short of a solid performance. The band somehow is able to take the fun elements of synth, and seamlessly combine it with emotionally charged vocals. A crowd favorite was "Critical Mistakes," which is also the name of their EP that was released last year. During their last seconds of their set, the band went into the crowd to play drums simultaneously. The crowd was all smiles and after their set ended, multiple audience members could be heard still singing the song.
All eyes were now on The Rocket Summer, who opened up with "Break It Out." Avary would play through the whole album, and then a handful of songs requested by the crowd. From the get-go, you could hear audience members shouting things such as "I love you, Bryce" and "Show Me Everything You've Got" (A song from a previous album). Mid-set, Avary went into the middle of the crowd to sing, and then do some more bonding by crowd surfing around the venue. Avary was constantly on the move, whether it was putting the mic up to the crowd, playing the drums, or playing the piano. After finishing the album play through, Avary opened up the floor to suggestions from the many other songs he's created. The crowd shouted out favorites including "Hills and Valleys" and "Brat Pack." Avary finished out the night with a few more songs, but not before crowd surfing a couple more times, as well as getting off stage and jumping along with the crowd on the floor.
Fans were overwhelmed with joy to be able to hear the album that changed their lives 10 years ago, live. Although the tour couldn't guarantee it, one was bound to walk out of the show smiling with nostalgia.
Tour just kicked off, and will be appearing all over the US. Remaining dates are below:
7-25 — Orlando, FL
7-26 — Tampa, FL
7-28 — Atlanta, GA
7-29 — Nashville, TN
7-30 — Charlotte, NC
8-1 — Wahington D.C.
8-3 — New York, NY
8-4 — Boston, MA
8-5 — Philadelphia, PA
8-6 — Pittsburgh, PA
8-8 — Toronto, ON
8-10 — Columbus, OH
8-11 — Detroit, MI
8-12 — Chicago, IL
8-13 — Minneapolis, MN
8-15 — Des Moines, IA
8-16 — Kansas City, MO
8-18 — Denver, CO
8-19 — Salt Lake City, UT
8-22 — Seattle, WA
8-24 — San Francisco, CA
8-25 — Los Angeles, CA
8-26 — Las Vegas, NV
8-27 — San Diego, CA
8-29 — Phoenix, AZ