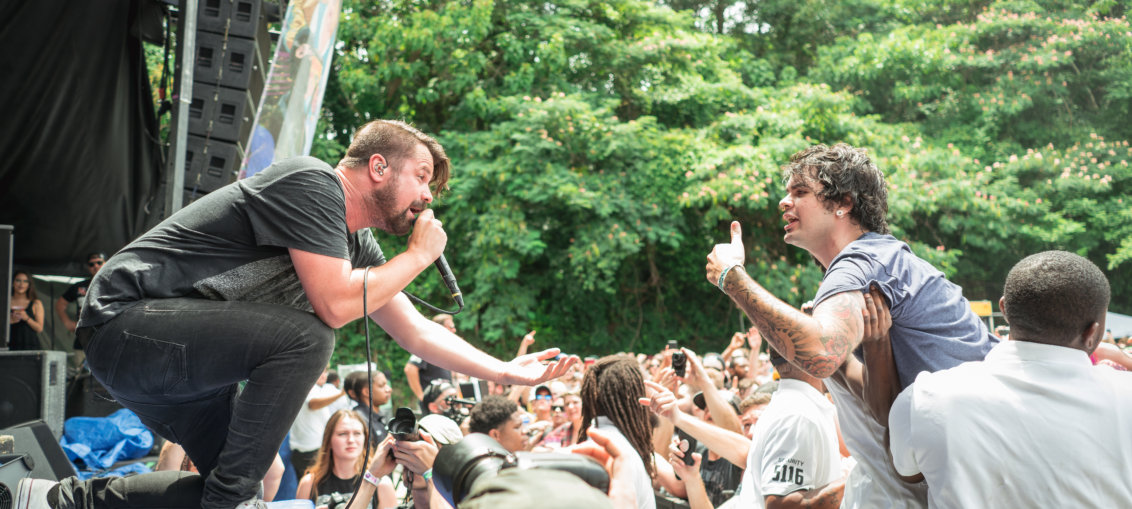 Article and Photos by Andres Alvarado
For 23 years now, The Vans Warped Tour has been synonymous with musical summer fun of the highest degree. Most music festivals usually take place in one city over one weekend, but the Vans Warped Tour is not most music festivals. Warped Tour goes above and beyond to bring not only a large quantity of artists, but quality-filled ones too, to over 30 stops each year. That sounds like a logistics nightmare, yet, commendably, the festival organizers pull off the task with great aplomb.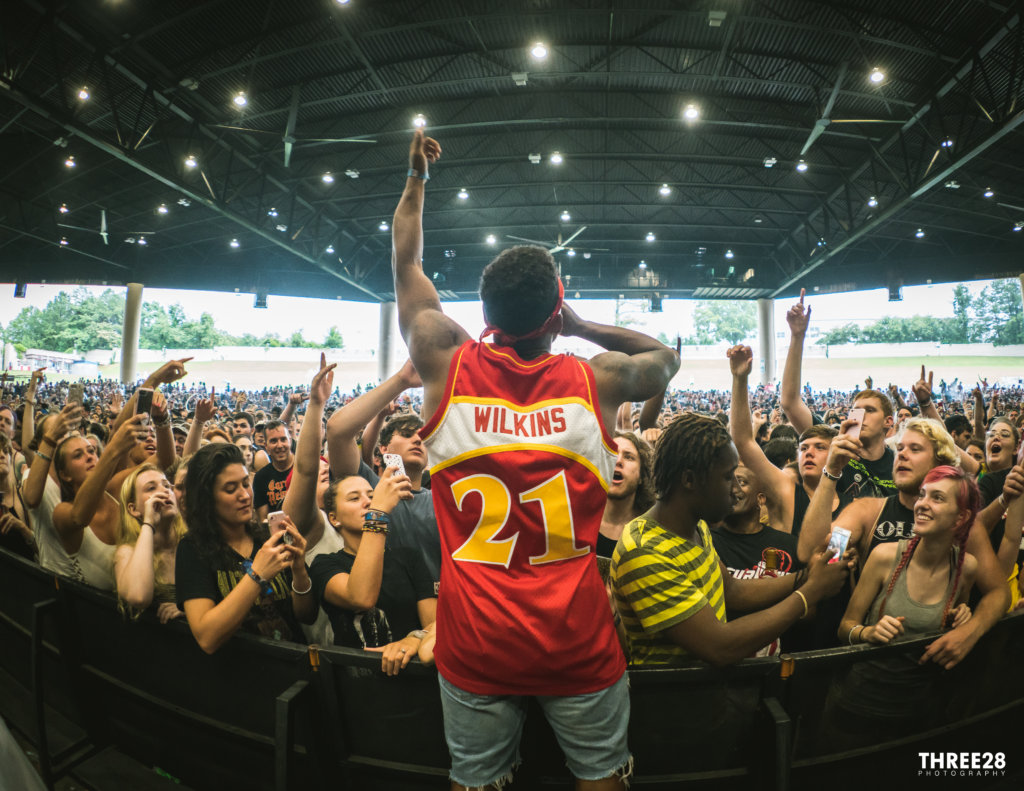 The tour's stop at Atlanta's Lakewood Amphitheatre was highly anticipated; lines around the entire parking lot formed hours prior to doors opening with fans hoping for the shot at standing close to their favorite bands. With the day underway, bands went to work and presenting the best of themselves in performances that lasted an average of 30 minutes per band. The first task for every Warped Tour festival-goer is checking out the schedule for the day and making tough decisions on what acts to catch with performances taking place across seven stages. I made my way to several acts as followed:
The Fantastic Plastics: The space pop-rock duo from New York are an attention-grabbing blend of zany outfits and catchy hooks. Their enthusiasm shines through when they perform. Seemingly, for The Fantastic Plastics it's all about showmanship, participation and tunes. Their set not only included strong performances that captured new fans along the way, but also crowd-to-performer interactions that made these up-and-comers noteworthy openers at the Warped Tour.
After the Burial: This Minneapolis quartet are a force to be reckoned with. Lead-singer Anthony Notarmaso is hell bent on getting his entire crowd hyped, locked and loaded through sheer theatrics and bitchin' vocals; to this, add in the strong string-play from Trent Hafdahl and hair-flipping Adrian Oropeza plus Dan Carle's superior drumming and you have a recipe for heavy metal success.
Andy Black: The Black Veil Brides front-man is quite a rare breed. Blessed with the cool of a Frank Sinatra, the looks of a Zac Efron, and the rock-swag of a Tommy Lee, it is no wonder Andy Black probably got the loudest cheers from the lady-crowd. On stage, it's all business, Andy delivers an above-average performance consisting strong vocal work, a little crowd interaction, fog machines and a cool get-up, plus a back-up band that makes this Cincinnati product stand out even more.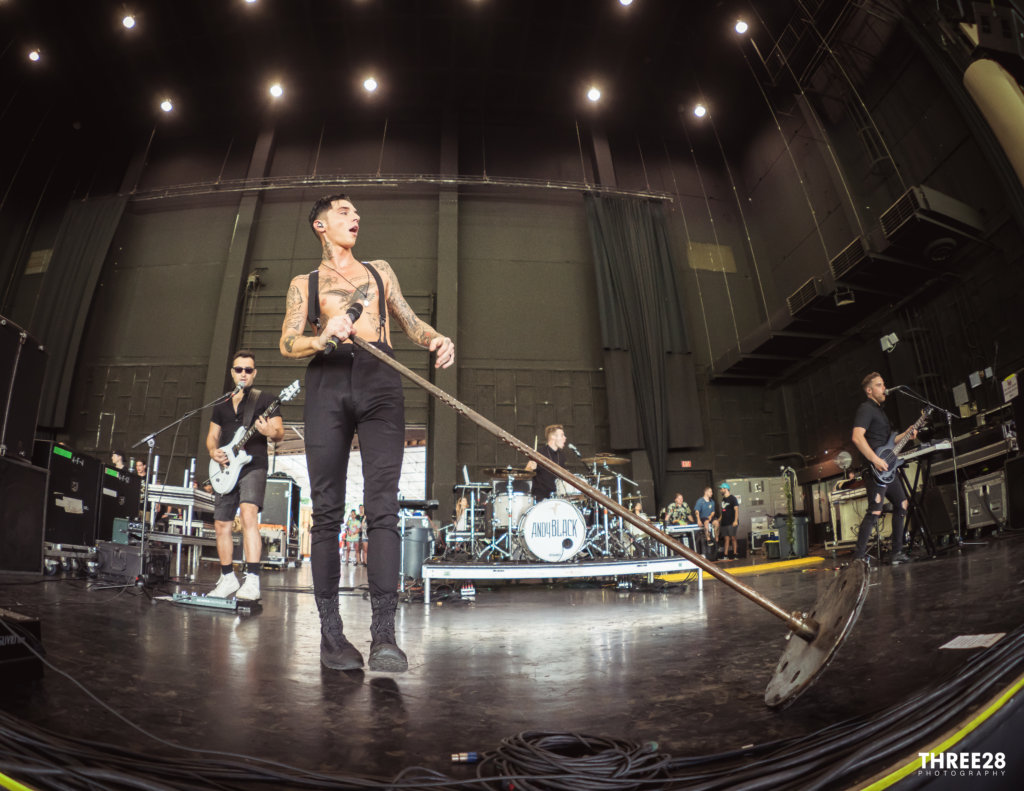 Silverstein: Silverstein is loud, Silverstein ignites, Silverstein delivers. Bonus, lead-singer Shane Told is prone to shake crowd-surfer's hands as they approach the stage.
Anti-Flag: Probably the best presentation of the night. The Pittsburgh band really made the best of a lousy situation. Just minutes before taking the stage, heavy showers postponed their set some 45 minutes and when it was time to go on, it was to select few. But, no worries for Justin Sane and company as they went above and beyond to blow their intimate crowd's mind. The quartet required fans to bellow the choruses, shake-hands, lend hugs and even dance in unison. Oh, and one more thing, the boys play part of their gig off stage and among the fans. Truly, a fervent and enthusiastic time.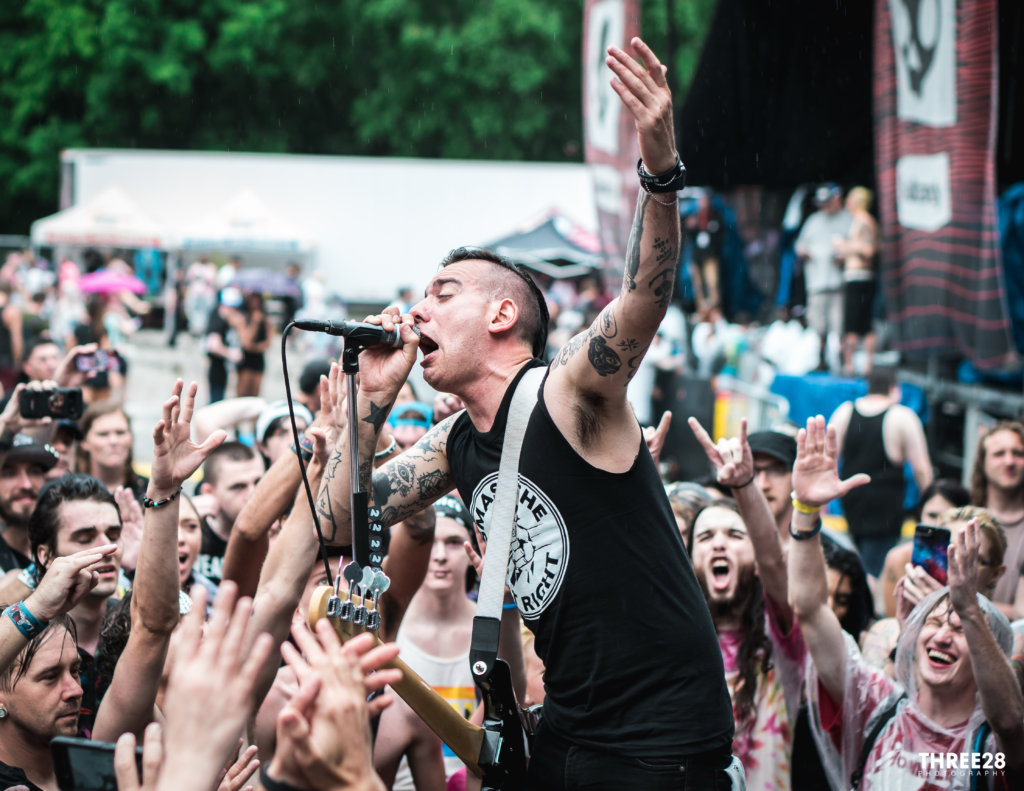 Jule Vera: The Alabama group left a little to be desired. When one thinks of the Vans Warped Tour, loud tunes and heavy growls come to mind, yet Jule Vera steer in the opposite direction. To their credit, member William Stacey looks and plays the part, he epitomizes on-stage energy and genuinely looks invested in his performance. If only the remaining band members would follow suit. Music-wise, singer Ansley Newman has a clear and lovely voice and presents an endearing humbleness to herself on stage. Jule Vera are worth checking out, just be warned, it might not be as enthralling a presentation as other festival acts.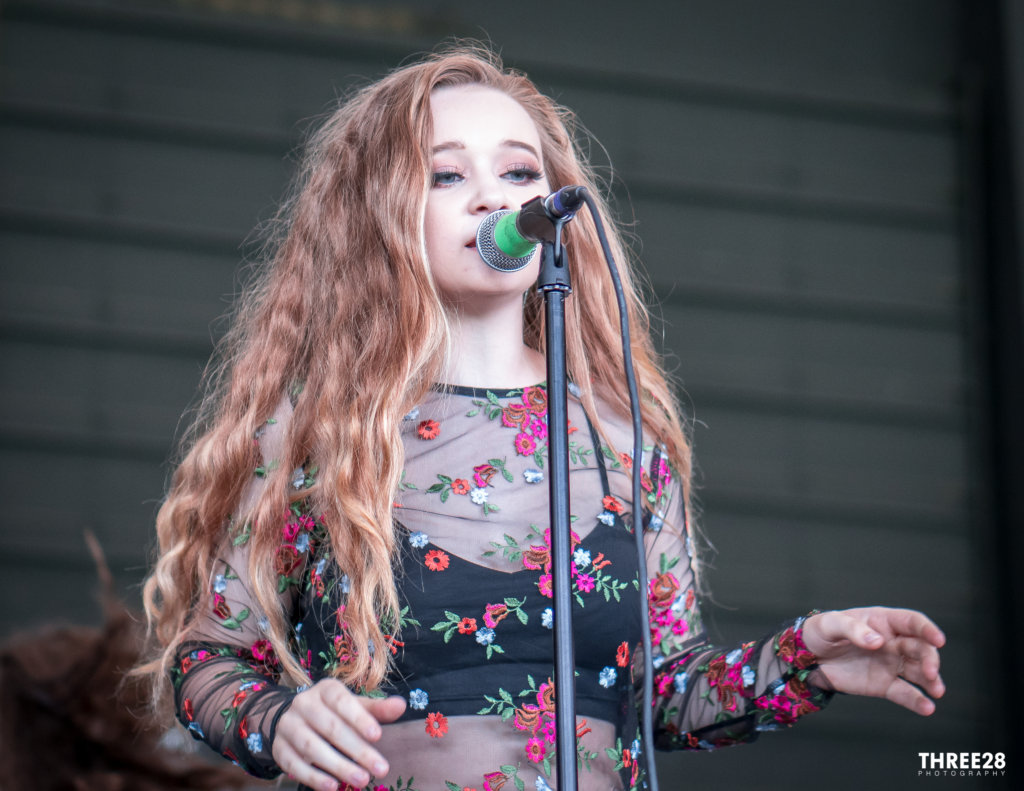 War on Women: How is this band not much bigger? Stage presence: check, good tunes: check, dynamic vocalist: check, excellent concert atmosphere: check. Make sure to pay this Baltimore thrash-metal quintet a look if given the chance. They might just be one of the more compelling acts you'll see at The Vans Warped Tour.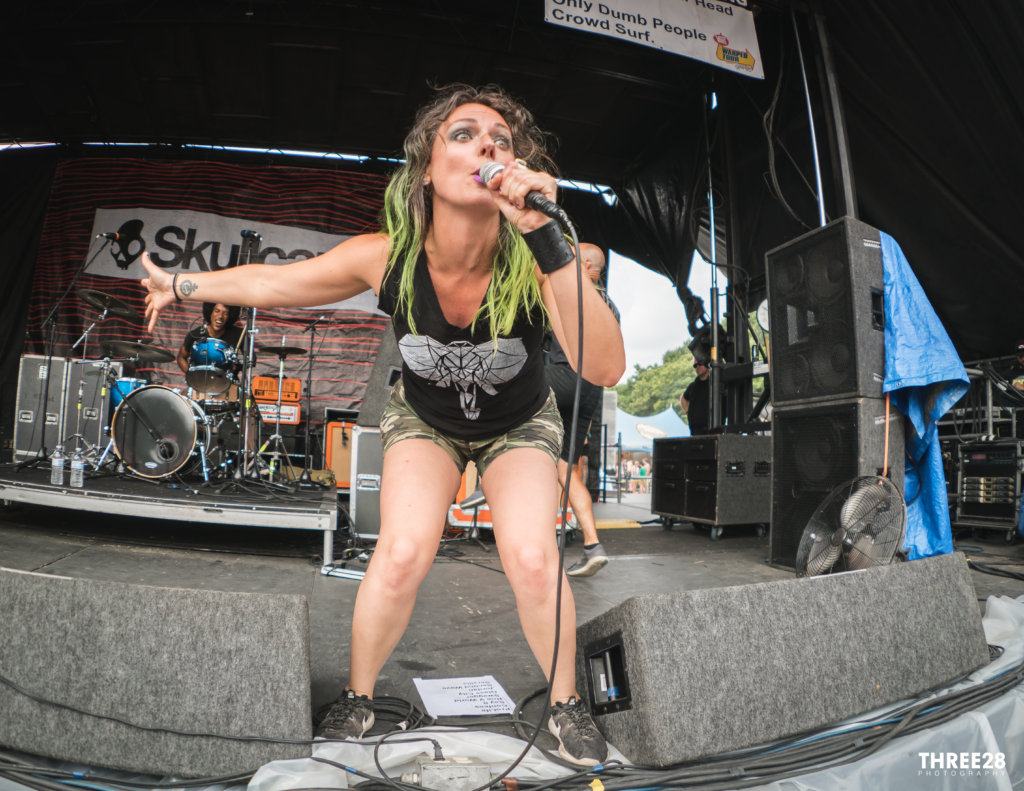 Futuristic: This Arizona-based rapper knows how to cozy up to his crowds. Donning a Dominique Wilkins jersey in Atlanta is an effective way to get some attention, but that is just the beginning. Futuristic also happens to be a hella-good rapper and entertainer. Not only does he deliver lightning-fast rhymes on stage, he does so crowd surfing and fan-hugging too.
Neck Deep: Probably the most anticipated act of the day. Playing under a roof – unlike most bands that played outdoor gigs – really benefited the Wrexham quintet as pouring rain drove thousands to their set. Once live, Ben Barlow and his band-mates made sure to thank their audience before going on a balls-to-wall, pedal-to-the-metal, kick-ass of a showing. Be warned, if you think Neck Deep is crazy, their fans might leave you second-guessing yourself. Neck Deep is a must-watch act.
GWAR: GWAR rules. GWAR never gets old. Fake blood splashing in every direction, amazing outfits, heavy tunes and a wild crowd. Enough said.
CKY: The Pennsylvania trio played a clean set. Their melody was clear and their songs sound just like they do on the radio. Problem is they have very little fan interaction and just about no stage antics, making the live performance too similar to sitting at home and listening to CKY on the radio.
Bowling for Soup: Fun, fun, and did I mention: fun. While the Texas quartet are no longer as young and limber as they used to, they still possess a knack for getting their crowd going through classic tunes and comedian-like personalities.
New Years Day: The Ash Costello-led band closed out the night in Atlanta, and they did so in grand style. On this night, all band members were on their A-game. Ash Costello is just a joy to watch on stage; be it hair-whipping with reckless abandon or dancing like no one is watching, she is phenomenal. Bandmates: Nikki Misery, Jeremy Valentyne, Frankie Sil and Joshua Ingram all did their part in keeping the audience hyped, crowd surfing and forming mosh-pits. New Years Day was among the best of the day.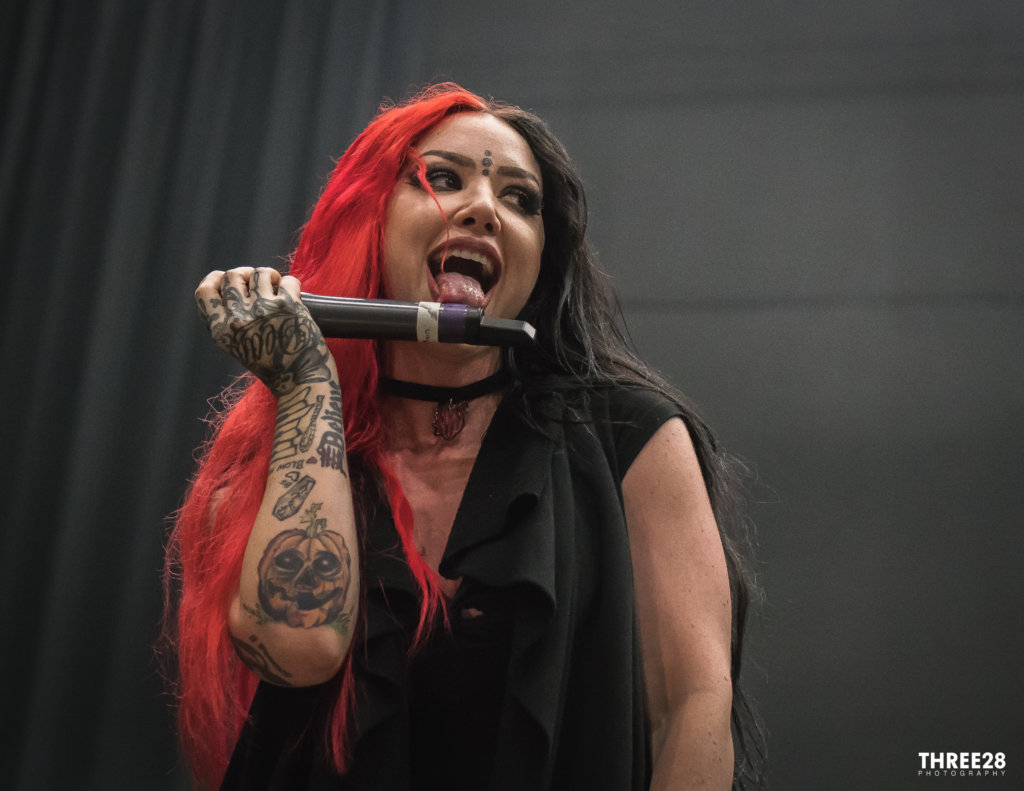 To recap, Warped Tour was, for a 23rd consecutive year, a grand success. The festival organizers delivered on a smoothly executed day and showing the fan-base a fun and safe time, while putting on display all the grand things that a festival should represent: tunes, tootin', hollerin', booze and fans coming together to celebrate the love of music. At this point it's fair to say that The Vans Warped Tour is not just a music festival, it's a damn tradition. For more information on The Vans Warped Tour, their upcoming stops, or to purchase passes, be sure to visit their website at www.vanswarpedtour.com.
Vans Warped Tour: Beyond the Music.
The Vans Warped Tour is known for fun times, loud music and the endless meet-n-greets, but their reach goes far beyond their reputation. This year, The Vans Warped Tour teamed up with non-profit movement To Write Love on Her Arms in an effort to bring awareness to the thousands of people suffering from depression, anxiety, addiction and could be a danger to themselves. The movement is highly involved in discrediting the stigma behind mental health, raising funds for outreach programs, and motivating any person seeking help to feel safe, reach out, and know they will find in them a friend and ally looking to assist. If you or anyone you know is looking for help, please visit To Write Love on Her Arms' site for resources near you, here: www.twloha.com/find-help/local-resources/.