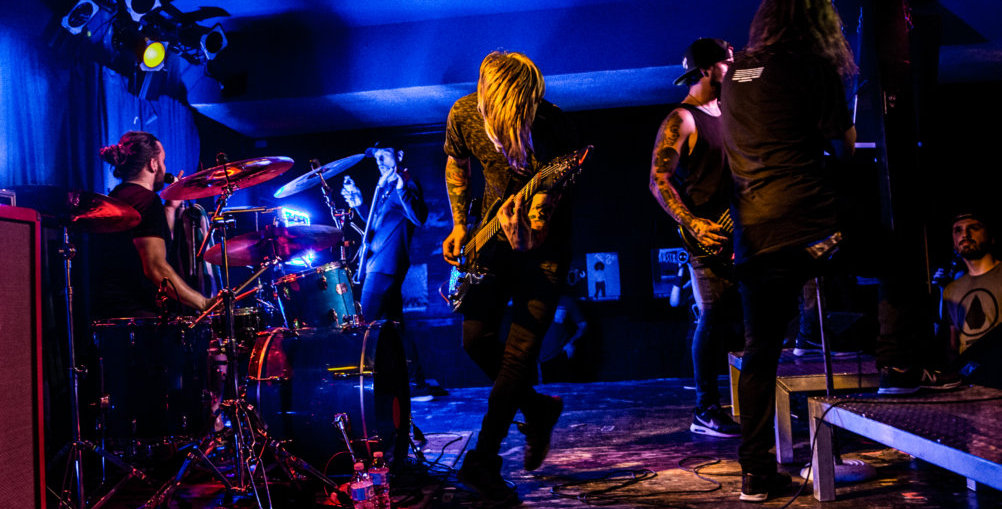 Photos and Article by: Adrienne Row – Smith
Ottawa, Ontario – The Northern made a pit stop in the Nation's capital, in support of their Tragic Hero Records debut, Solstice. They were supported by Hybrid Dreams, Storm Like Wolves, Throne To The Wolves, and The Parallel.
Up first for the evening was progressive metalcore act Hybrid Dreams. They started the evening off on a lively note, playing songs off of their 2016 release Habitat. The most profound part of their set was during "Anxiety," which is a song dedicated to those suffering from depression and anxiety, with the band's raw emotion creating a powerful atmosphere for the following acts.
Following Hybrid Dreams, were Storm Like Wolves, who played a short but spirited set. With only four songs, the band was able to keep the energy in the crowd alive, especially during "The Aftermath," which had a breakdown similar to A Day To Remember's "Mr. Highway's Thinking About The End." Time will tell if bringing back this style of music will pay off for the band, but if the night was any indication it is a good way to go.
Determined to get the crowd more animated, Throne To The Wolves gave everything they could to get as many people moshing. Playing a set stacked with songs off their debut EP, Unholiest of Kings, it was a refreshing change to see the band throw in a cover of Marilyn Manson's "The Beautiful People." With the crowd giving them energy, the band tested the waters with a new song, off of their new album coming out later this fall. Definitely, a band to watch for in the coming months!
Not to be outdone by their tourmates, The Parallel delivered a powerful set. With former guitarist Luke Snider working as lead vocalist, the band was more cohesive and comfortable with their material. Playing songs off 2015's Embark, the new sound of the band worked well with the old material, which the crowd enthusiastically enjoyed. But it was when the band tore into their newly released single "Wanderlust," that they pulled out all the stops, and showed that their new direction makes them a band to keep your eyes on.
For the grand finale, The Northern looked to release all remaining aggression in the crowd with their fierce set. Featuring vocals performed by fellow Torontonian Mike Cutway (Loyalist), the band was able to deliver a powerful and resounding performance. Each song they played, from "Terra," to "Matches," the band grew more and more animated, giving their all for their fans in Ottawa. The energy finally broke the ceiling with "Nauticus," which saw their featured vocalist Michael Labelle (A Skylight Drive, Horcrux) come on stage to help decimate what was left of the crowd. The Northern set showed that the band has earned everything that they have worked for thus far, and are definitely worth your attention if they come to a city near you.