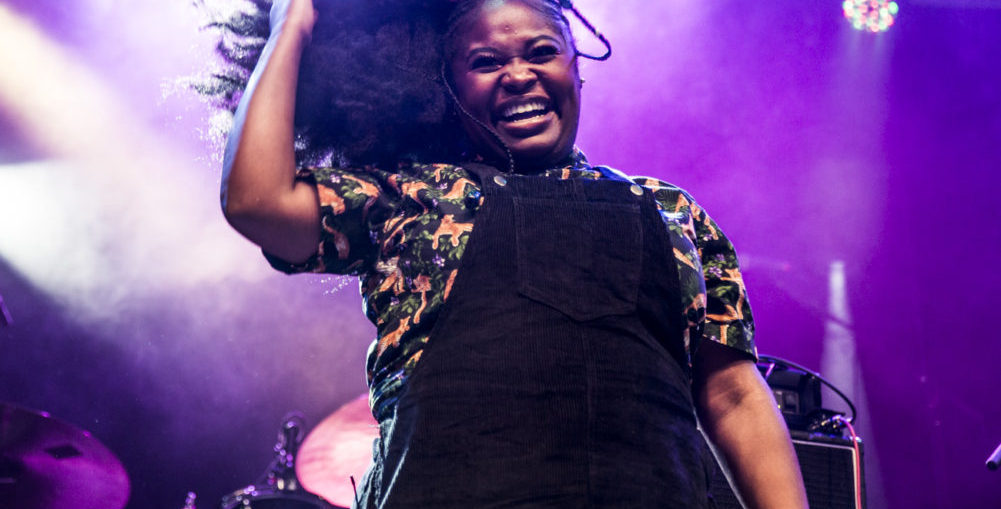 Photos and Article By: Adrienne Row – Smith
Ottawa, Ont – City Folk Festival had another successful year, in both acts and in weather. Expanding itself to five days this year, the festival provided a diverse and energetic line-up so that all ages and tastes could be entertained. The festival, which is known for expanding beyond simply folk and indie music, featured international artists like Post Malone, Rodriquez, and Tank & The Bangas. It also delivered some national talent like Ruth B, Fred Penner, and Amanda Marshall.
However, things were a little different this year. City Folk downsized to two stages – the City stage acted as the main stage, and Ravenlaw stage was hosted inside one of the many buildings of the Landsdowne area. This had its advantages, as it was easy to navigate and enjoy a few songs of one artist before walking over to the other stage to see a different act. However, it also extended the length of the festival by a day, and also caused some days to have overlapping acts or large breaks in between artists.  Despite these negatives, it was still an enjoyable time.
Obviously, the biggest draws for most of the days were the headliners. Post Malone drew in young adults and teens, but did pique some of the older audience members interest, in part due to the large crowd that formed as soon as the festival opened its doors. However, fellow acts on day one, Ruth B and Allan Rayman also had large followings, with many of the crowd singing along or cheering non-stop during their sets.
On day 2, openers for the day The Family Crest, and The Wilderness brought the energy up, with their wild rock n roll vibes. Headliner Jack Johnson had some fierce competition for the crowd's attention, with Nathaniel Rateliff & The Night Sweats drawing in a ton of fans, many cheering for an encore after Rateliff ended their set by destroying his tambourine, and throwing his guitar to his stagehand. Jack Johnson treated fans to his classics and even played 'Upside Down' for the younger fans as he "wanted to make sure that he played it before they went to bed." He also invited Rateliff to join him on stage to sing a few songs with him. Johnson treated fans to a new song off his recent release titled, "My Mind Is For Sale," which was well received by the crowd.
Day 3 saw a large crowd begin to form as soon as Son Little took to the stage, and steadily grew for all the acts. Inside on the Ravenlaw stage, the one-man band The Suitcase Junket wowed fans with his folk songs, while also playing multiple instruments at once. The crowd was probably at its largest for Canadian Icons Broken Social Scene, who gave the crowd every bit of stage presence that they could muster by playing old songs, switching instruments, or playing with their instruments high in the air. Headliner Amanda Marshall was a force to be reckoned with as well, dancing across every inch of the stage, and encouraged crowd participation.
City Folk's Day 4 was a more relaxed affair, with the heat starting to affect the festival goers. It was also more of a family day, with legendary children's entertainer Fred Penner packing the Ravelaw stage. Later in the day, Danielle Allard and Miss Emily provided enjoyable sets on the main stage, with their easy listening songs working well with the hazy day. As the day progressed, more of the crowd was itching to dance, with Common Deer and Royal Canoe meeting that need by providing electrifying and entertaining performances. '90s icons The Philosopher Kings had quite the crowd ready to listen to their groovy music, which marked their 2017 release Return of the Kings as a success. Headliners Father John Misty and Matt Mays killed Saturday evening, with each catering to their respective crowds. Misty gave an impressive and dynamic performance, with his young audience near the front singing along while they cried tears of joy. Matt Mays finished the night with a rock n' rolla dance party, packing the Ravenlaw stage to the brim with those eager to let loose any remaining energy that they had.
For the final day, there were a number of phenomenal performances, most notably by Louisianans Sweet Crude and their New Orlesian counterparts Tank & The Bangas. If either band was asked to play City Folk again they should definitely be awarded a spot on the main stage, as they had perhaps the most energetic and engaging performances of the entire festival. Not to be outdone, the main stage also had wonderful performances by Bahamas and Margo Price, which was a good set up for the headliner Rodriguez. For the final night, the legend Rodriguez treated fans to some of his iconic songs, and was very appreciative for all those that came out to enjoy him and his music. The final act of the festival was teen favorite, Scott Helman. His set was full of sing-along and high-energy stunts, a fantastic end to this year's City Folk Festival.