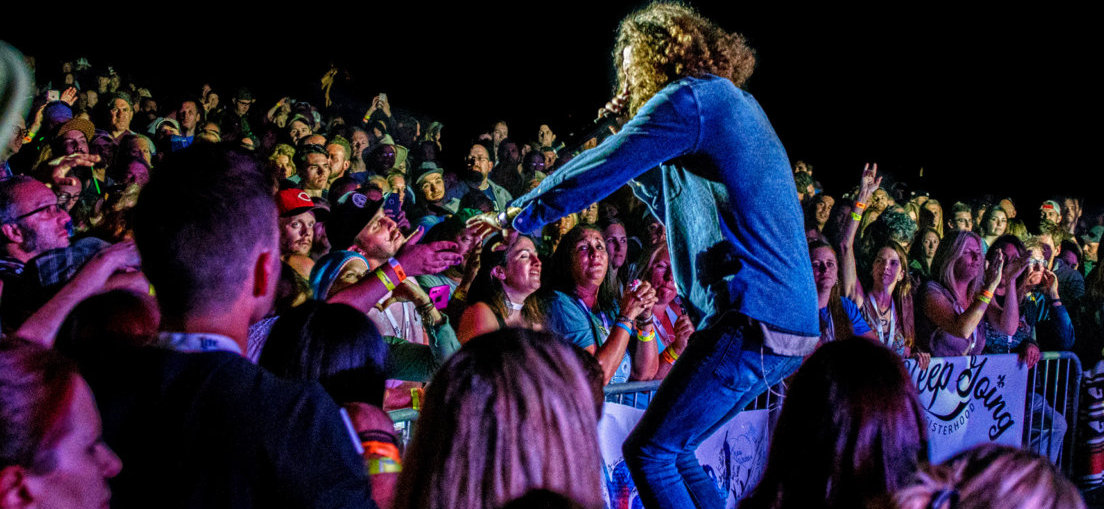 Article and Photos by: Linda Carlson
HAMILTON, OH – Since 2012, David Shaw of New Orleans' The Revivalists has brought the gift of music to his hometown of Hamilton, Ohio every September by way of David Shaw's Big River Get Down (BRGD).  This one-day festival is filled with live music at the outdoor RiversEdge Amphitheater alongside the Great Miami River, a quiet spot nestled among busy city streets.
This year's event was held on September 9 – a picture-perfect day in southern Ohio.  Blue sky.  Mid 70's warmth.  Crisp cool evening.  Laughter.  Dancing.  Carefree smiles.  You couldn't ask for a more ideal day to bring a chair or blanket and sit on the green lawns and soak in the eclectic sounds of David Shaw's guests.  Sunglasses were mandatory.
The slate of music offerings started with Naughty Professor, a jazz-funk sextet from New Orleans.  Cole DeGenova joined as a guest vocalist and keyboardist.  Mid-show, David Shaw was invited onstage to perform "Stray" with the band.
Next on the docket was Smooth Hound Smith, from Nashville.  Zack Smith (guitars/vocals/foot drums/harmonicas/banjo) and Caitlin Doyle (vocals/percussion) played folksy rhythm-and-blues tunes in the bright sunshine.
Then came southern rock from The Atlas Road Crew, who had toured with The Revivalists earlier this year.  From Charleston, these young performers settled into soothing southern-inspired melodies.  Lead singer Taylor Nicholson delivered raspy, moody vocals during both ballads and up-tempo songs.
Next came arguably the funkiest band of the day… Reverend Peyton's Big Damn Band from Bean Blossom, Indiana.  This rowdy threesome brought plenty of energy to the stage.  Among the non-traditional instruments played were a washboard, an ax guitar and a paint bucket.
There was great anticipation for The Marcus King Band.  Marcus, a 21-year-old sensation, makes whatever guitar he is playing "talk." His singing is bluesy and smooth.  The crowd loved it every time Marcus went into "the zone" during each guitar solo.
Leading up to the headliner was grammy-nominated The Record Company.  From Los Angeles, this threesome blends a soulful mixture of blues with rock 'n roll.  Lead singer Chris Vos played lap steel guitar and harmonica for a rowdy lead-in to the mail event.
And finally, The Revivalists! Before their headlining performance, David Shaw was honored in a ceremony hosted by city officials for his continued support and passion for his hometown.  In his honor, and in anticipation of this year's BRGD event, the town renamed the city for that day to be Jam!lton, and David was named honorary mayor for the day.   He was presented a key to the city, and the crowd, now burgeoning in number, went wild.
When The Revivalists took the stage, the evening had settled in, the air had cooled, but the music was hot!  The band played song after song to a grateful audience.  From New Orleans, The Revivalists merged the nuanced sounds from Zack Feinberg on guitar, Robert Ingraham on sax, Ed Williams on pedal steel guitar, Michael Girardot on keys and trumpet, George Gekas on bass, Andrew Campanelli on drums and David Shaw on vocals.  Together, these seven artists bring bluesy rock heavily steeped in New Orleans' jazz influences.
The BRGD event grows each year.  Interested in spending a leisurely day of eclectic music in the Midwest?  Check www.bigrivergetdown.com next year when timing and lineups are announced for the 2018 show.