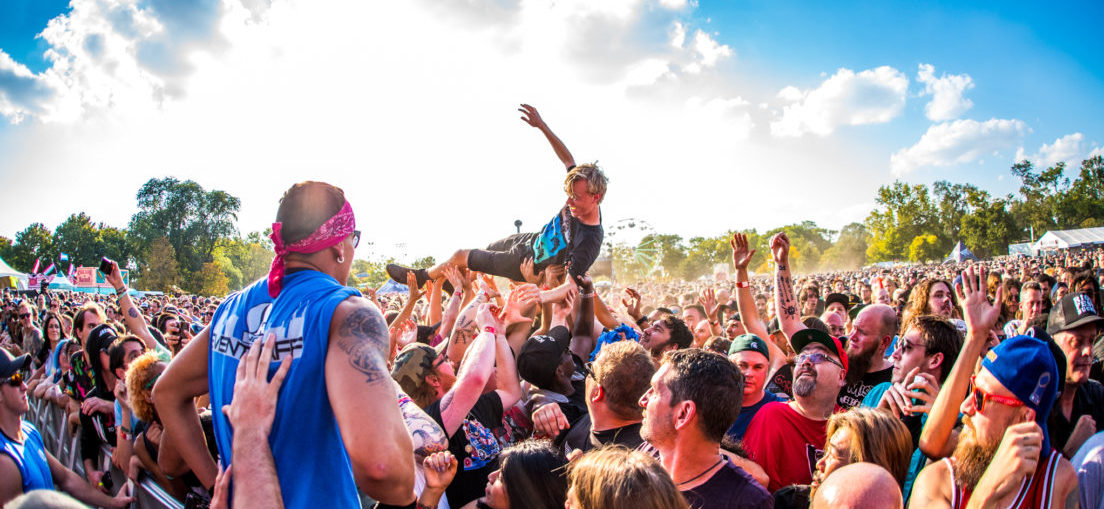 Article by: Robert Sommerfield
Featured Image Cred: timeout.com
Chicago, IL — Riot Fest 2017 has come and gone, like a frenzied storm of punk rock guitars and infectious drum machine beats, and all I can say is, "Wow."
Celebrating twelve years (2017 marking their third consecutive year in Chicago's Douglas Park), Riot Fest has evolved into the best-value music festival in the country, bar none.  Where else can you see the likes of Nine Inch Nails, Wu Tang Clan, Queens of the Stone Age, and Prophets of Rage all for well under $200?
This has been my second year in a row attending Riot Fest, and I can say without a doubt, it won't be my last.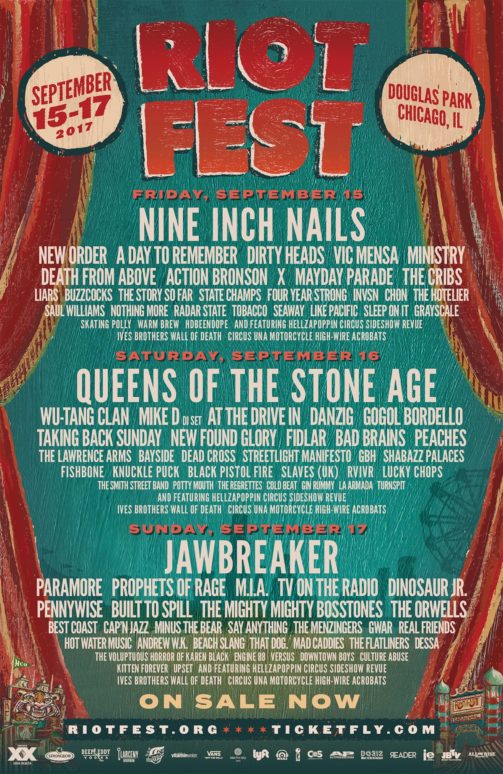 Day one was started wonderfully with beautiful weather and an excitement in the air.  Everyone who attends Riot Fest can feel this energy – it's palpable.  All of the bands at Riot Fest are worthy of a listen, and the earlier you get there, the closer to the stage you'll get, as larger crowds begin to file in later in the day.  Indie acts filled the stage in the afternoon, like Skating Polly, Tobacco, and Liars, all bands that need to be checked out!  Later, a band simply named X took the stage in the early afternoon and completely killed it.  It was terrific seeing them perform on stage together.  Ministry put on a great performance in the early evening and had terrific use of video propaganda and ear splitting guitars and drums; Al Jorgensen hasn't lost a step in his old age.
The crowd really filling in at this point, they were treated to an amazing set by band New Order. The closest any will ever get to a Joy Division reunion, they put on a great show, including a magical performance of "Love Will Tear Us Apart."
Finally ending the night was the act most everyone had come for: Nine Inch Nails. This legendary band left nothing on the table as they lit up the crowd with a collection of songs from as far back as Pretty Hate Machine to their current new EP Add Violence.  The entire crowd turned into a frenzied mosh pit as Trent Reznor belted out the lyrics to classics like "Wish," "Head Like a Hole," and "March of the Pigs."   He finally ended their set with his familiar send off of "Hurt."   It was an electric first day at Riot Fest — how could anything top that?!
*
Day two began much like the first, but this time with a powerful punk set from GBH, which left the crowd energized for what was to come next: the over the top nsfw insanity of Peaches!  Peaches took to the stage and belted out some of her classics — all the while, more and more clothing started to come off, ultimately leaving her and her backup dancers nearly naked.  It was pure madness and the crowd ate up every moment of it.
After a terrific set by Dead Cross, a band containing the genius of Mike Patton (most famously known from Faith No More and his millions of other side projects) as well as drummer Dave Lombardo (of Slayer fame, and interestingly enough, the drummer for the recently reformed classic Misfits lineup), came a band many were very much looking forward to: Danzig.  Playing his Danzig III: How the Gods Kill album in its entirety absolutely destroyed the crowd!  He also included a few notable tunes from his large catalog, including a song or two that has never been played live before (such as the classic "When the Dying Calls").  If you've never seen Danzig live, do yourself a favor and catch a show; the man is a bonafide rock star legend.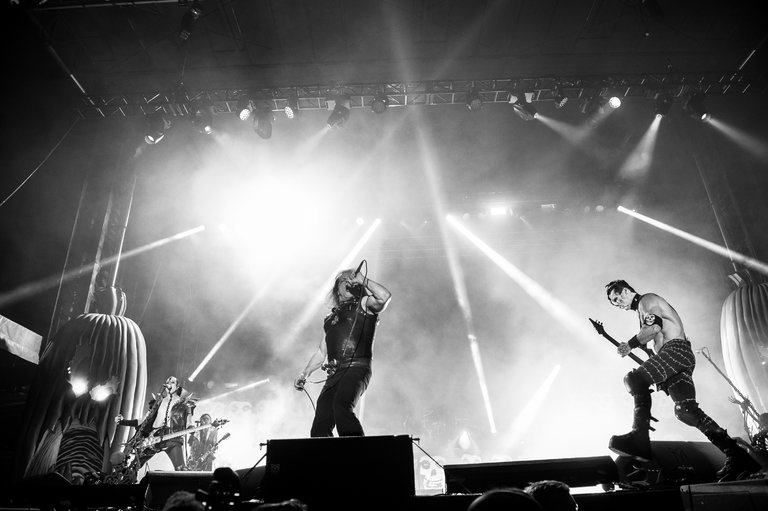 Following Danzig, Riot Fest presented itself with the first of its scheduling choice problems: Do you go see the amazing Gogol Bordello, or spend time with former Beastie Boys micman-turned solo DJ Mike D?  We opted to split sets, since this choice was too much to make. We're glad we didn't sacrifice one for the other and instead took in a bit of both.  Both artists brought their A-game and showed the energetic crowd the talent that's kept them going in the game for all these years now.
Wu Tang Clan followed Mike D on stage and, as always, provided a fun outlet for all the pent up energy from the day's punk, rock, and metal acts.  It was my first time seeing the entire Wu Tang (minus ODB, AKA Big Baby Jesus, AKA Dirt McGirt, AKA Knifey McStab, AKA Peanut the Kidnapper, AKA…well, you get the idea lol).  They played the entire Enter the Wu Tang (36 Chambers) album, and debuted a brand new, never heard before song (seriously, go check on YouTube!).
Ending Day Two was an extended and amazing set from Queens of the Stone Age.  The crowd was blown away by how good they were and many, if not already, became instant fans (myself included!). I now understand why Queens has such a large live show following and I'm looking forward to the next time they play my hometown of Austin, TX.
Day three, and reality has finally began to take hold — it's pretty challenging for a person to make it through three days of nonstop music madness with little to no sleep and survive — but we managed! We caught the Mighty Mighty Bosstones and I can now understand why I've always been told they are a must-see band.  The feel good ska energy was the perfect pick me up to overcome any "day three fatigue" that may have been setting in, and set us up for another energetic performance from Pennywise, a staple on the punk rock scene for many years now.  This was the second time I had seen them play, and they didn't disappoint.  Staying engaged with the crowd, they kept things tight and fun, but still reminded the crowd why they were at Riot Fest to begin with: to ROCK!
Later in the day, Riot Fest presented festival-goers with the hardest choice of the weekend. On one stage, GWAR destroyed the crowd. Elsewhere in the park, MIA turned the festival into an amazing rave of lights and groovy drumbeats, and finally Prophets of Rage (a super group made up of former Rage Against the Machine, Public Enemy, and Cypress Hill members) played the shit out of yet another stage.  This was an impossible choice to call and many seemed to try their hardest to catch a bit of each. Personally I'm still devastated, nearly a week later, that I couldn't enjoy all three shows in their entirety.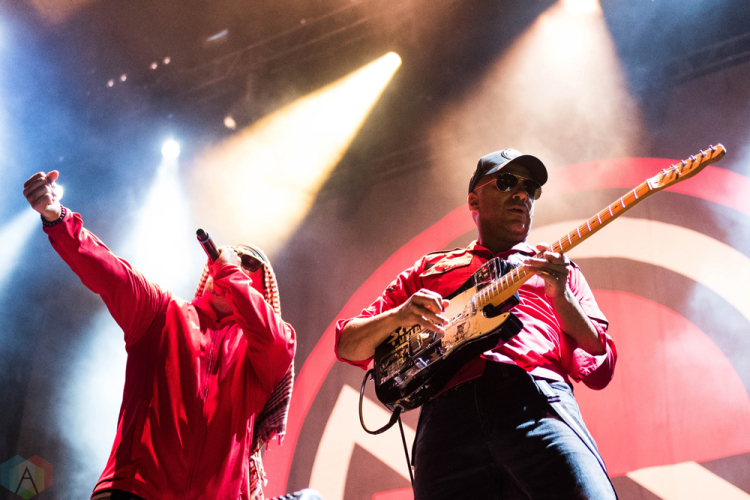 One of the best things to come out of Riot Fest this year was watching Prophets of Rage do an entire Rage Against the Machine set!   Likely the closest any of us will ever see to a RATM reunion (Riot Fest 2018, maybe?), and the way they handled the crowd was a sight to see.  Tom Morello is truly a master of his craft and watching Chuck D and B-Real tackle the amazing Zack de la Rocha lyrics was breathtaking.  Leaving the stage, they promised this was only the beginning.
The final act of Riot Fest 2017 was another classic reunion that Riot Fest has become known for. The crowd had waited all day to see the return of Jawbreaker, a band that hasn't toured in 21 years!  I personally knew very little of Jawbreaker's catalog, but after witnessing them play together I understood why fans had been waiting all these years for this reunion to happen.  Their songs were a perfect swan song to this year's festival.  Hopefully, it won't take another 21 years for fans to see their next show!
Riot Fest 2017 has come and gone and as I sit here typing this, nearly a week after the festival, I'm still suffering from post-festival depression.  We survived a war of music, energy, and emotions. The crowd is the best I've ever seen attend a festival, the workers and volunteers top notch, and I can't help but look forward to what Riot Fest 2018 brings us. If they decide next year's festival will be on the moon, you can expect to see me there, wearing moon boots and my "Riot Fest 2017 Misfits Reunion" t-shirt.