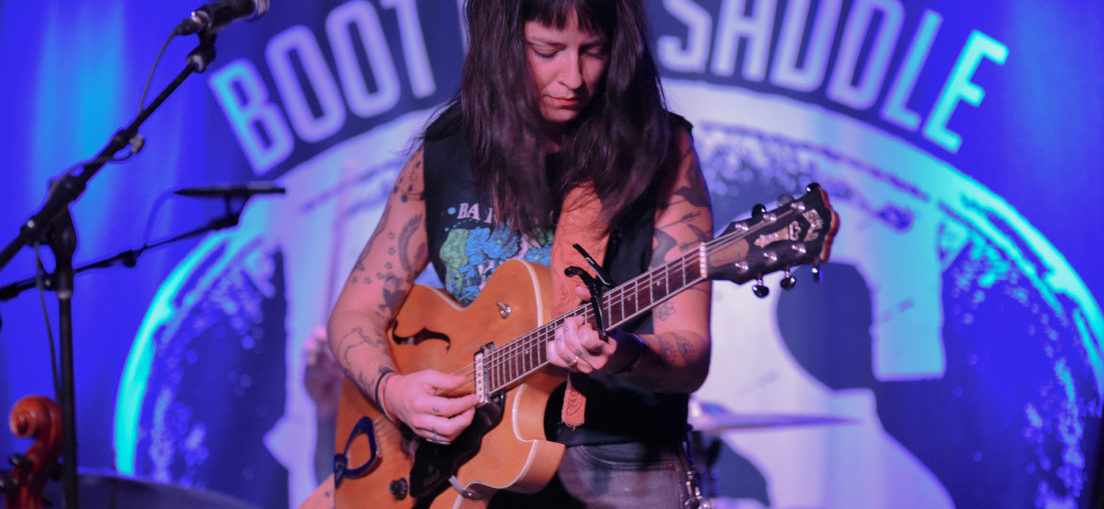 Article and Photos by: Bob Linneman
Philadelphia, PA — In the shadow of Billy Penn (City Hall), on the street which lends its name to the 1970s Hockey team (the Broad Street Bullies), sits a little Country and Western joint called Boot & Saddle. The venue is a music landmark which has so much history in the city.  Back in the day, the venue was regularly visited by sailors from the nearby Philadelphia Navy ship yard.  Today, they have almost every type of music.  They are also a big supporter of local music, and a regular stop on all local bands venue list. Today I'm here to enjoy the sounds of The Huntress and Holder of Hands.
Led by MorganEve Swain who was half of the Brown Bird husband and wife team, who was forced to disband when Swan's husband, Dave Lamb, succumbed to Leukemia in April 2014 at the age of 36.  Swain continued working on music through her grieving, and decided it was time to get back into performing live music and to keep the flame alive that Brown Bird had created.
Tonight's performance did not disappoint as the band delivered exactly the mood captured on their new release Avalon, which was just released last week. The music of The Huntress and Holder of Hands is very melodic with harmonies building layers upon layers until you are taken on an ethereal journey through themes of strength, love, and sadness.  Between songs, the band engaged with the crowd exchanging corny jokes, but it was all in good fun and lightened up the mood of the room.  They ended the evening with "Shake off Your Flesh," which has a very different vibe with an almost Led Zeppelin hook to it.
The Huntress and Holder of Hands is packing a lot of punch into a short time; the tour began in late July in Rhode Island, and winds its way through the east and central states before ending back in Rhode Island.