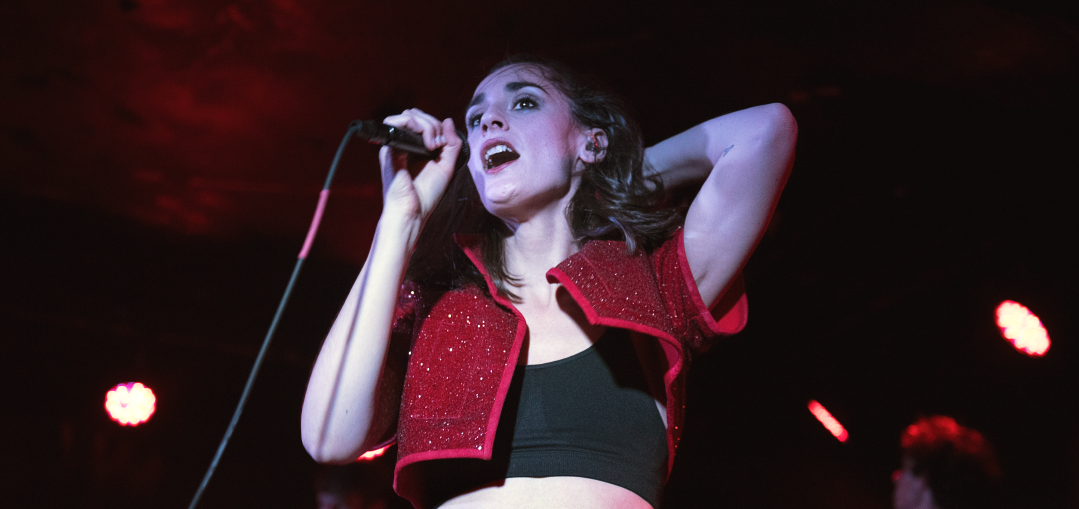 Article and Photos by: Charles Yamabe
Chicago, IL — It's 9 pm on a Sunday night and Western Avenue is empty. This part of the city is unusually quiet, save for a small bar on the corner of Western and Cortez. It's not much to look at on the outside… To be honest it's not much to look at on the inside either.  But this quaint venue, The Empty Bottle, has been bringing up and coming bands to the city for almost twenty years. Tonight is not much different from other weekend nights. A large crowd of mid-twenty somethings to early thirty-somethings has gathered to see the French electropop band Yelle.
Just before Yelle is set to perform, the doors at the back of the venue opens and out walks two men dressed in black with white markings that look similar to skeleton outfits. Behind them walks a beautiful woman in a sparkling red skirt… This is Yelle. The band walks straight through the crowd towards the stage to thunderous applause and screams. The lead singer (Julie Budet) grabs the mic and in her charming French accent asks the crowd in an excited voice, "Are you here to dance or are you here to sleep?" With that, the band kicks off into their first song. Their music is a mix of electropop, house, disco, and a whole lot of dance moves. The best way to describe it (for those old enough to remember) is the scene from Bill and Ted's excellent adventure where Joan of Arc takes over the excercise class in the mall. It's high-intensity choreographed dance and theatrics from the start of the concert to the very end.
By the end of the show, the band and the crowd were hot, sweaty, and exhausted from their nonstop dance marathon. They closed their set with the catchy "Interpassion" which has a few words in English that the crowd happily belted out along with the band. Even though almost the entire set was sung in French, the language that is music shined through. The passion, energy, and groove were more than enough to unite the band and fans for an outstanding night.