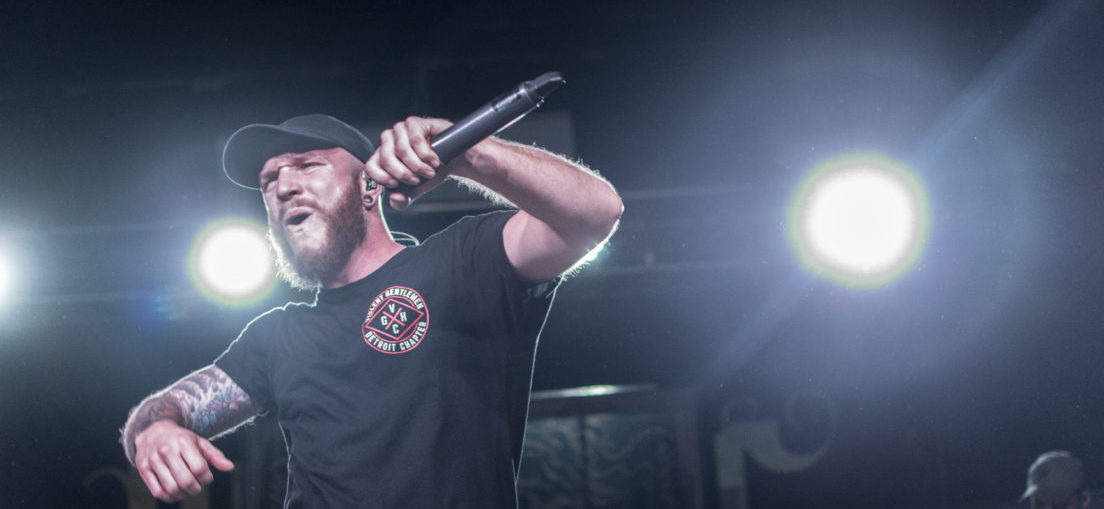 Article and photos by: Courtney Drake
Indianapolis, IN – A line of shivering fans waited outside the doors of Emerson Theater, even as the venue delayed letting them in for almost thirty minutes after the posted door times. The minor setback didn't detour any of them from rushing into the venue when they finally opened.
The night started out with three Indianapolis locals, the first of which being a band called Vices To Veils. They were energetic enough to get the crowd stirring a little, but the most memorable thing was that the vocalist, Alec Harter, got a nosebleed on stage and continued the set. Multiple people called it "metal as f-ck."
Glass Hands followed them, and their energy was something that the crowd thrived on as well. It was clear that they were no strangers to the stage and that a number of people in the audience were fans of theirs, or had at least seen them perform before that night.
Voices was the final opening act to take the stage, and a lot of people up front seemed to spend more time gushing about how cute the bassist's daughter was, who was also hanging out in the front row with her mother. Don't worry, she was wearing protective ear gear.
As most fans within the genre are aware, The Word Alive's vocalist, Telle Smith, recently suffered a compound fracture in his right leg during one of their sets. As a result, he now does his part while sitting in a chair. Even so, he was still interesting to watch, which was impressive considering some bands have a poor stage presence even in full health. Despite the obstacles of his leg injury and the technical difficulties in the beginning of the set, The Word Alive put on an entertaining and inspirational show, encouraging fans to celebrate music in any way that they want.
We Came As Romans played a little something for every kind of fan, old or new. The setlist consisted of songs from their new album Cold Like War as well as older hits like "Hope" and their cover of "Glad You Came" from Punk Goes Pop Vol. 5. It is also worth noting that We Came As Romans sounds exactly the same live as they do on record, which is not something too many bands are able to brag about. Every member had a smile on their face the whole time they were playing; it was heartwarming to see them enjoy what they do so much.
The show was one of eleven side dates of the Rage On The Stage Tour, featuring two of the four bands on that ticket.