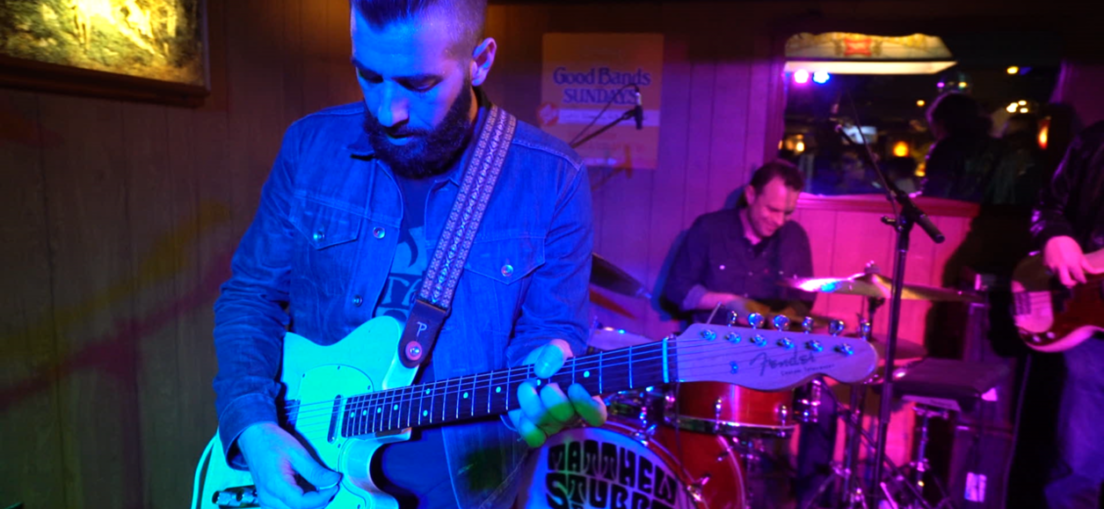 MATTHEW STUBBS AND THE ANTIGUAS
SHARE "DEATH GRIP" LIVE VIDEO & ANNOUNCE WINTER TOUR DATES
SELF-TITLED DEBUT OUT

JANUARY 26, 2018
New York, NY (December 14, 2018) – Matthew Stubbs and the Antiguas release their self-titled debut on January 26. The instrumental album is a diverse and propulsive affair, combining psych rock with acid blues and Afrobeat. It's cinematic, like a retro soundtrack to an underground film with hints of James Taylor Quartet, The Budos Band and Delicate Steve and influences from Booker T and Duane Eddy.
Today, the band announces a run of winter tour dates and releases a live performance of "Death Grip", a staccato fueled track that creates both energy and tension.
"The video was shot at a secret show we put on at State Park, one my favorite spots in Boston," says Stubbs. "The song was inspired by the wild scenes in those cult car racing movies of the 70's. I wrote it with that cinematic, yet frenetic approach in my mind."
Matthew Stubbs and the Antiguas hold a

Monday

night residency at The Sinclair, which just won a Boston Music Award for Best Live Ongoing Residency. In addition to the residency dates, the band will be touring the Northeast in the new year, hitting Burlington, Portland, NYC, Portsmouth and Worcester. A full list of tour dates can be found below with more to be added.
Stubbs has served as the guitarist for Charlie Musselwhite since 2007 and thinks of the Antiguas as a timeless musical statement that nods to the past but lives in the here and now. "It's meshing vintage sounds with modern tweaks," says Stubbs. "It's lo-fi inspiration with hi-fi sonics and production."
Matthew Stubbs and the Antiguas Tour Dates
Jan 05 – Burlington, VT – Nectar's
Jan 08 – Cambridge, MA – The Sinclair
Jan 15 – Cambridge, MA – The Sinclair
Jan 19 – Worcester, MA – Bull Mansion
Jan 22 – Cambridge, MA – The Sinclair
Jan 26 – Fall River, MA – The Narrows 
Jan 29 – Cambridge, MA – The Sinclair
Feb 03 – Portland, ME – One Longfellow Square
Feb 12 – Cambridge, MA – The Sinclair
Feb 15 – New York, NY – Berlin
Feb 16 – Portsmouth, NH – 3S Artspace
Feb 19 – Cambridge, MA – The Sinclair
Feb 24 – Worcester, MA – Electric Haze
Feb 26 – Cambridge, MA – The Sinclair