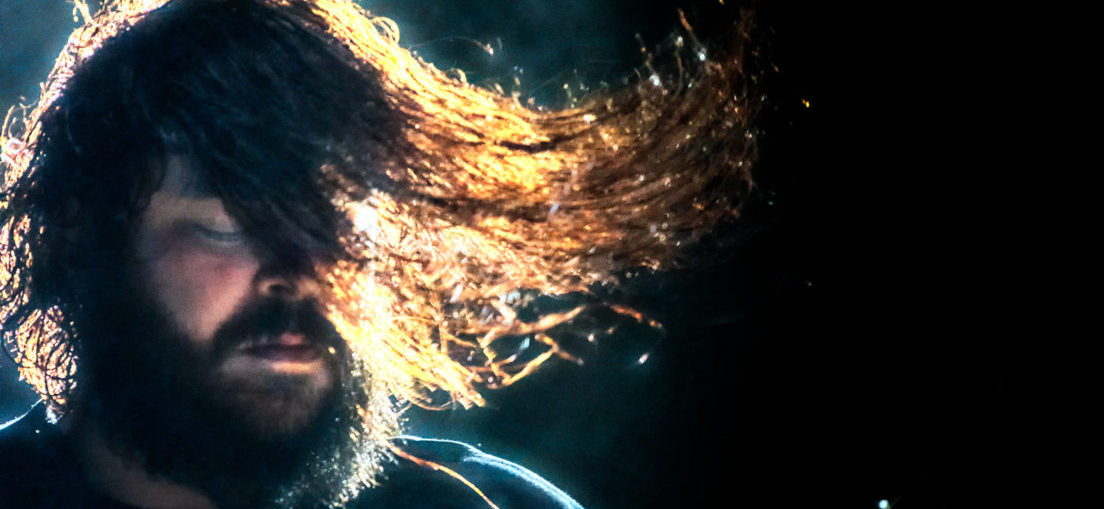 Article and Photos by: Linda Carlson
Cincinnati, OH – Cincinnati's 96Rock radio station hosted the Mistletoe Rock Show at the Taft Theatre on December 20, 2017 to a sold-out crowd.  Headliner Seether was preceded by an opening lineup of Cincinnati local band American Sin, Nashville's The Dead Deads and Missouri rockers Shaman's Harvest.
Clearly energized to be performing in their hometown, American Sin started the evening with a set that was punctuated by intense performances from lead singer John Bobinger, guitarist/vocalist Marcus Barber, guitarist Samuel Morelock and bassist Jake Wire.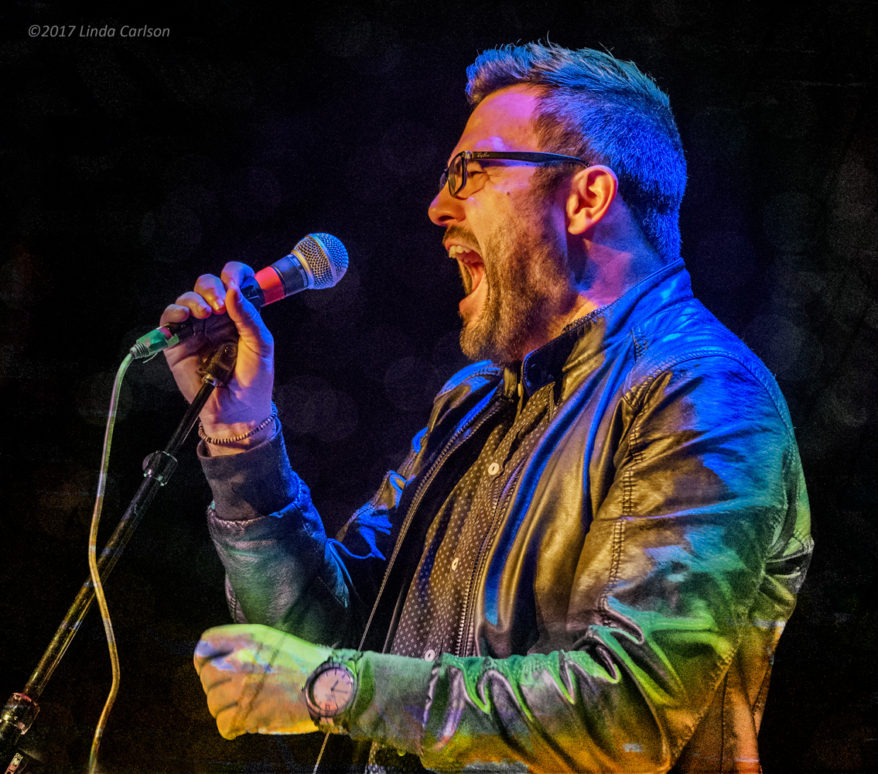 Next on stage were The Dead Deads, with each bandmember bearing their trademark X's across their eyes to mimic the sign of death in comic strips.  Fronted by lead singer Leticia Wolf, who offered passionate vocals to dark-themed songs of failed relationships, the band rocked song after song, including a more light-hearted holiday song, "Santa Beamed Us Up."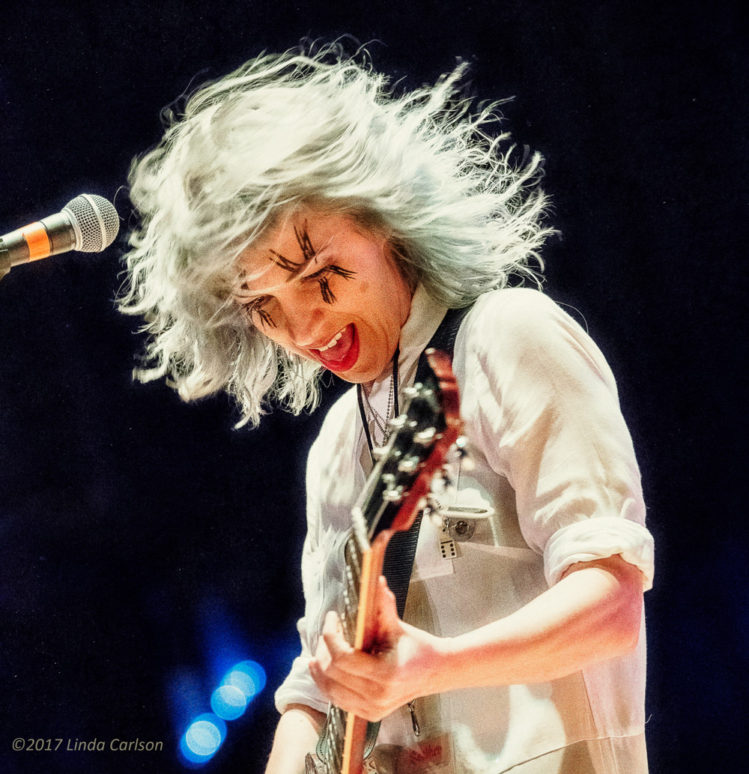 Shaman's Harvest followed.  Lead singer Nathan Hunt's rich vocals resonated as he stood poised at a unique antelope carcass microphone.  Clear country and blues elements were infused within the rock songs.  The band is rounded out by bassist Matt Fisher, rhythm guitarist Josh Hamler, lead guitarist Derrick Shipp, and drummer Adam Zemanek.  During some songs, Nathan picked up a guitar as well, making four guitarists performing…an incredible sound.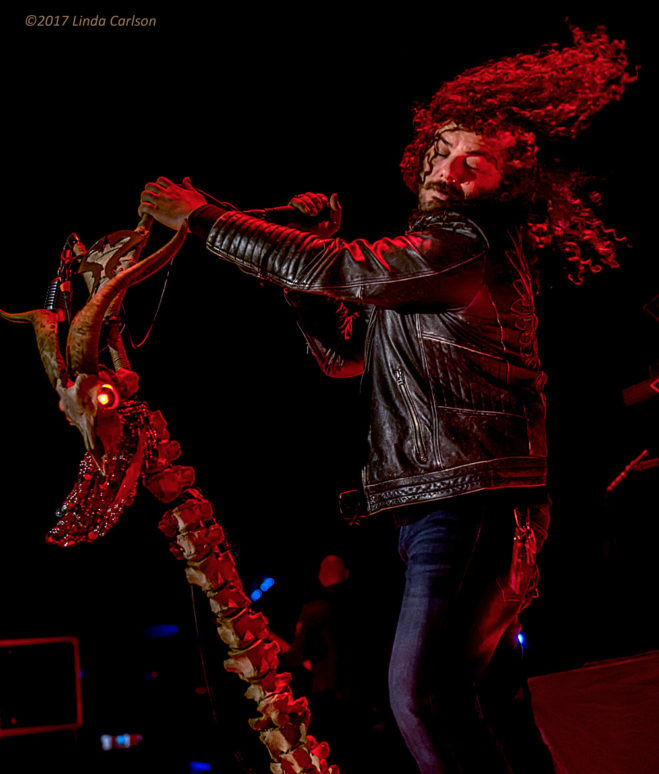 Headliner Seether was heavily anticipated by the audience, which by now had filled the auditorium.  Although an elegant venue with fixed seating, the fans were all standing.  With a brought depth of music from which to select, the audience was taken on a musical journey with song selections that brought highs and lows – rousing songs followed by hushed, contemplative songs. Throughout the entire set, the audience stood, singing along to other favorites like "Country Song," "Broken," "Rise Above," "Say Something Beautiful" and "Fake It," as well as new releases from the band's latest album, Poison the Parish, including "Betray and Degrade" and "Let You Down."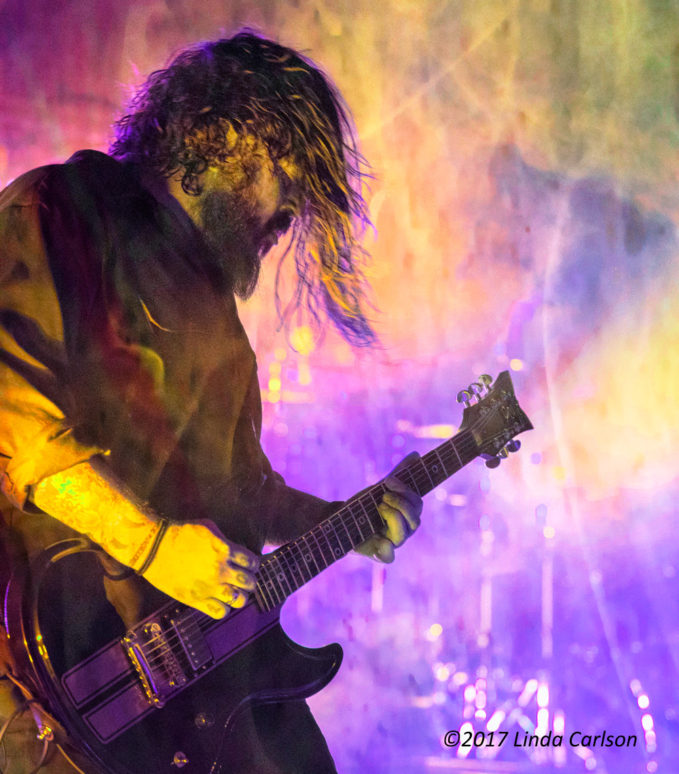 This show marked the final stop for Seether's Poison The Parish Tour with The Dead Deads and Shaman's Harvest, and there was an element of lightheartedness throughout the evening.  Morgan acknowledged The Dead Deads by singing an acoustic duet of "Ana's Song" with Leticia Wolf, and Dead Deads' drummer Tosha Jones, referred to as a "badass drummer" by Morgan, performed with Seether during "Sympathetic."
Near the end of Seether's set, a birthday cake was brought out to celebrate Shaun's birthday "in less than one hour."  The audience sang "Happy Birthday," breaking the barrier between the band on stage and the fans in the theater.  "I'm looking pretty good for 65," Morgan joked quietly, adding with a smile, "The secret is Just For Men … (pause) … Just a little along the fucking sides."  The crowd roared.
Finally, in an unexpected move, Morgan disappeared from the stage during the instrumental portion of "Remedy," the band's closing song, only to reappear at front & center of the upper balcony, wearing sunglasses and a huge smile across his face.  A perfect end to a sensational performance.
Closing out the Poison The Parish Tour at this Cincinnati show, the bands now have a break before touring again in 2018.  Keep an eye out for tour dates at www.seether.com, www.shamansharvest.com, http://www.thedeaddeads.com and www.facebook.com/americansinband .