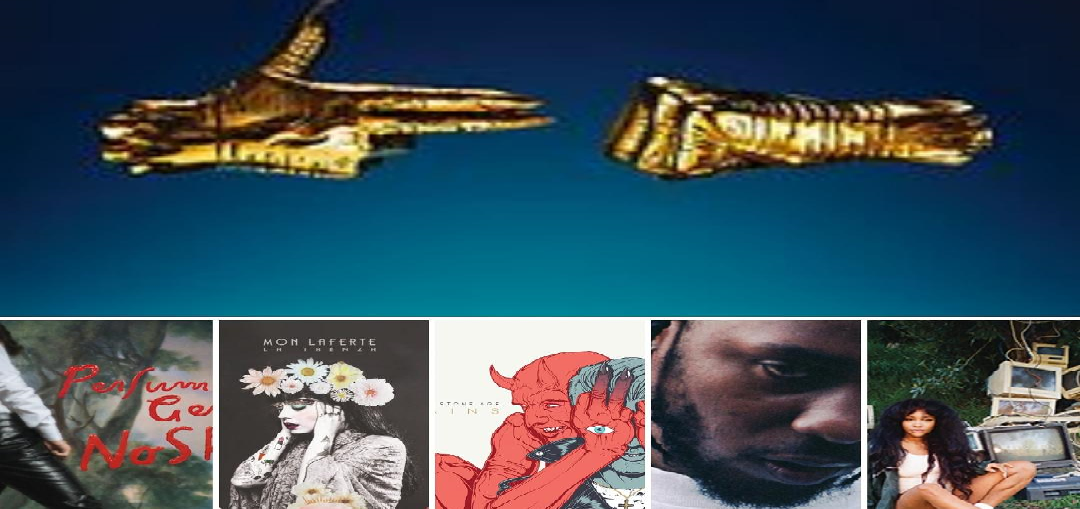 Article by Andrés Alvarado
Like every year, 2017 swarmed us with superb tunes and outlandish albums that caught our attention throughout the last 12 months. Rankings are always touchy and best-of lists bring about impassioned arguments of who outdid who and what album bested what album but, in the end, these lists are purely subjective and meant in playful fun. So, without further ado, here are this writer's picks for best albums of the year:
12.- Twain: Rare Feeling
An insightful blend of folk and indie-rock that swaddles the soul and piques the mind with a mantra of "less if more." Twain's Rare Feeling is criminally underrated and brutally heartfelt. Single "Little Dog Mind" merits earnest consideration as the catchiest acclaimed single of the year.
11.- White Reaper: The World's Best American Band
Hey, sometimes going back to basics is the best option. White Reaper's sophomore effort is a heavy dose of power riffs, bumptious lyrics, and the bravado of rock legends. The World's Best American Band is sure to shut down those naysayers claiming that rock-n-roll is dead.
10.- SZA: CRTL
Solána Imani Rowe's debut is an empowering genre-bending statement of love lost, lust, personal struggles and insecurities from the modern-day woman's perspective. SZA's modus operandi gambles on raw honesty and hooky beats and it handsomely pays off.
9.- Mon Laferte: La Trenza
Laferte projects to be the next big Latin star to take over the States' sound-waves. The Chilean songstress elegantly intertwines traditional rock with cumbia and bolero to produce a genre mash-up sure to enthrall critics and everyday joes alike.
8.- Perfume Genius: No Shape
Mike Hadreas' No Shape is a dreamy concoction of daring art pop. Cosmically moody and musically majestic, No Shape is an elevating testament to the many forms and sounds of love.
7.- Thundercat: Drunk
On Drunk, Thundercat fires on all cylinders. Stephen Bruner offers up an eclectic array of acid-jazz and funk on this masterpiece. Incorporating volatile cameos from Kenny Loggins to Kendrick Lamar and Michael McDonald to Pharrell is just one of the many talents Thundercat brings to the table.
6.- Father John Misty: Pure Comedy
Depending on who you ask, Josh Tillman is either a musical honcho or a gifted poet moonlighting as a musician. Regardless, Pure Comedy is a stroke of pure baroque-pop/folk-rock genius.
5.- Queens of the Stone Age: Villains
Is this QOTSA's magnum opus? Only time will tell! In the meantime, just shake, rattle, and roll to Josh Homme's and Mark Ronson's master collaboration.
4.- The National: Sleep Well Beast
Their quintessential melancholic vibe spiced up with hints of electronica propelled these alt-rock veterans to new and exciting heights. Sleep Well Beast is a beautiful ode to the doomsday scenario fears within us all. Appropriately 2017, wouldn't you say?
3.- Kendrick Lamar: DAMN
Drawing comparisons on merits of importance to such classics as Dr. Dre's The Chronic, Wu-Tang Clan's Enter the Wu-Tang (36 Chambers), and Eminem's The Marshall Mathers LP … Yes, Lamar's DAMN is that damn good. A wordsmith with a message doubling as rapper with a blazing flow, Kendrick Lamar's DAMN is the complete package.
2.- St. Vincent: MASSEDUCTION
Annie Clark has found a way to top her previous critically acclaimed LP, and that is not an easy task. MASSEDUCTION is both bewitching and bleak. Moody and giddy. Sleek and unkempt. Annie Clark is strutting her way into iconic status.
1.- Run the Jewels: Run the Jewels 3
I'll sum it up in their own lyrics:
"I told y'all on RTJ1, then I told ya again on RTJ2, and you still ain't believe me. So here we go, RTJ3." – Killer Mike
"You're getting used to me doing no wrong." – EL P
Honorable mentions:
• Laura Marling: Semper Femina. – Marling's songwriting prowess and stirring vocals epically battle for the album spotlight. Semper Femina bursts open Marling's folksy cocoon and gives her a new widespread appeal.
• Brand New: Science Fiction. – A shame. Leaves you wondering what could have been had Jesse Lacey's horrible actions not taken away the focus from the band's pièce de résistance.
• Jay Z: 4:44. – Any other year, Jay probably leads the hip-hop pack. Just not 2017.
• Lorde: Melodrama. – At just 21 years old, Lorde's limit is, well, limitless.
• Café Tacvba: Jei Beibi. – These no-genre musicians just keep finding ways to impress.