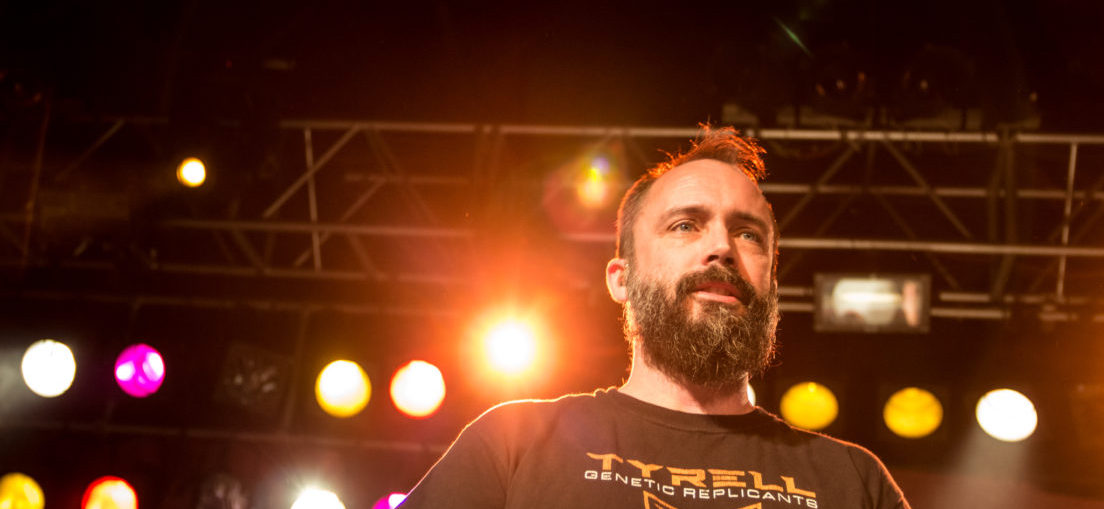 Article and Photos by: Steven Principato
Sayreville, NJ — Honoring what appears to be an ongoing annual tradition of headlining New Jersey's Starland Ballroom on this date (12/28), long-time purveyors of essential, blues-driven stoner rock, Clutch found no challenges selling out the house. Currently on tour alongside a rather unconventional, yet fantastic and eclectic line-up featuring The Obsessed and Devin Townsend, The Maryland based quartet prepared once again to groove the Starland into the next year without mercy.
Proudly opening tonight's show was veteran doom metal act, The Obsessed. Recently re-formed, yet with a traceable lineage originating in the late '70s, Gravel voiced Guitarist/Vocalist and elder doom god Scott "Wino" Weinrich's (Saint Vitus, Shine) launched his signature guitar-senal, bombarding the swarming crowd below with an obnoxious yet majestic barrage of guitar solos and doom laden riffs, for this was Wino's preferred method of diplomacy.  With their trusty and elementary style of Sabbath inspired sonic perfection, The Obsessed (Reid Raley on bass, Brian Costantino on drums) effortlessly exceeded their mere confines as a simple opening act, monstrously resurrecting their numerous classic numbers like "Tombstone Highway" to material from their more recent effort Sacred (2017, Relapse Records). Unleashing these tracks with a ferocity that nearly parallels their immortal reputation as pioneers, trailblazers, and torch carriers of the doom genre.    
Fulfilling an ongoing Clutch tradition of bringing some of the most unusual and eclectic bands ever to share a tour bus, Devin Townsend took the stage sporting a dramatically contrasting image and sound than the opening act and the headliner alike. Introducing himself as "awkward Canadian prog metal", followed by a polite Canadian style apology for playing such music, it quickly became apparent the chrome-domed guitar hero before us had come fully equipped with a charming Canada-dried sense of humor, an animated stage presence, and best of all, a collection of lengthy and sophisticated songs, fulfilling a polarized experience to the homegrown, dense blues riffs of his tour mates. With a performance that was closer to majestic, I found myself pleasantly surprised, and later hooked on the massive wall of sound and down-tuned guitar thunder that emanated from the jovial front-man and his band of ultra-skilled musicians. Delivering a set that spanned his lengthy solo career, the former Strapping Young Lad guitarist delighted the audience that appeared have a virtually equal ratio of his own fans vs. Clutch fans. Executing an 8 song set of complex, atmospheric, and lengthy numbers that one might expect from any band with a drummer that wears headphones when he plays live, this current incarnation of Devin's many musical ventures had no issues convincing myself and others that prog metal is alive, kicking, rocking. Devin Townsend is currently supporting his latest release Transcendence (2016, HevyDevy Records)
Headlining the show on this cold December night once again was everyone's favorite band of nerds in stoner rock, Clutch. Blasting into their set with crowd favorites like "Dragonfly" and "Burning Beard," Clutch exploded onto the stage with the fury and groove-fueled rage, triggering a series of secondary explosions within the crowd upon the sold out house. With his soul tightly in the grasp of some unseen malevolent spirits, bearded front man Neil Fallon preached an ominous, yet inspirational sermon, telling tales of devout robots, rocket science, muscle cars, Bill Hicks, and the devil. In addition to the band's introduction of a brand new track, titled "SMS," Clutch delivered a lengthy set spanning the entirety of a near thirty year career, satisfying the recent converts to the devout bearded elders who gleefully sold their souls back in the '90s. As the night progressed, the energy only grew stronger from both the band and crowd alike, as if some supernatural energy had consumed the entire room, only intensifying the blues-driven riffs and the sermon of science-fiction upon the flock before them, as their souls and minds transcended to a higher existence. Or maybe it was just the booze…
Finishing up the set with a highly anticipated encore performance of Neil's guitar donning muddy blues number "Electric Worry" and the upbeat, yet heavily LED-ed tale of horn-rimmed, slim-tied, cold war C.I.A. black ops, "X-Ray Visions," Clutch wrapped up the show to the roars of a satisfied army of fans.
Check out Clutch, along Awkward/Epic Canadian guitar hero Devin Townsend, and fellow Maryland doom legends, The Obsessed on their never ending tour in support of their latest release, Psychic Warfare (2015, Weathermaker Music) in a city near you.