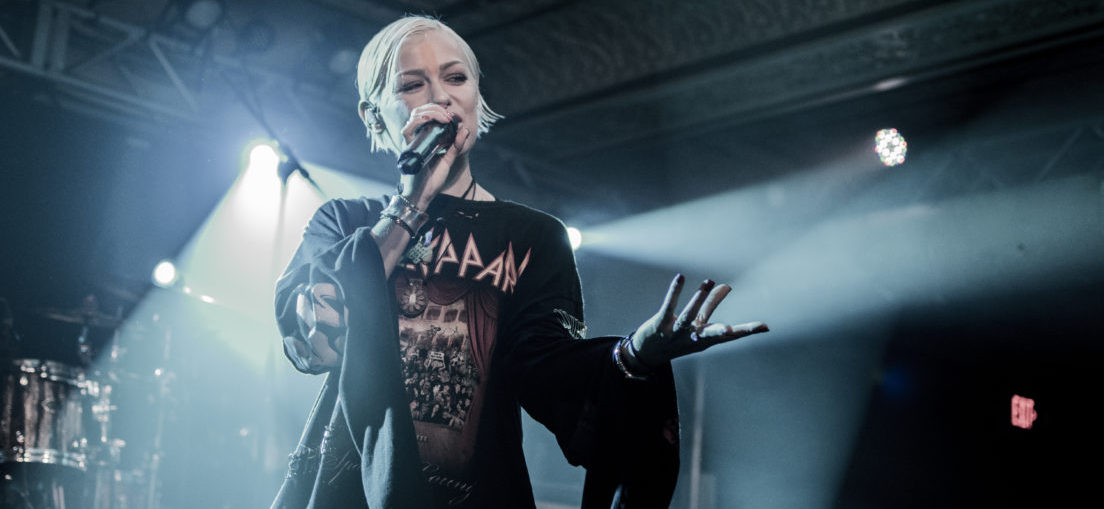 Article and Photos by: Courtney Drake
Indianapolis, IN — With no local support to open up the third date of the Get Free Tour, Lexington, KY natives Picturesque were first to take the stage. Their energetic stage presence and alternative sound immediately grabbed the attention of fans in the crowd, whether they were in the front with their eyes glued to the stage anyway or in the back waiting around for the headlining acts. Because it was guitarist Zach Williamson's birthday, vocalist Kyle Hollis asked the crowd to join him in singing "Happy Birthday," despite Zach's hesitance to make a big deal of it. The fans happily obliged and the set ended on a lighthearted note.
Following them was Broadside, a fan favorite for a lot of those in the crowd. Their entire set was fun, energetic, and even funny considering frontman Oliver Baxter's conversational banter between songs. The stage presence exhibited by every member of the group pumped people up with no issue, and the set really felt comfortable and relaxed, as if everyone in the room were long-time friends. The pop punk boys never fail to draw in fans of their own to a show, and one listen to their high energy music explains why.
Tonight Alive came all the way from Sydney, Australia to co-headline the Get Free Tour, their first headlining tour in America. Having just released their new album Underworld a week prior, they were ecstatic to play songs from the record such as "Crack My Heart" and "Disappear." In addition to those songs, they played a significant number of older songs, "Listening" and "Hell and Back" for example, that every Tonight Alive fan, new or old, was sure to enjoy. front-woman Jenna McDougall spoke between songs about being mindful in life, taking time to breathe, and staying true to yourself regardless of what others think. Their set was a very calm yet euphoric experience.
Silverstein was the final band of the night to play, and they were the only band to spark crowdsurfing. They kept the show as lively as they could with constant movement, energy, sing-alongs, and powerful vocals and music. This was everything one would expect from a rock show, and it almost seems impossible for anyone to have left being disappointed in what they saw that night. They played songs like "Smile in Your Sleep" and "Discovering the Waterfront," two songs that may feel nostalgic to older fans of the Canadian rockers. Even after nearly two decades of Silverstein and nine albums, the band has yet to slow down or lack in their performance.
Catch the Get Free Tour on one of the remaining dates from now until the first of March.