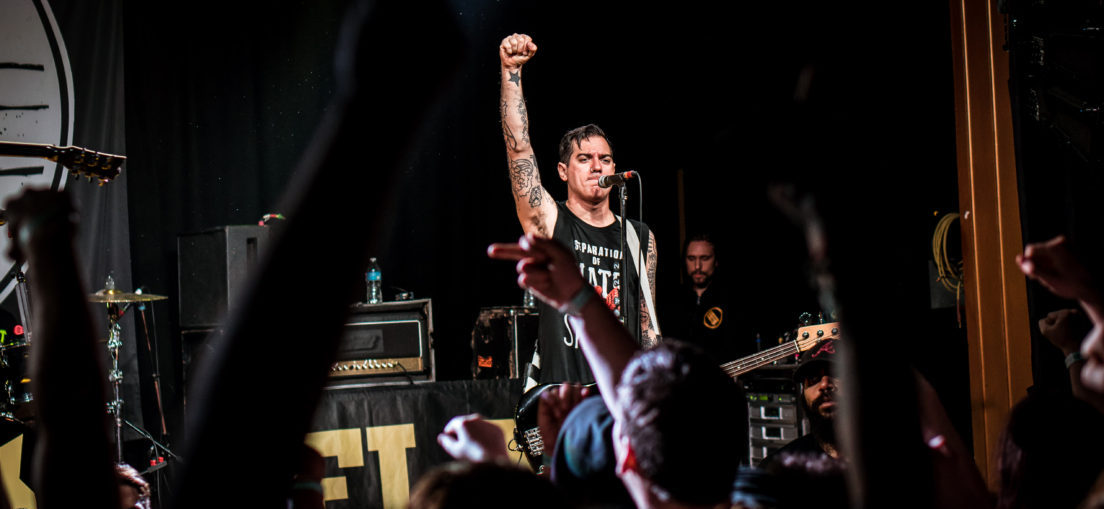 Article and Photos by: Andrés Alvarado
Atlanta, GA – Pittsburgh punk-rock quartet Anti-Flag launched their Silence = Violence Tour back in mid-January to rather lofty expectations. Fresh off their nationwide run during the 2017 Vans Warped Tour, Justin Sane and his politically charged mates rallied a boisterous crowd into famed venue The Masquerade in downtown Atlanta. The evening was expected to produce several natural highs, not just from the raw and punchy tunes Anti-Flag is known for, but also for the woke anti-government ideology by which they operate.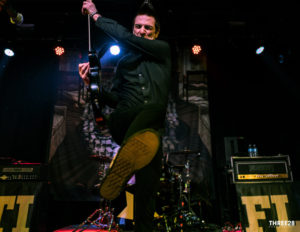 On stage, Anti-Flag's modus operandi is quite simple: rollicking badass tunes + rock-star idiosyncrasies + positive message = minds blown and wide smiles. Elementary, sure, but works like a charm. After all, you don't accrue nearly 30 years in the scene without knowing what you're doing, right? And so, the night began with a bang, maintained an intoxicating level throughout, and ended in, you guessed it, another bang.
Sane and Chris Dos dictate the pace by alternating momentums in the main spotlight. At various times if Dos wasn't performing high-flying jumps mid-shred, then it'd be Sane jamming-out at stage-edge in close vicinity to fans. Naturally, the gang keeps it 100 via Chris Head's notorious guitar contributions and bitchin' backing vocals, plus replacement drummer Steve LaRussa kicking ass and taking names on the hi-hats and tubs. Adrenaline spreads far and wide as the boys rifle off bangers continuously for their rowdy aficionados. Overall, the evening was phenomenally fun and wildly entertaining. If crowd-surfers and moshers were propelled to bring out their A-game, then you know Anti-Flag led quite the charge.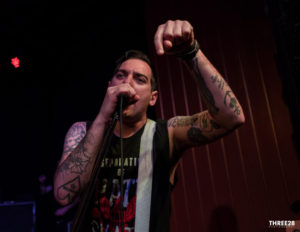 Quips Chris Dos: "We've been fortunate enough to travel the world doing what we love, and we've never seen a shithole country. Maybe because we judge people on the context of their personalities and not on the color of their skin. Come to think it, I don't know what the term 'shithole countries' even means, but I know what a shithole president looks like." The performance Anti-Flag provided Atlantans was not just another concert. It felt more important, more inspiring. It felt like a loud voice for a community that's been silenced over the last year. It felt liberating, it felt like punk-rock in its purest form.