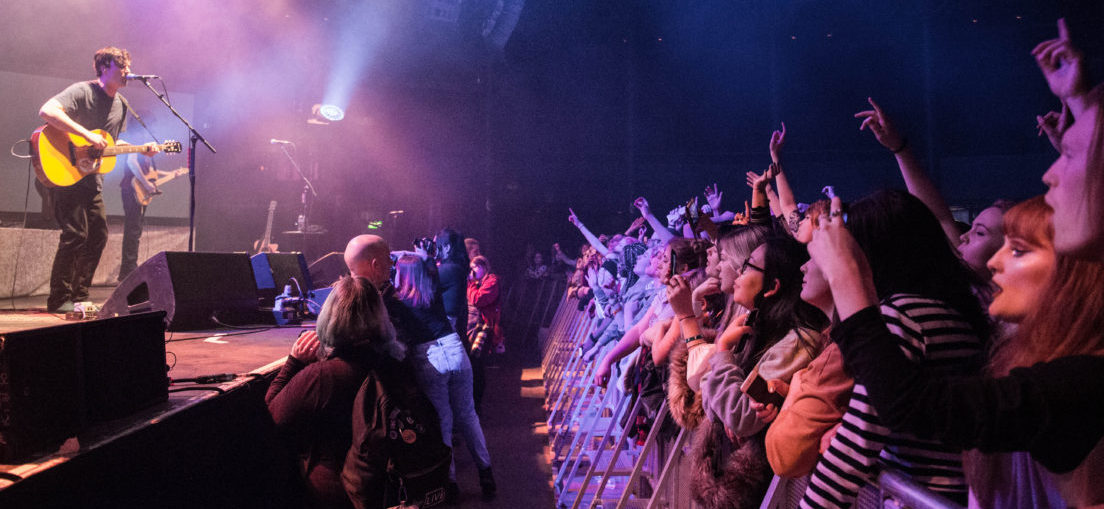 Article & Photos by: Tash Greene
London, England – On the last official evening of winter, Camden high street was beautifully sprinkled with snow, and the streets were lined with music fans intently waiting to enter the highly-acclaimed Roundhouse venue to see The Front Bottoms, and their supports Brick + Mortar and The Smith Street Band.
Brick + Mortar opened up the night and quickly made their mark, as members Brandon Asraf and John Tacon played a variety of both heavy and joyful tunes, alongside artist Richie Brown, who alternated between controlling the animations displayed on the screens from his laptop, and flooding the stage with his flamboyant presence, dressing in unusual costumes and putting on mesmerising live performances during songs. A wonderfully weird and fun set.
Following that, The Smith Street Band metaphorically kicked down the punk rock doors and served up a powerful setlist of favourites from the past and present. Lead singer and guitarist Wil Wagner was, in particular, a joy to watch, as he beamed from ear-to-ear and seemed to be enjoying himself as much as the crowd were. The Melbourne rockers closed their show with the aggressively heartfelt  "Throw Me in the River," which Wil explained [prior to belting it out in incredible fashion] that it was about being broken up with while on tour, in reference to London's River Thames on a previous visit. The song was a perfect and passionate choice that solidified the adoration of old and new fans – myself included!
Headliners The Front Bottoms rounded off the line-up, delivering a set packed with punch and a wild crowd to encourage it. The drumbeat-driven "You Used To Say (Holy F*ck)" from their latest album "Going Grey" was a great way to start, immediately enticing fans to dance and chant loudly to the lyrics; it set the bar high for TFB, but there seemed to be no sign of pressure, and they effortlessly continued to storm through an indie rock rollercoaster of songs. A personal favourite moment of mine was the entire venue emphatically shouting in unison "Hey man, I love you, but no f***ing way!", as the last song pre-encore "Twin Size Mattress" played out. The band fittingly finished their 3-song encore with "Ocean"; another hit from the "Going Grey" 2017 release, which remained upbeat for the most part, then slowly simmered down at the end of the set, with the calm, aesthetic sound of waves and seagulls from a beach.
The night drew to a close after the New Jersey musicians completed a mighty 21 songs, and left the grateful and energised audience ready to leave and brace the cold, with the satisfying warmth of great evening of music.