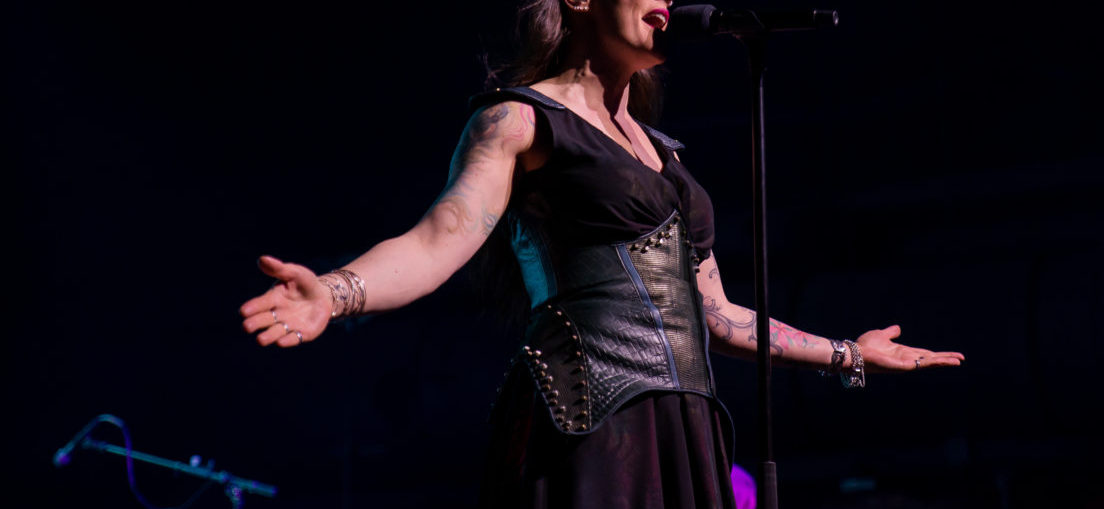 Article and Photos by: Abigail Buckler
Las Vegas, NV – Nightwish is a symphonic metal band from Finland. For those familiar with them, it is a treat to see them in such a small venue. The night begins with a lengthy intro video and music.  As it counts down to the start of the show, the fans are encouraged to put their phones away and live in the moment.  Most fans comply with this, though… maybe not enough.
If you had to describe what symphonic metal was it would be a challenge, but this set brings to mind a similar feeling to Cradle of Filth but more melodic and less heavy.  The musicianship here is impressive as well as unique with instruments many wouldn't know, like uilleann pipes, tin whistle, low whistle, bouzouki, and bodhran.  These not only create this unique sound but provide an insteresting visual.  During the whole set the bands performance is complimented by the wall sized video screen playing behind them.
But the musicianship is what needs to be appreciated here.  Most members perform multiple instruments and sing and the songs go off perfectly without one noticeable mistake.  Tuomas Holopainen (keyboards), Emppu Vuorien (guitar), Jukka Nevalainen (drums), Marco Hietala (bass), and Troy Donockley (whistle and miscellaneous) deliver a precise and technical set while front-woman Floor Jansen commands the stage.  It is perhaps her strong vocal that brings to mind bands like Cradle of Filth, but it is a different sound, and one that is likely to appeal to a much more diverse audience.
Two hours of Nightwish with no opener, and the crowd is loving every minute of it.  Every member of the crowd is also given a copy of the new album on the way into the show, which was much appreciated by the fans.  Often times, shows during the middle of the week have a lower turn out, or people leaving early due to work obligations the next day.  This was not the case here; the fans stayed from the very first note to the last, and seemed to love every minute of it.