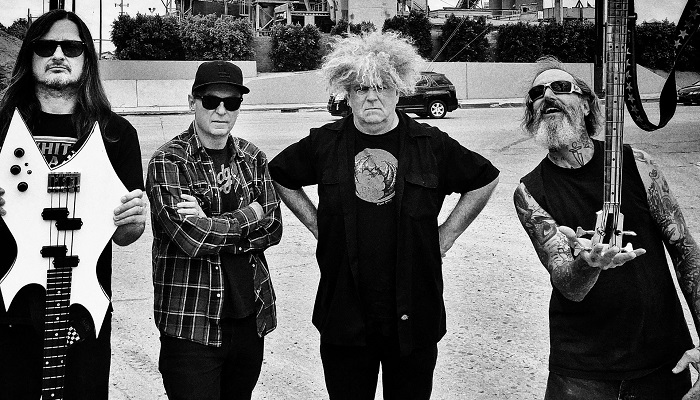 Article by: Steven Principato
With their 3rd release in less than three years, The Melvins have been on an express train of new material, keeping their undying fanatical devotees on a gratifying high that shows no signs of an end.
Their latest musical effort, titled Pinkus Abortion Technician (2018, IPECAC Records), features occasional bassist and collaborator Jeff Pinkus, (Butthole Surfers, Honkey); The Melvins, a band well known for making their own rules in music, held no reservations in recording and touring with not one, but TWO bass players on the album. In reference to the original Butthole Surfers title, Locust Abortion Clinic, (1986, Touch and Go) Pinkus features a collection of rather unconventional numbers – mostly written by Pinkus, and taking a predictably different approach than the typical Melvins direction…not that such a thing exists!  
Opening the new album with a clever but crude musical portmanteau referencing James Gang's "Stop" and The Butthole Surfers "Moving to Florida," we get a sense of the relaxed and loose nature this record will give to us. Quickly moving on to a the more upbeat and punk rock inspired track, "Embrace the Rub," a contribution by current bassist Steve Macdonald, who is no stranger to such a sound – likely inspired the many bands listed on his diverse musical resume, including Off! and Red Cross.
Bringing down the tempo, yet increasing the time-stamp to the stoner rock level more familiar with the Melvins, "Don't Forget to Breathe" gives us a decent sonic example of the unusual two bass configuration of this current lineup. With Pinkus taking the "bass" bass and Macdonald covering more of the higher register on his 4 string, (I learned this fact from reading an recent interview regarding their sonic distribution) giving an oddly thick but dissonant sound in this track and much more of the album.
Moving on to an unusual backwoods inspired banjo plucking "Flamboyant Duck," the only song featuring a credit from resident drum genius Dale Crover, this track gently begins and later graduates to an epic crescendo by the time you get to the end. "Break Bread" is another direct contribution from Pinkus and boasts a loose, yet mid-tempoed dirty southern rock feel as one might expect from the a former members of the Butthole surfers. In addition to this collection of relaxed and easy tracks, the Melvins once again cover a classic Beatles number, this time from the early bubblegum era with "I want to Hold your Hand." Reviving this classic with a sludgy tuned-down darkness, typical of the Melvins signature sound, as they accomplished in their previous fab four cover "I Want to Tell You."
Moving to the next track "Prenup Butter," we get some badly needed input from riffmaster and front man Buzz Osborne in conjunction with Pinkus, whose vision is truly the inspiration for this curious collection of songs. "Prenup Butter" maintains that southern-fried, sludge-twang theme that is ever-so-present on the better part of Pinkus Abortion Technician. This track is also a perfect sonic example of the albums two bass configuration, where Macdonald's "lead" bass noodling dances freely around a sludgy rhythm section.
Last but not least, we get a decent re-imagining of the Butthole Surfers classic track, "Graveyard." The Melvins do this track a fair amount of justice in their re-vision, In Fact, it's nearly Identical to the original as one might expect it be with Pinkus in the band and all…
In the end, Pinkus Abortion Technician was a decent effort, however more of a collaborative effort with occasional bassist Jeff Pinkus rather than a prime example of the signature Melvins sound that has maintained the ardent loyaltee their devout disciples for the last 30 years.
Pinkus Abortion Technician is available now on Ipecac records.