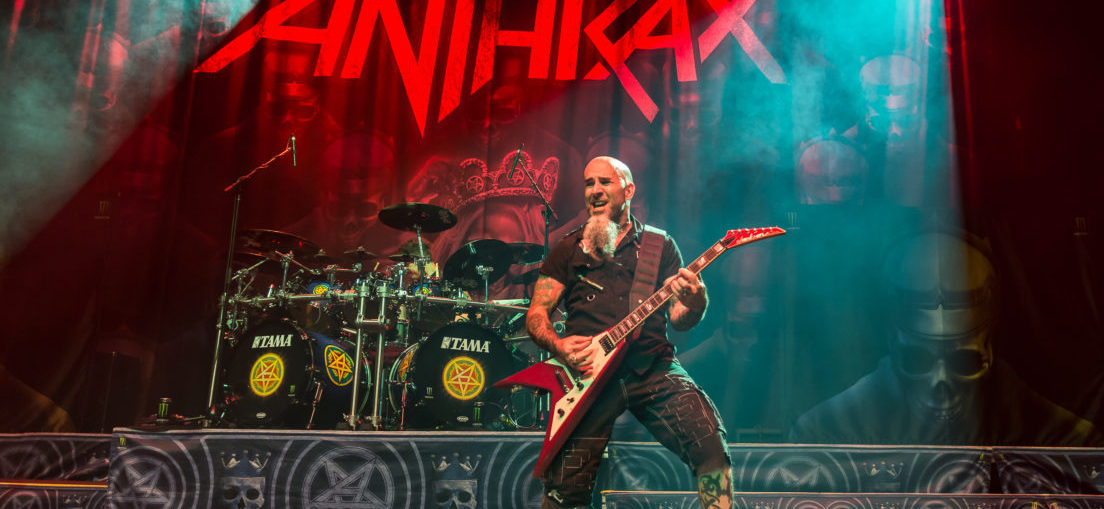 Article and Photos by: Abigail Buckler
Las Vegas, NV – As one of the big four of thrash metal, Anthrax always draws a big crowd, the undying love of their fanbase undeniable. It's been a while since they've played Las Vegas, especially as a headliner, so there is an understandable excitement in the crowd that has gathered for this night of thrash. After a set from Testament, Anthrax takes the stage.  These guys are full of energy and excitement as they plow through song after song.
The set begins strong with "Among the Living," "Caught in a Mosh," and "Got the Time."  Joey Belladonna's vocal is strong as he runs around the stage wearing an Anthrax shirt smiling and interacting with the crowd and the photographers alike.  Scott Ian just thrashes on the guitar and Frank Bello is all over the stage with an intensity that is rivaled by none.  Like the music itself, the band is chaotic on stage in a way that the crowd expects and loves.
The intensity continues and the band doesn't let up as they play song after song that the crowd soaks up while singing and moshing along.  Belladonna interacts with the crowd and even reminisces about their last trip to the Brooklyn Bowl — since you don't forget playing in a bowling alley.  With a career spanning thirty-four years and eleven albums, there are certain to be songs missed that people want to hear, but they cover a good variety even playing songs they're not playing on their current tour with Slayer.
After an intense night the lights come up and the crowd leaves.  Those who got tickets to this show were treated to an excellent night by one of the most influential bands in thrash.
Set List
Among the Living
Caught in a Mosh
Got the Time
Madhouse
Fight Em Till you Can't
Breathing Lightening
Medusa
Gung-Ho/I'm the Man/Now It's Dark
I am the Law
Be All, End All
Antisocial
Indians