Article and Photos by: Charles Yamabe
Chicago, IL — Joel Zimmerman, better known as Deadmau5, is the Johnny Rotten of the electronic music world. He is by far the most punk mainstream electronic artist to date. The six-time Grammy nominated producer/DJ is as well known for his music as he is for his carefree attitude. It's the latter of the two that his fans find most endearing.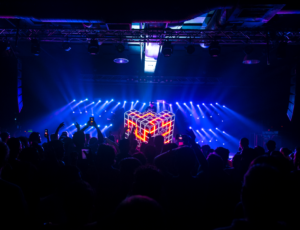 Deadmau5 recently brought his show to Chicago playing Spring Awakening and then a sold-out afterparty at Concord Music Hall. His afterparty set was one for the history books. Playing a mixture of deep house, electronica, and techno, Deadmau5 became lost in the music. His show all of a sudden turned into an electronic version of a jam set. Some of the beats and songs seemed to go on forever with their seamless mixing and blending. At one point in his set, Joel actually got on the mic, apologized and said jokingly, "Sorry I got a little too deep in my head there for a second." None of the crowd seemed to mind as all eyes were focused on the one and only Deadmau5 and his amazing "cube." Being the ultimate showman that he is while clearly having a great time, Joel went an hour over his set time, to the delight of the crowd.
To see an artist get so lost in his work live is something you rarely see. That's something that is typically saved for the production room. This was by far one of the most exhilarating shows of the summer. To catch Deadmau5 on the rest of his tour visit 
http://live.deadmau5.com/tour-dates