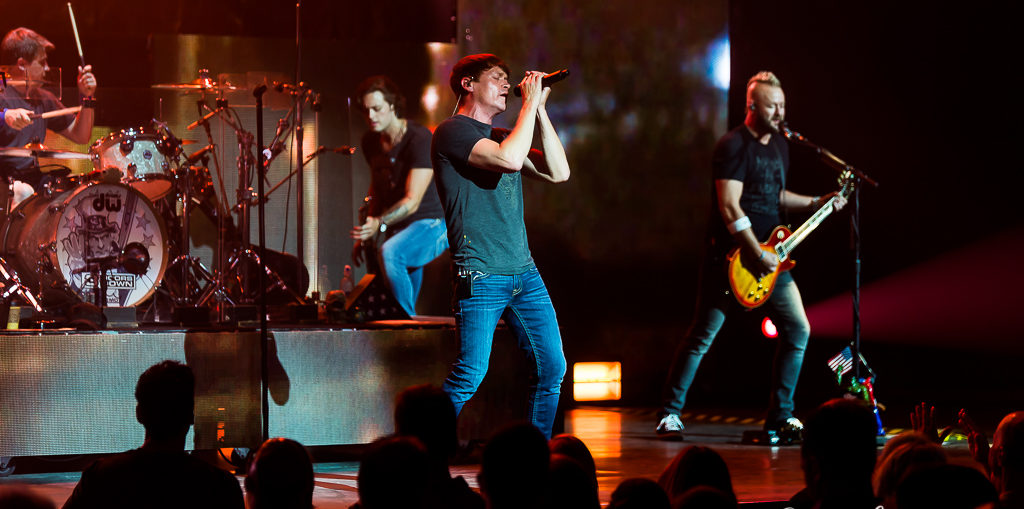 Article and Photos by: Abigail Buckler
Las Vegas, NV — Two alternative rock powerhouses are playing The Pearl theater this Friday night and the near sold out crowd is ready.  The line is through the casino which results in a bit of a delay in starting but when Collective Soul takes the stage the wait was well worth it.  This band is fun.  They are an explosion of energy that the stage almost can't contain. They open with lesser known songs of "Now is the Time," and "Over Me," but from there they launch into all the hits including "Shine," "Heavy," and "Why Part 2."  The energy continues and the set progresses.  The room was set with chairs but by the third song "Shine" the crowd is on their feet and they remained that way the entire set.
The show is running a bit behind but there is a quick change and the stage is ready for 3 Doors Down.  The stage is adorned with american flags and large video screens. This band doesn't match the energy level of the prior but the crowd is still as excited and on their feet.  They open with "Duck and Run," "Time of My Life," and "It's not my Time," which the crowd sings along to.  The set progresses and keeps the crowd on their feet and they end with three of there most well known songs, "Kryptonite," "Here Without You," and "When I'm Gone."  It is a great Friday night of alternative rock.
Collective Soul Setlist
Now's the time
Over Me
Shine
Heavy
Why, Pt. 2
Better Now
Precious Declaration
December
Right as Rain
Lay it Down
The World I Know
Gel
Where the River Flows
Run
3 Doors Down Setlist
Duck and Run
Time Of My Life
It's Not My Time
Away From the Sun
Let Me Go
Going Down In Flames
The Road I'm on
Landing in London
Better Life
Be Like That
Changes
My Way
Behind Those Eyes
Loser
Kryptonite
Here Without You
When I'm Gone