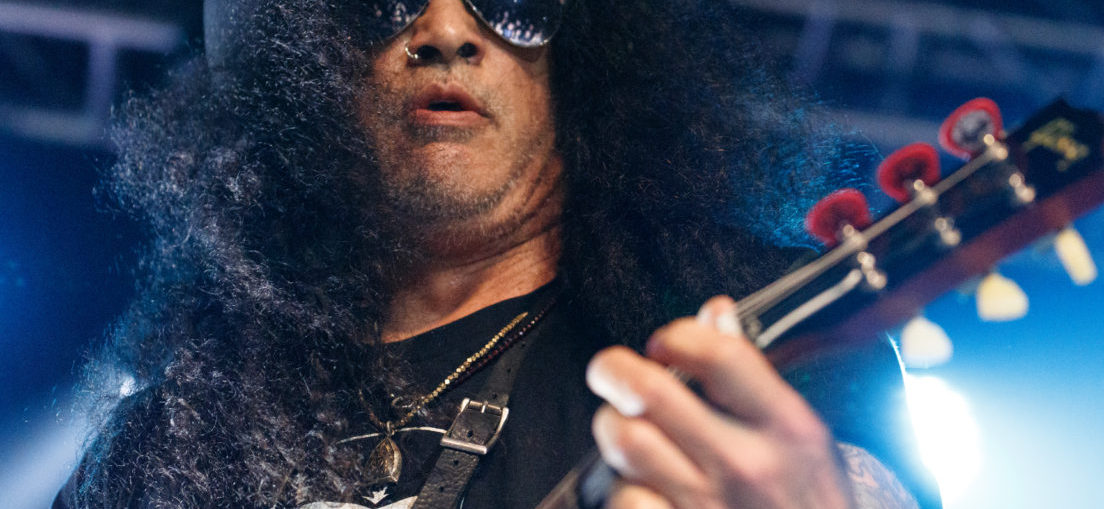 Photos and review by: Jason Robey
PHOENIX, AZ — Few names have become as synonymous with the word "guitar" as Slash, but when he plays, guitarists and rock n' rollers everywhere listen. A sold-out crowd was ecstatic that the guitar hero to so many guitar-playing kids in the 80s and 90s, kicked off the tour with his band, officially called Slash featuring Myles Kennedy and the Conspirators, in Arizona.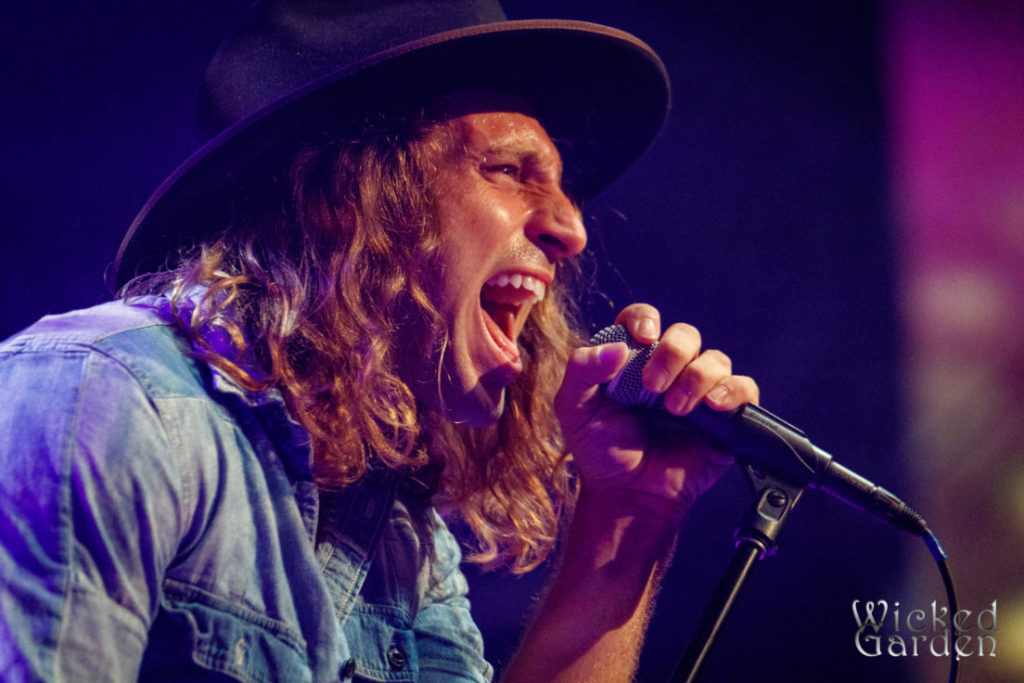 The night started with a short, but energetic and crowd-pleasing set by Dirty Honey. Their six-song set was cut from the same blues-influenced hard rock cloth as Slash and his original claim-to-fame, Guns n' Roses. The four-piece, led by vocalist Marc LaBelle, who stayed front and center, due to a healing broken leg, gave the packed house a delicious taste of what's to come when their debut album comes out. Dirty Honey did give the audience one familiar tune, with a cover of Aerosmith's "Last Child," which judging by the wild cheers, was recognized by the first couple notes. 
After a short set change, the lights went down for the headliner. The backline of the stage was lined with bass amps on one side, a drum kit in the middle, and three full Marshall stacks, each with a familiar Slash logo, on the other side. All the way across the three stacks was a line of action figures and trinkets, ranging from skulls to horror movies to Rick and Morty. The first figure to appear on stage was a silhouette, with the unmistakable shape of a top hat, and the audience erupted with cheers. Slash tore into the opening riff of "Avalon," from the group's 2014 album, World On Fire, as the other four members of the band took their places.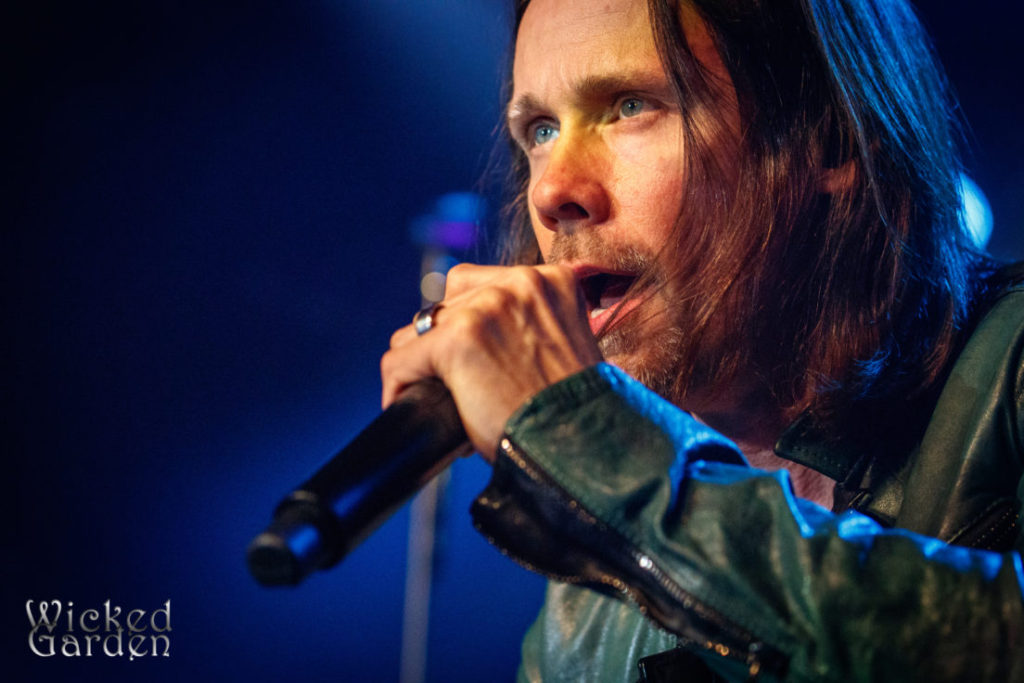 Vocalist Myles Kennedy has been working with Slash since his 2010 self-titled album, featuring different vocalists on every song, with only Kennedy being featured more than once. He's provided vocals on "Starlight" and "Back to Cali," both of which were a part of tonight's set. Kennedy and his band, The Conspirators, were Slash's touring band for that album. Since then, the band has released two more albums, with a new one to be released one week after tonight's show, and have toured together several times. The setlist was interesting, for anyone who has seen the band before, as it usually includes several Guns n' Roses songs, plus a couple from Slash's defunct band, Velvet Revolver. Tonight's show only strayed from the band's own material once, for an extended version of the down-and-dirty GN'R tune, "Rocket Queen,"  featuring a 10-minute guitar solo in which Slash glided seamlessly from clean jazzy licks to all-out hard rock virtuosity more than once. 
The night featured five songs from the upcoming LP, Living the Dream, including the first single, "Driving Rain," the highest chart debut of Slash's career outside of Guns n' Roses, entering at #11 on the Billboard Rock chart and climbing. The new songs suggest that the album will be a perfect follow-up to World On Fire, building on the band's strengths – high energy guitar riffs, booming rhythm, and solos that sound like they're singing – while pushing their bounds of funk and jazz influences, to keep themselves growing. The crowd was particularly receptive to "Mind Your Manners," a high-speed, straight up hard rock track, with an infectious chorus, driving rhythm and classic-Slash bluesy guitar riff. Other highlights of the show were spellbinding performances of the 2012 hit single, "You're a Lie," from Apocalyptic Love and "Dr. Alibi," from Slash, originally featuring Motorhead's Lemmy on vocals, performed tonight by bassist Todd Kerns.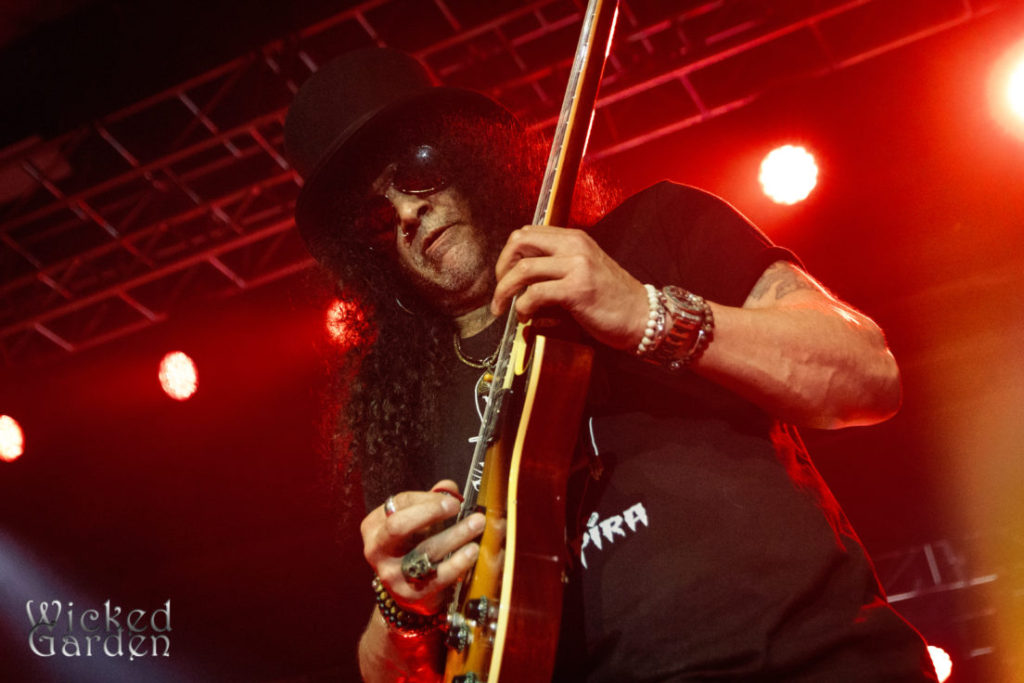 All-in-all, the evening's 20 song performance was a high-octane synopsis of their eight years together, equally covering each album in their discography. Following an explosive performance of "World On Fire," the band briefly left the stage, returning for a two song encore complete with pyrotechnics, before taking a bow and leaving until next time. Catch Slash featuring Myles Kennedy and the Conspirators on tour in the US through October, then all over Europe in February and March.