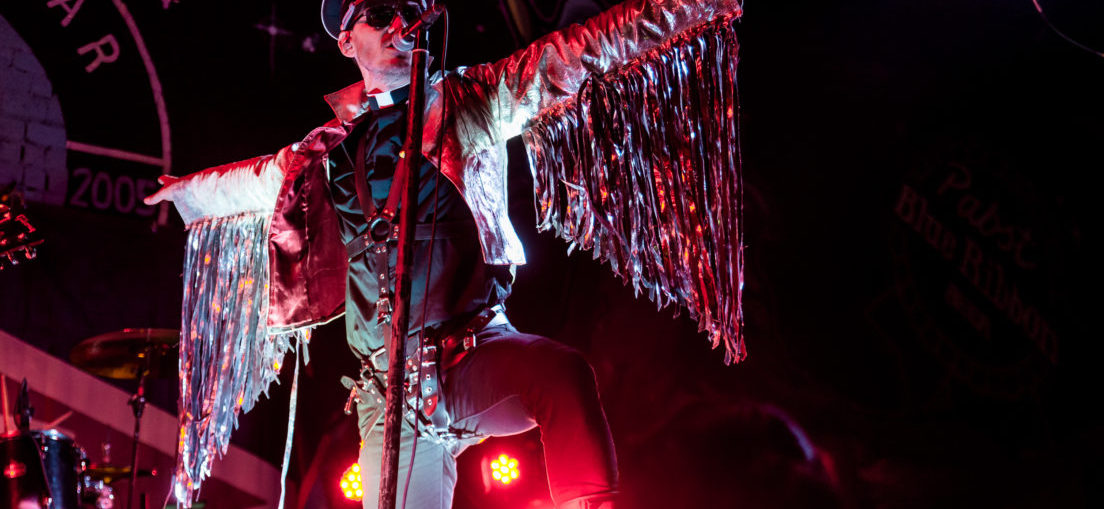 Article and Photos by: Abigail Buckler
Las Vegas, NV — PIG is the industrial metal musical project from Raymond Watts of KMFDM, Nine Inch Nails and Schwein to name a few.  This Thursday night the die hard fans have come out to the Beauty Bar to see this stop on the Hell to Pay tour.  This is the perfect venue for this show with it's outdoor industrial setting adding to the overall feel of the show.  The three piece band takes the stage to the opening music combined with pig sounds and the show begins.  Watts is dressed with a silver fringed jacket that reflects the light capturing his movement and lighting him up against rest of the red lights on the stage.
With the accompanying musical track this three piece creates a huge sound that is delivered perfectly as you would expect from someone with such a history and dedication to their craft.  The crowd is mesmerized watching this unfold through tracks like "Prey & Obey," "Morphine Machine," and "The Revalation" to name a few.  Watts commands the stage and every movement is part of the show and the experience.  The songs are heavy in a way that is not overpowering but also musical.  Add to this the complex lyrics and various other sound elements that are combined the the overall experience is a unique on.  There are quite a few people in attendance that are unfamiliar with Watts or PIG and they are completely captivated like everyone else.
This is the tail end of this tour and it is unknown if PIG will come around again, but if they do it is definitely worth seeing.  The sound and the show are both equally unique and should not be missed.