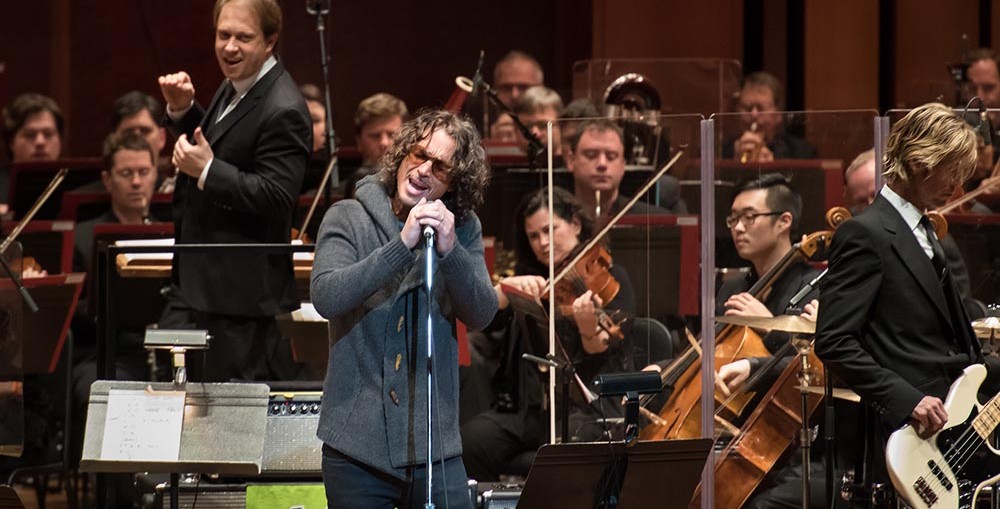 Article by: Jason Robey
Twenty years after the release of the only album by supergroup, Mad Season, the surviving members teamed up with the Seattle Symphony and other special guests for a one-time concert recording, Sonic Evolution. The show was the latest in the "Sonic Evolution" series, the symphony's annual pairing with a Seattle band for a once-in-a-lifetime performance.
The original lineup of Mad Season consisted of vocalist Layne Staley (Alice In Chains), guitarist Mike McCready (Pearl Jam), bassist John Baker Saunders (The Walkabouts) and drummer Barrett Martin (Screaming Trees). Saunders and Staley both died of heroin overdoses in 1999 and 2002, respectively.
McCready and Martin recruited bassist Duff McKagan (Guns n' Roses, Velvet Revolver) and vocalist Chris Cornell (Soundgarden), as well as several other special guest Seattle musicians, for this performance, which became somewhat of a tribute concert to their fallen brothers.
Of the 10 songs performed, seven are Mad Season songs, two are by Temple of the Dog (another 90s supergroup of Seattle musicians, including McCready and Cornell) and the remaining track, an instrumental composed by McCready at the invitation of Seattle Symphony conductor Ludovic Morlot.
Sonic Evolution is an amazingly well thought-out and executed blend of classical symphony music with the dark, haunting Mad Season melodies. "River of Deceit," which hit #2 on the mainstream charts back in 1995, is absolutely beautiful with the orchestral soundscape and Cornell's trembling voice. Faster songs like "I Don't Know Anything" (also a top twenty song from the original album) and "I'm Above" push the symphony a little to the back of the arrangement, while still allowing their presence.
For the two Temple of the Dog songs, "Call Me a Dog" and "Reach Down," Martin and McKagan are replaced by drummer Matt Cameron (TOTD, Soundgarden) and bassist Jeff Ament (TOTD, Pearl Jam) and also joined by Stone Gossard (TOTD, Pearl Jam).
McKagan and Martin rejoin the group, along with percussionist Sean Kinney (Alice In Chains) for the final song, "All Alone," from Above, a slow and haunting song, whose only lyrics are a quietly chanted "Ahhh, we're all alone." In the performance, the vocals are a recording of Layne Staley, played along with the nearly 100 musicians on the stage, making it an especially moving end for the show.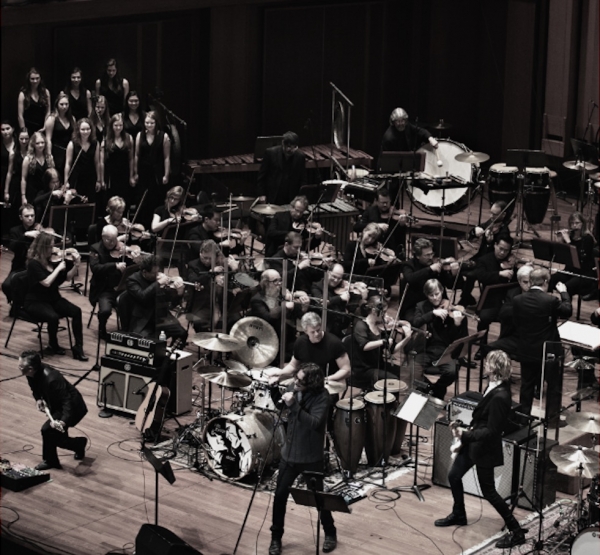 Track Listing:
Waking the Horizon
Long Gone Day
River of Deceit
I Don't Know Anything
Wake Up
Lifeless Dead
I'm Above
Call Me a Dog
Reach Down
All Alone
Featured Image Cred: Brandon Patoc Photography