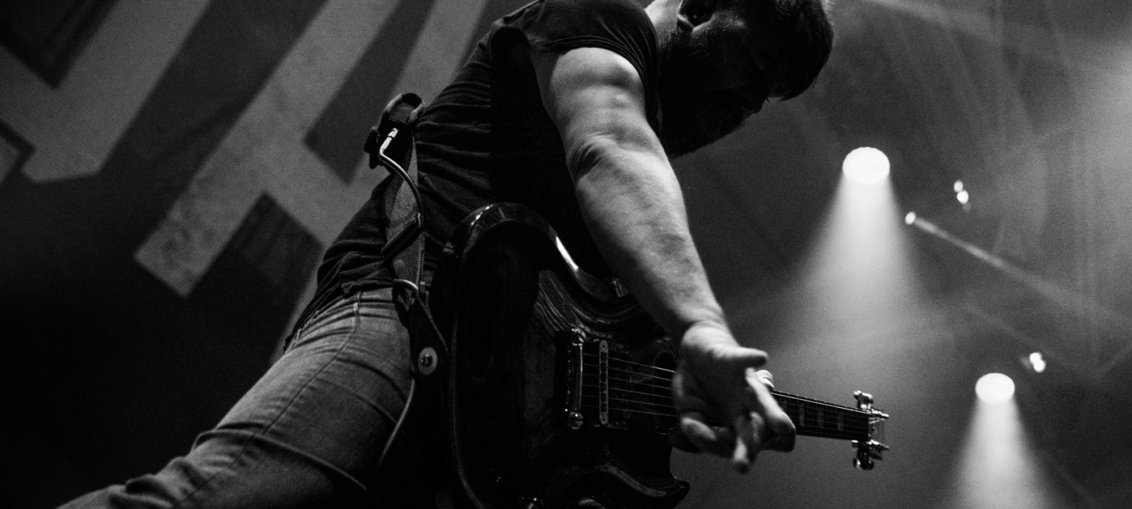 Montreal, Quebec — On St. Patrick's Day, instead of heading out to the nearest local bar to get their green beers on, quite a few folks decided that their time would be better spent enjoying the sounds of Beartooth and Underoath on their American Nightmare Tour. There were so many fans coming to see the bands that the promotional company had to push back the start time to 7:30 to ensure that everyone waiting in line was able to get in.
When Beartooth went on, they opened with the title track off their latest release, Aggressive. With this, the band started off the night on a fiery note, with vocalist Caleb Shomo working the crowd into a frenzy. The rest of the night was filled with songs peppered from their two albums, like "Body Bag," and "Sick of Me." Their production was relatively minimal in comparison to Underoath, but the band made up for this with an energetic stage presence. During the song "In Between," the lights were directed onto the audience to see how many were singing along. Little things like this helped keep the crowd excited — so excited in fact that the moshing eventually got out of hand, with some fans throwing punches at one another and inevitably being thrown out.
As Underoath took the stage, the crowd went wild. While they may have been out of the game for a few years, it seemed like they never left, and the fans welcomed them back with open arms. Band member Christopher Dudley was practically his own show, carving out his very own space on the stage as he went nuts on the keyboards, while vocalist Spencer Chamberlain moved back and forth across the stage to keep everyone engaged. With the entire crowd singing along it was clear as to why Underoath is a staple in the music scene. This was exemplified when the crowd took over singing the line, "Drowning in my sleep, I'm drowning in my sleep…" during the band's hit song, "It's Dangerous Business Walking Out Your Front Door," which seemed to create an emotional atmosphere in the venue. Finishing their set on a strong note, the band thanked the fans for their dedication promised they would return in 2018.